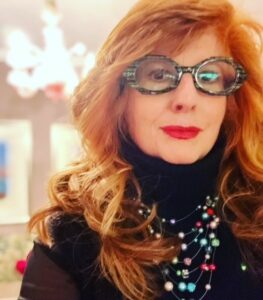 Dear Friends,
I'm excited to share that fall events are now in full swing! It's fantastic to continue seeing so many resilient arts organizations emerge from the pandemic with updated and innovative programming.
This October there are many OCAF-funded events and experiences opening and even more are ongoing. We are excited to see Windsor International Film Festival return for the first time since 2019 in three beautiful theaters across Windsor. ROM delights audiences with a Kent Monkman exhibition and Talk is Free Theatre is putting on an immersive and spooky Halloween production that will take audiences across several locations in Barrie.
We have high hopes for fall, winter and spring with festivals, musical performances, art shows and theatre planned across Ontario. I'm also excited to welcome new board members in our November newsletter and share more OCAF news with you as we continue to grow!
Kathleen Sharpe
Executive Director
Events On Now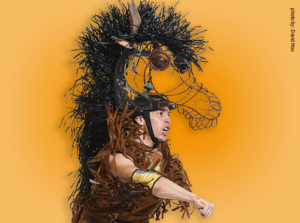 In recognition of Canada's second National Day for Truth and Reconciliation, Red Sky Performance will broadcast Mistatim Reimagined, a collaborative project of Red Sky Performance and the Toronto Symphony Orchestra in association with Crow's Theatre. Originally conceived for young audiences, Mistatim tells an unforgettable story of reconciliation as experienced through the taming of a wild horse. The broadcast will be made available for free for 24 hours on September 30, 2022.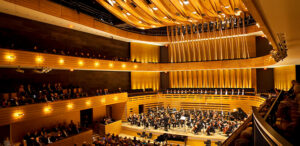 The Royal Conservatory starts the new Koerner Hall concert season by honouring the lives and knowledge of Indigenous people. Dancer, storyteller, and activist Sarain Fox guides an evening that includes Juno Award nominee Nimkii; then Rebecca Cuddy sings a song cycle by composer Ian Cusson and poet Marylin Dumont (all Métis) accompanied by the New Orford String Quartet and Philip Chiu; and Tomson Highway unveils his irreverent and freewheeling "Cree Country" band with singer Patricia Cano.  This event will be livestreamed for free on Friday, September 30 via RoyalConservatory.live.

Nuit Blanche, Toronto's all-night celebration of contemporary art, returns from sunset on October 1 to sunrise on October 2 for its biggest event ever. Expanding to include exhibitions in Etobicoke and North York, in addition to downtown and Scarborough, the long-awaited event features more than 150 artworks by local, national and international artists.
Led by inaugural Artistic Director Dr. Julie Nagam, Nuit Blanche's curatorial theme, The Space Between Us, invites artists to transform the city by creatively sharing stories about their connection to place while bridging cultures and connecting with communities and the environment.
This year's Nuit Blanche marks the finale of ArtworxTO: Toronto's Year of Public Art.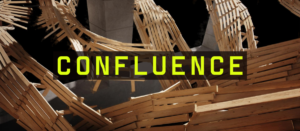 Inspired by the water systems that have shaped Toronto, Confluence invites visitors to flow through an engrossing convergence of natural and human-made forces. The picnic table, a familiar fixture in parks across the city, contorts into a dynamic sculptural installation; twirling, cascading, and cresting to evoke Toronto's buried, lost rivers.
Created by Maine-based artist duo Striped Canary (Stephen B. Nguyen and Wade Kavanaugh), Confluence runs October 1 to 30, and is free to attend.
As guests wander the artwork's fluid streams, visitors will be guided by an immersive sound field by Toronto composer/artist Anne Bourne.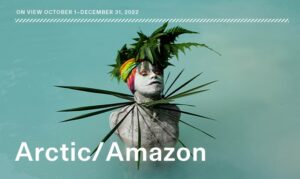 Arctic/Amazon: Networks of Global Indigeneity explores the ways in which Indigenous contemporary artists ​and collaborators take on issues of climate change, globalized Indigeneity, and contact zones in and about the Arctic and the Amazon during a time of crisis. The featured artists have their origins or are connected to these places, and their works embody a politics of resistance, resurgence, and ways of knowing and being in relation to the lands that are the source of their knowledge and creativity.
Encompassing a range of media, including paintings, drawings, sculpture, installation, video, and performance, this exhibition seeks to shed light on current geopolitical and environmental sustainability issues that inform artistic practices in these two vastly different, yet interconnected, regions.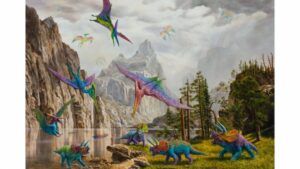 Curated by Cree artist Kent Monkman, Being Legendary presents an installation of new original paintings by the artist alongside objects from ROM's collections.
Interpreted by Monkman's shape-shifting, time-travelling, gender-fluid alter ego, Miss Chief Eagle Testickle, the exhibition depicts how deeply Indigenous knowledge is embedded in the lands of Turtle Island. Cree and other Indigenous peoples have carried this knowledge in stories, songs, and artworks since time immemorial.
Through the power of storytelling, Miss Chief Eagle Testickle reframes the forced interruptions of the colonial project on Turtle Island and honours leaders in the community who shine a light forward for future generations.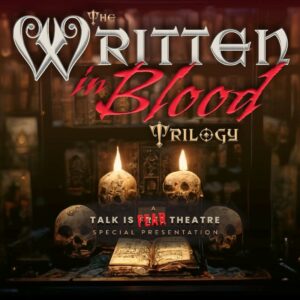 Talk is Free Theatre, a recent winner of several prestigious Dora Mavor Moore Awards,  presents an enchanting immersive experience for this year's Halloween! Written in Blood is a site-specific, immersive theatre experience that will take audiences to multiple locations across downtown Barrie.
Adapting one of literature's great horror novels, Written in Blood takes audiences on a journey through the horror stories of the past as they arrive suddenly on the shores of our present, confounding what is real, who to trust, and how to survive in a new world of old horrors.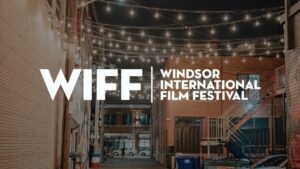 The 2022 Windsor International Film Festival, presenting Canadian and international films, returns and will run from Thursday October 27 to Sunday November 6, WIFF's first-ever 11 day Festival. This year will mark the return of the traditional Festival since the beginning of the pandemic. WIFF Prize in Canadian Film, WIFF Village, The Mark Boscariol 48hour FlickFest, Women of WIFF, a number of special screenings, guests and more, all slated to return this October and November.
The Festival is taking place in three beautiful locations in Windsor: The Capitol Theatre, the Armouries and the Chrysler Theatre.
More October Events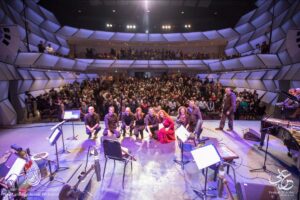 There are so many wonderful events throughout the province, we weren't able to share them all in-depth! We hope you take advantage of the fall weather and all the fantastic programming to explore all the culture Ontario has to offer. Here are several more October events we are proudly supporting: