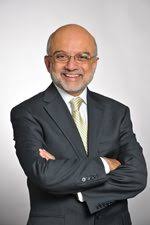 Robin Cardozo recently retired after 30 years in executive positions with leading not-for-profit and charitable organizations in Ontario. He is currently engaged as governance training consultant with the Institute of Corporate Directors. In addition to the Ontario Cultural Attractions Fund, Mr. Cardozo currently serves on the Board Soulpepper Theatre (incoming chair). In the recent past, he served on the Boards of the Ontario Nonprofit Network (chair), Centennial College and Bridgepoint Active Health.
Prior to his retirement, Mr. Cardozo served as Chief Operating Officer at SickKids Foundation. In this position, Robin's responsibilities included Finance, Legal, Human Resources, and support to the Board on governance and strategic issues.
Prior to joining the Foundation, Robin served for twelve years as Chief Executive Officer of the Ontario Trillium Foundation (OTF), one of Canada's largest grant-making foundations with a mission to help build healthy and vibrant communities in Ontario. OTF is an agency of the Government of Ontario, and during Robin's tenure more than $1 billion in grants were made to deserving not-for-profit organizations across the province.
For a decade before that, Mr. Cardozo served as Vice President and Chief Operating Officer of United Way Toronto. During those years, Mr. Cardozo's leadership earned him the United Way movement's highest national honour, the André Mailhot Award.
Mr. Cardozo was born in Pakistan, and was educated in Pakistan and in Britain. He was trained as a Chartered Accountant in the 1970's, and was elected a Fellow of the Institute of Chartered Accountants of Ontario (FCPA) in 2000. He is also a member of the Institute of Corporate Directors (ICD.D).
In 2013, he was awarded the Ontario Lieutenant Governor's Medal of Distinction in Public Administration.