Organization Name:
Huron Waves Music Festival
Organization Description:
Formerly known as The Bach Music Festival of Canada, the Huron Waves Music Festival is a new festival that will showcase both Canadian and visiting international artists in an annual springtime music festival at a variety of venues in Grand Bend, Exeter and other nearby communities in Huron County. Programming will be coordinated by Artistic Advisor John Miller, the recently retired founder of Stratford Summer Music. The Festival program will comprise a variety of musical styles from jazz, big band, vocal, classical to contemporary. The Festival will also offer programs in area schools to benefit students, and professional development opportunities for area musicians.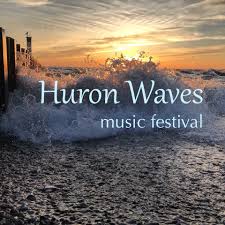 Organization Website Link:
Facebook
---
Project Name:
Huron Waves 2023 Season: Our Earth, Our Responsibility
Project Description:
This application is for "Huron Waves 2023 Season: Our Earth, Our Responsibility", a mix of free and paid programming taking place June 1 to 30, 2023 in the Trivitt Memorial Church auditorium in Exeter as well as at a variety of satellite locations. The centrepiece of the 2023 season will be a unique hanging/floating sculpture titled GAIA which will make its first Canadian festival appearance at Huron Waves. As the symbolic image and representation of the festival's 2023 theme, "Our Earth/Our Responsibility", GAIA will be the inspiration for a range of music, video, and spoken word programming. GAIA is the creation of British inventor/facilitator, Luke Jerram, whose earlier work of this type, the "Museum of the Moon", was featured at Stratford Summer Music in 2018. Programming includes: (1) "Quiet" (June 8): A free audio-visual immersive experience designed by Ontario composers Robin Dann, Allison Cameron and Matthew Pencer, inspired by their visits to the Arctic Circle; (2) "The Tree Project (June 15): Harpist Sharlene Wallace and Canadian composer Frank Horvat present musical interpretations of species of trees in Canada, with spoken words inspired by the celebrated Canadian arborist, Diana Beresford-Kroeger, author of To Speak for the Trees; (3) First Nation's Specialty Program (June 21): Free programming including dancing, drumming, singing, teaching sessions, visual arts in partnership with the Kettle & Stony Point F.N. Reserve in nearby Lambton County; (4) "Huron Waves On the Move" (June 3, 4, 10, 11, 17, 18, 24 and 25): A mobile performance area set in neighbourhoods, family properties, and parks throughout Huron County arranged locally by a community of neighbours or individual hosts on their own properties. From a menu of one-hour programs, each site host will choose classical vocal or popular instrumental repertoire, contemporary jazz, percussion or Renaissance lute and guitar selections; (5) "Considering Matthew Shepard" (June 14): The Elora Singers will present a full oratorio by Craig Hella Johnson which will serve as both an account of and reflection on the anti-gay hatred that viciously ended Matthew Shepard's life; (6) "Sunset Sound Walks" (June 14, 15, 16, 17): Led by Canadian environmentalist/musician, Anne Bourne, these free audio experiences at various sites along the shores of Lake Huron will explore the music of nature and the Lake interface with humans; (7) "A Cree Cabaret" at the Dark Horse Estate Winery in Grand Bend (June 22): hosted by, and featuring the music and songs in Cree and English of Tomson Highway, with guest artists aboriginal soprano Patricia Cano and saxophonist Marcus Ali; (8) Four lectures (details tbd); and (9) Educational programming including a student guide that will include exercises for each elementary grade level 3-8 for pre and post visits to GAIA.
City:
Exeter
Region:
Southwestern Ontario
Start Date:
2023-06-01
End Date:
2023-06-30
Amount Funded:
$35,000.00