Organization Name:
Stratford Arts Foundation
Organization Description:
Stratford Summer Music, an annual multi-week music festival with over 100 events featuring 350+ individual artists, is set in indoor and outdoor venues throughout downtown Stratford, Ontario. With an artistic vision to produce, to the highest standards possible, an annual program of diverse and exciting musical performances by local, provincial, national and international artists and to provide the widest possible range of musical genres on our stages, Stratford Summer Music exposes audiences to a standard of musical excellence difficult to find outside large urban centres.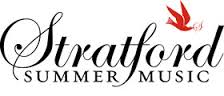 Organization Website Link:
Facebook
Twitter
---
Project Name:
Stratford Summer Music - World In a Weekend
Project Description:
This application is for "World in a Weekend", a festival of music and puppetry coproduced with SpringWorks - PuppetWorks. Taking place August 4 - 7, 2022, the festival will include both free and paid events along the river and Veterans' Drive Park, in Market Square, at Perth Museum, Factory163, Gallery Stratford, Avondale and at Revival House restaurant. The event is comprised of two separate sections: the mainly family based and outdoor Mini Festival by the river, and indoor, paid concerts and puppet shows designed to delight audiences of all ages. Programming will include: (1) The Street Festival (August 6 to 7):The free/'pay what you can' main event will close off a section of Veteran's Drive along the river, creating a mini outdoor festival of music with a puppet play garden, puppet shows and multiple opportunities to play and create. SSM will program: (i) six live music barge performances over three days; (ii) an immersive all day puppet garden installation, (iii) puppet shows including "Jacques et Zebrelle"; (iv) a cooperative experiential activity for families; (v) "Play for Change" created with music, puppets and fun, addressing empowerment and teamwork; (vi) an interactive creative puppet walk in nature with a makers' workshop; (vii) stilt walking puppeteers and a strolling piper; (viii) two bandstand concerts; and (ix) a play-along ukulele concert event with the "Youth Army"; and (2) Paid Concerts and Puppet Shows (August 4 to 7): (i) "Sounding Thunder" (August 4), an Indigenous music event at the Avondale; (ii) "Metamorphosis" by Bernd Ogrodnik's Worlds of Puppets, followed by "Tricyck/e" by Sages Faus at Factory163 (August 4); (iii) Canadian Jazz All Stars (August 5) at Revival House; (iv) "Go Home Tiny Monster" by the Gottabees (August 5); (v) two early puppet shows and then a Yiddish vocal and string quartet Concert followed by a late-night DJ set (August 6) at Factory163; and (vi) a kids' concert in the outdoor Shed at the Gallery and an outdoor travelling puppet show in the Gallery gardens (August 7) . Both Gallery Stratford and the Stratford Perth Museum are creating additional cultural offerings for the weekend as well.
Project Website Link
City:
Stratford
Region:
Southwestern Ontario
Start Date:
2022-08-04
End Date:
2022-08-07
Amount Funded:
$40,000.00