Organization Name:
Ukrainian Culture Festival (Bloor West Village Ukrainian Festival)
Organization Description:
Founded in 1996 and incorporated in 2001, the Ukrainian Cultural Festival (Bloor West Village Toronto Ukrainian Festival) was established to showcase the most widely identifiable aspects of Ukrainian culture in Canada – music, dance, food, visual arts and community. It quickly established itself as one of the premier Ukrainian festivals in North America, and has become the largest Ukrainian festival in North America. The Festival takes place annually in September along Bloor Street West.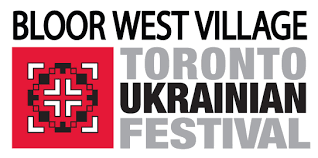 Organization Website Link:
Facebook
Twitter
---
Project Name:
Bloor West Village Toronto Ukrainian Festival
Project Description:
This application is for the "2021 Bloor West Village Toronto Ukrainian Festival", enhanced programming taking place September 17 to 19, 2021 on Bloor Street between Runnymede Road and Jane Street. Enhanced 2021 programming includes: (1) a new second main stage (for a total of three stages). Located at the Runnymede end of the Festival footprint, the second main stage will showcase professional musicians who have transcended community lines with their work and that are accessible to a wider audience, unlike the current main stage and other community focused areas. The new stage will include a greater number of performers presenting shorter sets than the community stages. The second stage will also include a beer garden, food vendors, a workshop space, and projected video content onto the wall of the old Runnymede Cinema (now Shoppers Drug Mart); (2) "'Come Meet the Hutsuls' Pavilion" (2020 Festival theme), will include exhibitions and programming related to the Hutsul region of the Ukraine; and (3) a new busker stage.
City:
Toronto
Region:
Toronto
Start Date:
2021-09-17
End Date:
2021-09-19
Amount Funded:
$75,000.00