Organization Name:
Magnus Theatre Company Northwest Incorporated
Organization Description:
Incorporated in 1972, Magnus Theatre was founded by British director Burton Lancaster who had an idea to create a new theatre company in a medium-sized North American city with a healthy arts community and no professional theatre to call its own. As the story goes, he closed his eyes and randomly placed his finger on a map of North America and landed on Thunder Bay. Lancaster transformed a small hall at 639 McLaughlin Street into the full-fledged professional theatre company that Magnus has become. By 1977 it had become the only professional theatre company between Winnipeg and Sudbury, and it was supported by the Canada Council, Ontario Arts Council, and the City of Thunder Bay. Magnus inaugurated its 2001-2002 30th Anniversary Season in a newly built theatre attached to the historic Central School House in the Waverley Park heritage district. Magnus Theatre has established a number of community relationships which include The Thunder Bay Children's Festival, the Mayor's Luncheon for the Arts, The Thunder Bay Fringe Festival, Arts Alive Festival, Arts & Heritage Alliance, The Chronicle Journal Arts & Heritage Awards, and Arts Week. The Theatre now employs up to 60 artists a year, including actors, directors and designers. As the only professional theatre in Northwestern Ontario, Magnus is an important cultural hub in the region that contributes to the growing vibrancy of the city and whose operations make a significant economic impact to Thunder Bay's Waterfront Entertainment District and the regional tourism industry.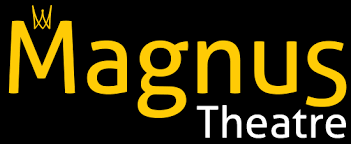 Organization Website Link:
Facebook
Twitter
---
Project Name:
Magnus Theatre's 50th Anniversary Season
Project Description:
This application is for "Magnus Theatre's 50th Anniversary Season", an enhanced season of public programming taking place both in their venue in the Waverley Park heritage district in Thunder Bay from July 2021 to August 2022 (exact dates to be determined based on the province's reopening plan). Special anniversary programming will include: 1. Mainstage programming consisting of seven professionally staged productions: (i) an outdoor summer 2021 production of "At Home: Reflections on a Year in Isolation" by popular Thunder Bay playwright and actor Jo-Ann Waytowich; (ii) the world premiere of "Smarty Pants", a comedy by Canadian playwrights Shelley Hoffman and Stephen Sparks, to be staged in early autumn 2021; (iii) a holiday production of the "Santaland Diaries", a charming urban story by Joe Mantello adapted from the essay by David Sedaris; (iv) "Salt Baby", by Indigenous playwright Falen Johnson in early 2022; (v) "Lunenburg", a romantic comedy by celebrated Canadian playwright Norm Forster in late winter 2022; (vi) the hit Broadway musical "Man of La Mancha" by Dale Wasserman as the final production of the Mainstage season in late spring 2022; and (vii) a 2022 summer show yet to be confirmed (likely a smaller-scale musical production). Each Mainstage show run will offer at least one Pay What You Can (PWYC) performance in an effort to strengthen accessibility to the arts by removing financial barriers; 2. Interactive Meet the Playwright event with select show(s), depending on the availability of the playwright; 3. A full roster of Theatre in Education (TIE) programs, including classes and workshops for all ages, school break camps, regional school touring in spring 2022, and the celebrated Young Company drama program and Collective Creation Project for teens where students collaborate year-long to create and stage an issue-based play and are involved in all aspects of production; 4. A school tour throughout Ontario to deliver productions to students from kindergarten to grade 12, visiting many remote communities that do not ordinarily have access to professional live theatre (the last successfully completed in-person school tour visited 18 communities across Ontario); and 5. A "Community Show" and other special events: the planned 2022 Community Show will be a production of the musical comedy, "Legally Blonde", and will feature members from Thunder Bay's law community. Other special events will include a dinner auction fundraiser, a citywide karaoke contest, a concert series in the second half of the season, and a VIP Gala event to kick off the 50th season. Partnerships include: the Canada Council for the Arts, the Ontario Arts Council, the City of Thunder Bay, Tourism Thunder Bay, the Community Economic Development Corporation, the Thunder Bay Horticultural Society, the Coalition for Waverley Park, Superior Theatre Festival, 10x10 Playwrights Showcase, and the Thunder Bay Arts Heritage Alliance. Magnus also partners with local visual artists to showcase their work in the patron lounge with the run of each Mainstage show.
City:
Thunder Bay
Region:
Northern Ontario
Start Date:
2021-09-17
End Date:
2022-08-31
Amount Funded:
$80,000.00