Organization Name:
Science North
Organization Description:
Science North is guided by its mandate to: offer a program of science learning; across Northern Ontario; operate a science centre; operate a mining technology and earth sciences centre; sell consulting services, exhibits and media productions to support the centre's developmentfilm production, "Wonders of the Arctic" at the IMAX cinema during the run of the exhibition.

Organization Website Link:
Facebook
Twitter
---
Project Name:
Honouring Indigenous Ingenuity
Project Description:
This application is for "Honouring Indigenous Ingenuity", a traveling exhibit and a series of ancillary events and programming taking place June 2, 2021 to February 28, 2022 (March to August 2021 at Science North in Sudbury and Winter 2021-22 at the Thunder Bay Art Gallery). Science North will work with Indigenous Tourism Ontario, N'Swakamok Native Friendship Centre and its Indigenous Advisory committees to identify speakers and Indigenous knowledge keepers. The travelling exhibit will highlight the innovations and history of Canada's Indigenous culture through the lens of science and technology. Programming includes: 1. a 600 sqm exhibit produced by the Montreal Science Centre that explores the ingenuity of First Peoples from across North America. Activities include a virtual canoe race, Igloo building, kayak 'centre of gravity test', and interactive frescoes. 2. Indigenous Speaker Series (in-person & online): visitors will connect directly with Indigenous experts to explore themes in Indigenous culture and innovation such as engineering, art and film, and agricultural innovations, water and more; 3. Live Exhibit Experiences: leading a hide tanning workshop, building a birch bark canoe, fashioning wampum beads, and creating mukluks and snowshoes; 4. Honouring Indigenous Ingenuity Workshops: a series of themed workshops for all ages including planting an Indigenous food forest and medicinal garden, exploring the history of Indigenous pottery and mineralogy, Indigenous cooking and food innovations, fish leather tanning, and workshops led by Indigenous artists including beading, woodland drawings and more. 5. Indigenous Marketplace (Sudbury only): visitors will have the opportunity to experience Indigenous foods and culture as they engage with Indigenous vendors and artisans in a market-style event on Science North grounds. 6. National Indigenous Peoples Day (June 21). Thunder Bay: a teaser of the upcoming Indigenous Ingenuity exhibition at the Thunder Bay Art Gallery and virtual or in-person cultural content and entertainment. Sudbury: a city-wide cultural and culinary experience, workshops and entertainment throughout Bell Park and Science North grounds. 7. Star Parties: live evening shows will explore the science and traditional knowledge behind the stars; 8. Virtual Programming for Youth Audiences: including virtual exhibit tours, workshops and Science North staff guided talks via videos on social media; 9. Indigenous Film Series (Sudbury only): films written, directed and produced by Indigenous creators will be screened and Science North will also host an Indigenous Film Festival; 10. Indigenous Showcase (Sudbury only): a signature event showcasing local Indigenous performers, artisans and food vendors; 11. Opening Events: two unique opening events that will include music, dance and storytelling by local Indigenous performers and knowledge keepers; and 12. Regalia-Native Pride Art Exhibit: an art exhibit featuring 30 large format portraits of individuals from 14 different First Nations. The images were captured during a five-year journey across eastern Canada at over 20 Pow Wows.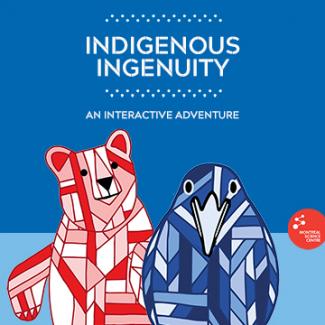 Project Website Link
City:
Sudbury
Region:
Northern Ontario
Start Date:
2021-06-02
End Date:
2022-02-28
Amount Funded:
$150,000.00