Organization Name:
Opera Atelier
Organization Description:
Our mission, simply stated, is to be recognized internationally as the leading interpreter of period opera and to shake off the preconceptions about "period production" by re-imagining and revitalizing the great works of the entire operatic canon. We are committed to promoting this art form and Canadian artists within Canada and around the world and tour extensively to support this goal.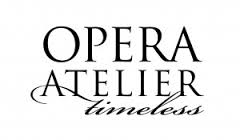 Organization Website Link:
Facebook
Twitter
---
Project Name:
Opera Atelier's 35th Anniversary Season
Project Description:
This funding is for the marketing of "Opera Atelier's 35th Anniversary Season", taking place September 26, 2020 to December 31, 2021 in Toronto and Ottawa. Special anniversary programming will include three opera productions, the premiere of a new commission for baroque instruments, Opera Atelier's debut at Ottawa Chamberfest with Canadian Pianist Angela Hewitt, and a variety of ancillary events. Programming details include: (1) Something Rich and Strange - a new creation which takes its name from the famous quote from Shakespeare's The Tempest. Rich and Strange will focus on theatre music that explores the realms of dreams, visions and the supernatural, as expressed by George Frideric Handel, John Locke, Jean-Baptiste Lully, and Henry Purcell. Rich and Strange also includes a new Canadian commission by composer Edwin Huizinga and featuring soprano Measha Brueggergosman – a continuation of the music and that has been developed over the past three years for performances in Toronto (Royal Ontario Museum), Versailles (Royal Chapel) and Chicago (Harris Theater for Music and Dance). This fully-staged and costumed production, featuring an all-Canadian cast, will be livestreamed from Koerner Hall on October 28, 2020 (with an in-person audience if permitted.) (2) In Spring 2021, OA returns to Koerner Hall to mount Handel's The Resurrection. OA is delighted to present Handel's first acknowledged masterpiece in this new production, which brings Handel's transcendent work to life through an inventive transformation of Koerner Hall by set designer Gerard Gauci - a major undertaking unlike anything Opera Atelier has ever presented. The multi-level set features double staircases leading from the choir loft to the floor of the concert hall, delineating the supernatural and earthly worlds. The staging is further enhanced by the evocative lighting design of Michelle Ramsay. The Resurrection will be livestreamed from Koerner Hall on April 1, 2021 (with an in-person audience if permitted.) 3) a tour of an Angela Hewitt production to Ottawa as part of the Ottawa Chamberfest at the Dominion-Chalmers Centre in August 2021 (exact dates tbd). The production will be part of the company's debut at the Trasimeno Festival in Umbria in July 2021. Ms. Hewitt has invited OA to choreograph and stage her Baroque dance suites. The program will also feature Canadian soprano Mireille Asselin. This will be the first time Ms. Hewitt has included dancing as part of her program. (4) The Canadian premiere of Grétry's opera Richard Coeur-de-lion in a co-production with the Château de Versailles Spectacles. Recognized as Grétry's masterpiece and one of the foremost French opéras comiques, the work is based on the legend of King Richard I of England's imprisonment and rescue from Austria. Richard Coeur-de-lion has been associated with the French royal family since its first performance in 1784. "O Richard, O mon Roi," the opera's signature aria, was last heard in the Royal Opera House sung by the Royal Bodyguard during a banquet just five days before the attempted flight of Marie Antoinette, Louis XVI, and their family from Versailles. The aria was subsequently banned by the revolutionary government. Richard Coeur-de-lion will be presented at the Elgin Theatre in Oct/Nov 2021. (5) an assortment of ancillary programming and outreach initiatives including lectures, education programs, and outreach performances – delivered online or in person as is possible.
City:
Toronto
Region:
Toronto
Start Date:
2020-09-26
End Date:
2020-12-31
Amount Funded:
$125,000.00