Organization Name:
Burlington Sound of Music Festival Inc.
Organization Description:
Sound of Music Festival is one of the summer's most popular community attractions and over the course of its 35 year history, it has grown to become Canada's Largest Free Music Festival. The event attracts over 210,000 visitors annually. The Festival features a unique blend of new and emerging artists, Canadian icons and returning fan favourites, located on several stages throughout our waterfront and downtown area. Complete with a Carnival, Downtown Streetfest, Parade, Family Zone, and a free music education program for children, the event offers something for everyone and appeals to a wide demographic.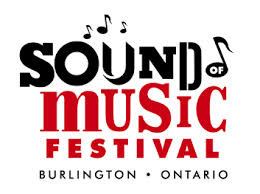 Organization Website Link:
Facebook
Twitter
---
Project Name:
Burlington Sound of Music Two Day Kick Off Weekend
Project Description:
This application is for the Festival's "Two Day Kick Off Weekend"; expanded paid programming taking place June 9 and 10 at Spencer Smith Park in Burlington. To date, organizers had kicked off the Festival with a single day of high calibre ticketed programming, which will be doubled in 2018. The Festival itself runs until June 17, with the majority of the programming offered at no cost to the public. The goal of the expansion is to raise the profile of the Festival in hopes of attracting new audiences and increased earned revenue. June 9 programming includes seven pop-rock acts, while June 10 will include six pop-country acts. 2017 acts included Offspring, Live, Marianas Trench, Smashmouth, Spin Doctors. The 2018 line-up has yet to be confirmed. The full Festival will include over 100 acts, ten performance areas, mix of free and ticketed shows, SOM Club Series (June 10-13), four free days of music line-up (with ticketed VIP upgrades available, June 14-17), a Downtown Streetfest (June 15-17), a Grande Festival Parade (June 16), Children's Village (June 16-17), Silver Series, carnival, and vendors
City:
Burlington
Region:
Central Ontario
Start Date:
2018-06-09
End Date:
2018-06-17
Amount Funded:
$100,000.00