Organization Name:
Kindred Spirits Orchestra
Organization Description:
The Kindred Spirits Orchestra has performed since 2009, to a great acclaim, sold-out audiences, and standing ovations at the legendary CBC Glenn Gould Studio in downtown Toronto. As of the 2011, the Kindred Spirits Orchestra has also established a 6-concert subscription series at the Flato Markham Theatre, in addition to 3 community-outreach and 2 educational concerts. Led by the charismatic Maestro Kristian Alexander, the Kindred Spirits Orchestra is enjoying an enormous popularity among York Region's residents and continues to attract avid audiences across the Greater Toronto Area. The Kindred Spirits Orchestra performs a wide range of compositions by Beethoven, Mozart, Bach, Handel, Tchaikovsky, Haydn, Brahms, Mendelssohn, Chopin, and many others. Ardent supporter of contemporary music, the Kindred Spirits Orchestra created, also in 2011, Markham Contemporary Music Festival, an annual event that has brought to life great pieces of the 20th century by Lutoslavsky, Stravisnky, Philip Glass, Honegger as well as by illustrious Canadian composers such as Garry Kulesha, Brian Current, Larysa Kuzmenko, Daniel Friedman, Kevin Lau, and Constantine Caravassilis. During the past few years alone, the orchestra has regularly worked with internationally renowned soloists such as pianists Christina Quilico, James Parker and Maxim Bernard, violinists Jacques Israelievitch, Joelle Kee and Marc Djokic, cellist Rachel Mercer, soprano Rebecca Whelan, and tenor Keith Klassen, among many others.

Organization Website Link:
Facebook
Twitter
---
Project Name:
Markham Contemporary Music Festival 2014
Project Description:
This application is for the enhancements and expansion of the Markham Contemporary Music Festival that will take place May 15 to 21, 2014. Building on their three successful editions, the Festival is expanding in 2014 in several ways: (a) the Festival will be extended by two additional days, going from four to six days; (b) it will include more concerts (see full schedule in application), and new ancillary activities, including pre-concert chats, intermission discussions, post-concert receptions, lecture in French, open visit of the World Musical Instruments Collection at the International Music Academy, and composers workshop. Ongoing activities include lectures in English networking events, and documentary films about the life of contemporary composers. (c) it will take place in one additional venue (going from three to four venues). All major orchestral concerts will take place at Flato Markham Theatre and at the Unionville Millennium Bandstand (new venue) and more specialized events will be hosted at Cornell Recital Hall opened in 2013, and the International Music Academy. (d) the scope of programming will also expand, with the inclusion of contemporary jazz music, contemporary music from France and the United States and light classics (waltzes and marches), to the core Festival's programming of contemporary chamber and orchestral music from the 20th and 21st centuries, Partners include the Markham Museum, the Markham Library, the Varley Art Gallery, the Old Unionville Library Centre, and the City of Markham.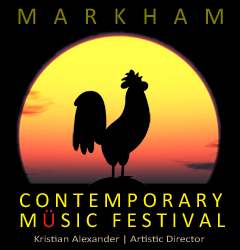 Project Website Link
City:
Markham
Region:
Central Ontario
Start Date:
2014-05-15
End Date:
2014-05-21
Amount Funded:
$30,000.00