Organization Name:
Art of Time Ensemble
Organization Description:
Founded in 1998, and incorporated in 2000, Andrew Burashko formed the Art of Time Ensemble with the support of a small group of like-minded musicians and prominent figures in dance, theatre and other art forms, beginning with one-off concerts. Today, Art of Time works with the best Canadian artists in the performing arts, film and literature, and noteworthy international musicians to stage unique cultural events. The artists with whom the Ensemble have worked represent the finest in their genres, including Margaret Atwood, Michael Ondaatje, Peggy Baker, Jackie Richardson, Sarah Slean, Branford Marsalis, and Brent Carver. The Art of Time presents an annual subscription season at Toronto's Harbourfront Centre Theatre, and regularly appears as part of the Royal Conservatory of Music performance season at Koerner Hall.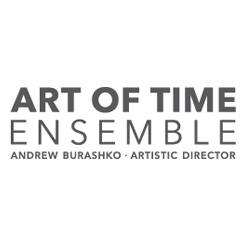 Organization Website Link:
Facebook
Twitter
---
Project Name:
Art of Time Ensemble's 20th Anniversary Season: Ontario Outreach
Project Description:
This application is for "Art of Time Ensemble's 20th Anniversary Ontario Celebration" taking place in various cities across the province from July 12, 2018 to May 11, 2019. To celebrate the anniversary, the Art of Time Ensemble have created three "best of" variety programs, reviving three of their most memorable concerts as part of a retrospective season in Toronto including the disciplines of dance, music, and poetry/theatre. The company will also tour four different concerts to seven markets across Ontario. Programming includes: (1) "Steven Page: Songbook" at the Avon Theatre on July 13 as part of the Stratford Festival. Steven Page and the Art of Time Ensemble perform works by David Bowie, Leonard Cohen, Gord Downie, Randy Newman, Radiohead, Barenaked Ladies, Elvis Costello and others; (2) "Best of Dance and Music" at the Harbourfront Centre Theatre, October 25-17. Works will include: "Miserere, choreographed by David Earle; "In a Landscape", choreographed by Peggy Baker; "elections from James Kudelka's "15 Heterosexual Duets"; and scenes from Shakespeare's Romeo and Juliet paired with choreography by James Kudelka; (3) the the fourth installment of their annual holiday show "To all a Good Night" at the Harbourfront Centre December 13 to 15. The Ensemble will perform the music of Irving Berlin, Robert Earl Keen, Tom Lehrer, Joni Mitchell, Tom Waits, John Lennon and Yoko Ono. Variations of the show will also be staged at the Toronto Centre for the Performing Arts in North York on December 16, The Rose Theatre in Brampton on December 19, and Centrepointe Theatre in Ottawa on December 21; (4) "…Hosted by Glenn Gould": the Ensemble will perform Gould's interpretations of Beethoven and Shostakovich at the Richmond Hill Centre for the Arts on January 31 and the Burlington Performing Arts Centre on February 3; (5) "Best of Music: Songs Program" February 21 and 22 at the Harbourfront Centre Theatre featuring the music of Jacques Brel, Bruce Cockburn, Billy Joel, Warren Zevon, Queen, Paul Simon, and Jane Siberry; (6) "Best of Music: Classical Program", February 23 at Harbourfront Centre Theatre featuring the music of Robert Schumann, Franz Schubert, Gavin Bryars, and Johannes Brahms; (7) "A Tribute to Lou Reed", April 13 at the Opera House Theatre in Toronto; (8) "Doghouse Roses: The Words and Music of Steve Earle", May 2 at the FirstOntario Performing Arts Centre in St. Catharines, and May 3 at Koerner Hall in Toronto; and (9) "Best of Words and Music", May 9 to 11 at the Harbourfront Centre Theatre. Programming will include: readings from "Shakespeare's Much Ado About Nothing" and "Hamlet"; scenes from "Fire"; and "Thriller Suite", poetry by Margaret Atwood with original music by Dan Parr.
Project Website Link
City:
Toronto
Region:
Toronto
Start Date:
2018-07-12
End Date:
2019-05-11
Amount Funded:
$50,000.00