Organization Name:
Crow's Theatre
Organization Description:
Founded in 1983, the mandate of Crow's Theatre is "to ignite passionate and enduring engagement between our audiences and artists by creating, producing and promoting unforgettable theatre that examines and illuminates the pivotal narratives of our times". Crow's is known to create work with strong potential to live beyond its premiere production. They aim to extend the life of their works through partnerships, touring, remounts or promoting and brokering new productions by other companies. In January 2017 Crow's will be moving into a new performance facility that will also serve as a community cultural centre in Toronto's downtown east end.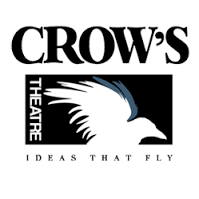 Organization Website Link:
Facebook
Twitter
---
Project Name:
Crow's Takes Flight
Project Description:
This application is for "Crow's Takes Flight", which will consist of two components: (1) a consolidated rebranding campaign; and (2) the marketing and promotion of the inaugural season in their new $11.2 million facility in Leslieville, in Toronto's east end. (1) The Theatre will undertake a rebranding initiative aimed at capturing all of the new aspects of their operations: performance facility, cultural hub, and event space. The new brand will express the Theatre's versatility and will aim to attract families, couples and singles alike. The four elements of activity that will be captured in the new brand will be theatre, broad cultural programming, community programming and social enterprise. Expanding the Theatre's tourist appeal is among the communications goals for this initiative Crow's aims to launch the new brand in October 2016. (2) The Theatre is proposing an "amuse-bouche" of short run programming between January and March 2017 to give audiences a preview of what will be available going forward at the facility. This will include: (a) Theatre and Performance: "The Wedding Play", a three-act comedy developed by Kristen Thomson and directed by Chris Abraham; "The Boy in the Moon", a play by Emil Sher based on the book by Ian Brown; "Breath in Between" a play by Anton Piatigorksy; "Century Song", a live performance hybrid from Nightwood Theatre & Volcano Theatre , "Roger and Tom" a play from Sidemart Theatre; and "The Emancipation of Ms. Lovely" by Ngozi Paul; (b) Late Night Programming: "Spoke: EAST", be a monthly east end satellite of Outside the March's popular storytelling night; "The Freedom Singer", a play by by Project Humanity ; "The Odditorium", a concert of musical curiosities from R. Murray Schafer's mammoth Patria cycle; "The Rockefeller Project", a one-man show by Torquil Campbell; and "Comedy East", a teaser comedy series of new and established comedy; (c) Community Initiatives: The Scotiabank Creative Youth Program, acting, singing, improve, costume design, craft studios, storytelling and creative writing classes for newcomer youth; and The Community Dinner Project, one part community gathering, one part biographical dinner theatre, and one part multicultural food fair, the project is a one-of-a-kind theatrical experience between newcomers, artists and the general public; and (d) Crow's Social Enterprise / Social and Corporate Events: a series of industry "sneak peek" events, to showcase the venues to those who are best positioned to bring business to the facility. Partners include: Scotiabank, BMO, Streetcar Developments, RBC, TD Bank, CIBC, Banff Centre, Nightwood Theatre, Outside the March, Project Humanity, Sidemart Theatre, Soundstreams, Volcano Theatre, Canada Council for the Arts, Ontario Arts Council, Toronto Arts Council and the Trillium Foundation.
City:
Toronto
Region:
Toronto
Start Date:
2017-01-01
End Date:
2017-05-01
Amount Funded:
$100,000.00