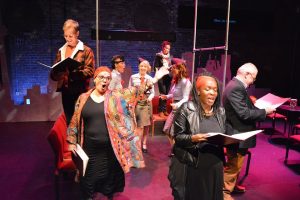 Theatre Francais brings Americandream.ca to the stage
Theatre Francais brings another original work to stage November 16 to 19, catch Americandream.ca at Berkeley Street Theatre Downstairs.
Inspired in part by a trip to Afghanistan where he was making a documentary for the National Film Board, Claude Guilmain questions the fascination of the American Dream. In this story, the Cardinal family reunites for a birthday and the tale of the family patriarch unfolds.
Through confessions and revelations, a family saga is recounted, taking us from New York in the 1940s to a dark day in Dallas, November 1963. Nobody knows where or when he died, but the discovery of the fate of the grandfather will have a very different effect on each family member.
This performance is entirely in French, however, November 16 to 18 features  English subtitles presented with the works. Be sure to buy your tickets NOW.
***
Americandream.ca sur la scène du Théâtre français de Toronto
Du 16 au 19 novembre, le Théâtre français présente une autre création, Americandream.ca sur la scène du Berkeley Street Theatre Downstairs.
Inspiré par un voyage en Afghanistan où il s'était rendu pour réaliser un film pour l'Office national du film, Claude Guilmain remet en question la fascination du rêve américain. Lors de ses retrouvailles pour la célébration d'un anniversaire de naissance, la famille Cardinal lève le voile sur la vie de son patriarche.
La saga familiale se révèle à travers des confessions et confidences qui mènent le spectateur des années 1940 à New York jusqu'à un jour sombre à Dallas en novembre 1963. Nul ne sait où et quand le grand-père est mort, mais la découverte de son destin aura des répercussions bien différentes sur chacun des membres de la famille.
Le spectacle est en français seulement. Toutefois, du 16 au 18 novembre, il y aura des sous-titres anglais lors des représentations. Achetez vos billets dès MAINTENANT.
___________________________________________________

New and exciting events with The Festival of Arab Music and Arts
Don't miss a unique mix of two beautiful cultures for a night of music and histories.
A new production by the Canadian Arabic Orchestra in collaboration with poet and singer Hassan Tamim features a fusion of the music of the Indigenous nations of Canada and the Levant. This remarkable program showcases human similarities across continental, cultural and religious divides, implemented through a series of performances including dance. This collaboration is a fusion of Arab and Indigenous musical genres at their finest.
This concert is brought to you in by the Festival of Arabic Music and Arts in partnership with Native Canadian Centre in Toronto and associate partnership with the Aga Khan Museum.
The Festival ends November 12. Make sure you check out the lineup and and purchase your tickets today!
***
De nouvelles activités passionnantes au Festival of Arab Music and Arts
Laissez-vous envoûter par le mélange de deux belles cultures lors d'une soirée de musique et de récits.
Une nouvelle production du Canadian Arabic Orchestra avec la collaboration du poète chanteur Hassan Tamim met en vedette la fusion harmonieuse des musiques des Premiers peuples du Canada et celles du Levant. Avec sa série de spectacles diversifiée, qui comprend aussi de la danse, ce programme remarquable met en lumière des similitudes humaines au-delà des divisions continentales, culturelles et religieuses. Cette collaboration représente la fusion des genres musicaux arabe et autochtone à son meilleur.
Ce concert est présenté par le Festival of Arabic Music and Arts en partenariat avec le Native Canadian Centre de Toronto et en association avec le musée Aga Khan.
Le festival prend fin le 12 novembre. Consultez la programmation et achetez vos billets dès aujourd'hui!
___________________________________________________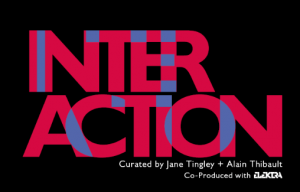 Coming soon, THEMUSEUM brings interAction: New Media Exhibition
January 2018 is slowly creeping on us, and THEMUSEUM has big things planned! interaction: New Media Exhibition kicks off THEMUSEUM programming in the new year.
Sign up for the weekly newsletter to keep in touch with updates on this project!
***
Bientôt, THEMUSEUM présente interaction : New Media Exhibition
Janvier 2018 approche lentement mais sûrement et THEMUSEUM a de grands projets dans ses cartons! interaction : New Media Exhition marque le début de la programmation de THEMUSEUM dans la nouvelle année.
Inscrivez-vous pour recevoir le bulletin hebdomadaire et toutes les mises à jour du projet!
___________________________________________________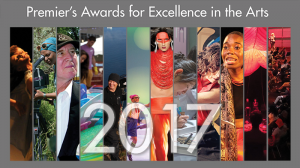 The 2017 Recipients of the Premier's Awards for Excellence in the Arts
Premier Kathleen Wynne honoured the exceptional contributions by artists and arts organizations from across Ontario for 2017.
The awards recognize Ontario's professional artists and arts organizations for extraordinary achievements that strengthen Ontario's vibrant culture sector. Artists and organizations working in publishing, dance, theatre, music, craft, visual arts, media arts, literature and multidisciplinary arts are eligible for these awards.
2017 Recipients
Kent Monkman, a painter, sculptor, filmmaker and performer of Cree ancestry, won the Individual Arts Award. His work, which often challenges myths and narratives, has been featured in exhibitions across North America and internationally. Recent projects include Shame and Prejudice: A Story of Resilience, a large touring exhibition commissioned for Canada 150.
The Emerging Artist of the Year Award went to Brian Rideout, a visual artist working in representational painting. His work investigates contemporary images, sourced from print and online, for their historical and artistic relevance.
Debajehmujig Storytellers won in the Arts Organization category. Debajehmujig Storytellers is one of Canada's foremost Indigenous creation companies and the country's first, and only, professional theatre company located on a reserve. The company shares the Anishinaabek language, culture and heritage with both Indigenous and non-Indigenous people through original creative expression.
Congratulations to all nominees and recipients – to read the full article click here.
***
Les lauréats des Prix de la première ministre pour l'excellence artistique de 2017
La première ministre Kathleen Wynne rend hommage à la contribution exceptionnelle d'artistes et d'organismes artistiques de l'ensemble de l'Ontario.
Ces prix récompensent des artistes professionnels et des organismes artistiques de l'Ontario pour leurs remarquables réalisations qui renforcent le dynamique secteur de la culture de l'Ontario. Les artistes et les organismes qui œuvrent dans les secteurs de la publication, de la danse, du théâtre, de la musique, de l'artisanat, des arts visuels, des arts médiatiques, de la littérature et des arts multidisciplinaires sont admissibles à ces prix.
Kent Monkman, peintre, sculpteur, réalisateur et interprète d'origine crie, a reçu le prix de la catégorie Artiste. Son travail qui s'inspire de mythes et de récits a été présenté lors d'expositions dans l'ensemble de l'Amérique du Nord et à l'échelle internationale. Parmi ses réalisations récentes, notons Honte et préjugés : une histoire de résilience, une grande exposition parrainée par Canada 150.
Le prix du Nouveau talent de l'année a été remis à Brian Rideout, artiste visuel de la peinture figurative. Son travail porte sur des images contemporaines provenant de l'imprimé et du Web, qu'il choisit pour leur pertinence historique et artistique. L'organisme Debajehmujig Storytellers a remporté le prix dans la catégorie Organisme artistique. Debajehmujig Storytellers est l'une des plus importantes compagnies de création artistique autochtone et la seule compagnie de théâtre professionnel au Canada à être située sur une réserve. La compagnie recourt à la langue, à la culture et au patrimoine des Anishinaabek tant avec les populations autochtones que non autochtones par l'intermédiaire d'une expression créative originale. Félicitations à tous les finalistes et lauréats — pour lire l'article intégral, cliquez ici
___________________________________________________

Stratford Summer Music Festival looking for Artistic Director
Stratford Summer Music invites applications and nominations for the position of Artistic Director to succeed its Founder and Artistic Director Emeritus, John A. Miller, who will retire in the autumn of 2018 after next summer's 18th season.
In honour of Miller's achievements as the founder of what has become one of Canada's most important multi-genre music festivals, he will be made Founder & Artistic Director Emeritus.
"Simply put, there wouldn't be a Stratford Summer Music without John," said Marcel van Hulle, Chair of the Stratford Summer Music Board in a press release statement. "We recognize and greatly appreciate his outstanding achievements in building the scope and reputation of this entire organization. During 2018 we plan to celebrate his leadership over the years and his legacy as our Founding Artistic Producer."
The new Artistic Director will be a creative visionary who furthers the festival's reputation and achievements, its valued relationships with artists, and the excellence and diversity of its programming. This AD will be an individual likely active with, and definitely fully aware of, Canadian and international composers, musicians and music organizations, and of the procedures and principles which ensure a successful artistic enterprise.
A complete profile of the organization and a description of this position are available on their website www.stratfordsummermusic.ca as are details of the application process.
***
Le Festival de musique estival de Stratford en quête d'un directeur artistique
Le Festival de musique estival de Stratford lance un appel à candidatures et à nominations pour pourvoir le poste de direction artistique. La personne retenue succédera au fondateur et directeur artistique émérite, John A. Miller, qui prendra sa retraite à l'automne de 2018 à la suite de la dix-huitième saison du festival.
En l'honneur de ses réalisations à titre de fondateur du plus important festival de musique en tous genres au Canada, Miller sera nommé Fondateur et Directeur artistique émérite.
« À vrai dire, le Festival de musique estival de Stratford n'aurait jamais existé sans John », a déclaré le président du conseil d'administration du festival, Marcel van Hulle, dans un communiqué de presse. « Nous devons reconnaître et apprécier à sa juste valeur tout ce qu'il a fait pour étendre la portée et façonner la réputation de l'organisation entière. En 2018, nous envisageons de célébrer la direction qu'il nous a donnée au fil des ans et son héritage en tant que producteur artistique fondateur. »
La personne qui lui succédera sera une visionnaire créative qui poursuivra les réalisations du festival et continuera de bâtir sa réputation, ses liens privilégiés avec les artistes de même que l'excellence et la diversité de sa programmation. La personne retenue sera peut-être active au sein du milieu musical canadien ou international. Elle devra nécessairement connaître les compositeurs, les musiciens et les organismes de musique au pays comme à l'étranger, ainsi que les procédures et principes qui assurent le succès de toute entreprise artistique.
On peut lire le profil complet de l'organisme, la description du poste et le processus de candidature sur le site www.stratfordsummermusic.ca.