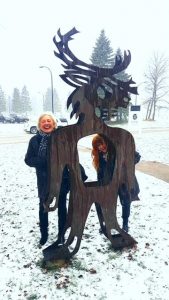 Let it Snow – In Thunder Bay!
(Donna Gilhooly, board member and Kathleen Sharpe, Executive Director, in front of the Thunder Bay Art Gallery. Photo credit: Thomas Vaughan)
While OCAF attended the Northern Ontario Tourism Summit in Thunder Bay last week, Kathleen Sharpe, Thomas Vaughan and Donna Gilhooly (our member in Thunder Bay) were able to meet with representatives from the Thunder Bay Art Gallery, Thunder Bay Symphony, the Sports Hall of Fame, the Thunder Bay Library, Magnus Theatre and Fort William National Park, to discuss possible applications to the program. Thunder Bay is bursting with arts and culture and OCAF is hoping to help market some of those events. Stay tuned!
***
Qu'il neige… à Thunder Bay !
(Donna Gilhooly, administratrice du conseil, et Kathleen Sharpe, directrice générale, devant la Thunder Bay Art Gallery. Photo : Thomas Vaughan)
Kathleen Sharpe, Thomas Vaughan et Donna Gilhooly (notre représentante à Thunder Bay) ont profité de la visite du FMCO au Sommet du tourisme du Nord de l'Ontario tenu à Thunder Bay la semaine dernière pour discuter des utilisations possibles du programme avec des représentants de la Thunder Bay Art Gallery, de l'Orchestre symphonique de Thunder Bay, du Temple de la renommée des sports, de la Bibliothèque publique de Thunder Bay, du Magnus Theatre et du parc historique du Fort William. Les manifestations artistiques et culturelles pullulent à Thunder Bay et le FMCO espère contribuer à en faire connaître quelques-unes. Une histoire à suivre !
___________________________________________________
The Faraway Nearby comes to an end at the Ryerson Image Centre
"The Faraway Nearby is a revealing window into how Americans saw their northern neighbour back in the day." – The Toronto Star
Featuring photographs of Canadian subject matter from The New York Times Photo Archive, The Faraway Nearby examines nearly a century of Canada's history and its representation in the Times, the leading American newspaper of record. Taking an expansive view of the many stories that have shaped the Canadian national experience, this exhibition highlights images of major political events and conflicts, iconic landscapes across the nation, sports heroes, candid reportage on the lives of diverse communities, and portraits of notable Canadians.
The exhibition draws from nearly 25,000 photographs preserved in The New York Times Photo Archive, known henceforth as The Rudolph P. Bratty Family Collection. This extraordinary new promised gift from Toronto entrepreneur Chris Bratty, made in honour of Canada 150, joins the renowned Black Star Collection, further establishing the Ryerson Image Centre as a key international resource for the study of press photography.
This thought provoking exhibition closes December 10.
***
The Faraway Nearby prend fin au Ryerson Image Centre
« The Faraway Nearby révèle comment les Étatsuniens voyaient jadis leurs voisins du Nord. »  — The Toronto Star
Grâce à des photographies de sujets canadiens tirées des archives du New York Times, The Faraway Nearby examine près d'un siècle d'histoire canadienne et sa représentation dans ce grand journal étatsunien de la presse internationale.
L'exposition propose une vision élargie des nombreuses histoires qui ont façonné notre expérience nationale. Elle met en images les principaux événements et conflits, les paysages emblématiques des quatre coins du pays, les héros sportifs, les reportages candides sur la vie dans des communautés diversifiées et les portraits de Canadiens notables.
Les photographies de l'exposition sont tirées de la collection de quelque 25 000 images conservées dans les archives photographiques du New York Times, qui s'appellent désormais The Rudolph P. Bratty Family Collection. Ce nouveau don extraordinaire de l'entrepreneur torontois Chris Bratty pour rendre hommage à Canada 150 s'ajoute à la célèbre collection Black Star pour consolider la réputation du Ryerson Image Centre à titre de ressource majeure à l'échelle internationale en matière d'études de la photographie de presse.
Cette exposition inspirante prend fin le 10 décembre.
___________________________________________________
Next up with Théâtre Francais: Les Inspirés: Six Degrées de Séparation
Running December 1 – 9, TF's  next offering Les Inspirés: Six Degrées de Séparation  debuts at the Berkeley Street Theatre, and consists of five pieces written by different artists.
There's a popular theory that only six stages connect all living beings to life and to each other – and words are believed to be the link that brings us all together as compassionate people. To celebrate and challenge this theory, five talented young writers are ready to present their latest Zinspires in this work. Showing us the vulnerabilities of our desires, losses, and joys, Director Chanda Gibson returns to direct this production of texts and emotions.
Don't miss Monet Monet, by Catalina Lu, Une soirée avec Jésus, by Anca Maglaviceanu, Hughes à la recherche de la liberté, by Armando Muheto, and Trouvons l'amour, by Adèle Lukusa. Buy your tickets, and enjoy what the art brings to you.
***
Du 1er au 9 décembre, le TfT présente sa prochaine production, Les Zinspirés : Six degrés de séparation au Berkeley Street Theatre. On y découvrira les pièces de cinq artistes différents.
Selon une théorie populaire, seulement six étapes relient tous les êtres vivants les uns aux autres. Dans ce contexte, les mots serviraient toujours à capter notre vision du monde et à la faire comprendre aux autres. Pour rendre hommage à cette théorie et la mettre au défi, cinq jeunes auteurs Zinspirés et talentueux ont travaillé des textes qu'ils sont désormais prêts à présenter. Leurs récits nous révèlent la vulnérabilité de nos désirs, de nos pertes et de nos joies. La metteure en scène Chanda Gibson dirige encore cette année cette production remplie de textes chargés d'émotions.
Courez voir Monet Monet de Catalina Lu, Une soirée avec Jésus de Anca Maglaviceanu, Hughes à la recherche de la liberté d'Armando Muheto et Trouvons l'amour d'Adèle Lukusa. Achetez vos billets et goûtez à tout ce que l'art peut vous offrir.
___________________________________________________
THEMUSEUM brings interAction: New Media Exhibition this January 2018
January 2018 is only a few weeks away, and THEMUSEUM has big things planned! InterAction: New Media Exhibition kicks off THEMUSEUM programming in the new year.
Sign up for the weekly newsletter to keep in touch with updates on this project!
***
THEMUSEUM présente InterAction : New Media Exhibition en janvier 2018
Janvier 2018 approche et 
THEMUSEUM
 nous prépare de grands projets ! 
InterAction : New Media Exhibition
 marque le début de la programmation de THEMUSEUM dans la nouvelle année.
Inscrivez-vous pour recevoir le bulletin hebdomadaire et toutes les mises à jour du projet !
___________________________________________________
The Bentway launches December 1
The Bentway is the result of a bold partnership between The City of Toronto and the Judy and Wilmot Matthews Foundation. Wil and Judy recognized the unusual beauty underneath the expressway and the potential of this space to connect the city to the waterfront, stitch together newly developing neighbourhoods and become a new cultural attraction, and made a significant donation to help make this happen.
In 2015, Waterfront Toronto and Bespoke Collective initiated a public campaign to name what was then called Project: Under Gardiner. The public suggested 884 different options and a shortlist of four names were chosen by a jury of Torontonians and put to a public vote. After three months, 5,000 votes and a four-day runoff vote, The Bentway beat out its closest competitor "The Artery" by almost double the number of votes.
Now they're back with a series of events taking place December 1, 2017 to December 31, 2018. Planned elements for Phase 1 of the Bentway include an amphitheatre with exterior seating for over 250 people, a lawn space that can accommodate over 1,500 viewers, an open air gallery, an ice skating trail, and a pedestrian and cycling path. Spectators will have a wide range to choose from depending on their preference.
Keep in touch to learn more!
***
Lancement de The Bentway le 1er décembre
The Bentway découle d'un partenariat audacieux entre la Ville de Toronto et la Fondation Judy and Wilmot Matthews. Wil et Judy ont reconnu la beauté peu commune que l'on trouve sous l'autoroute Gardiner. Ils y ont vu une possibilité de relier la ville au bord de l'eau, de tisser des liens entre de nouveaux quartiers et d'y créer une nouvelle attraction culturelle. Ils ont fait un don important pour que cette vision devienne réalité.
En 2015, Waterfront Toronto et Bespoke Collective ont lancé une campagne publique pour ce projet qui s'appelait alors Project : Under Gardiner. Le public a proposé 884 noms différents. Quatre ont été retenus par un jury de Torontois et soumis à un vote public. Après trois mois, 5 000 votes et quatre jours de tours de scrutin, The Bentway l'a emporté devant son plus proche concurrent « The Artery » en obtenant plus du double des voix.
La manifestation est maintenant de retour avec une série d'événements qui auront lieu du 1er au 31 décembre 2018. La première phase de The Bentway comporte un amphithéâtre extérieur de 250 places, un espace gazonné qui peut accommoder plus de 1 500 spectateurs, une galerie en plein air, un tracé de patinage, une piste cyclable et un sentier pédestre. Il y en aura pour tous les goûts et les spectateurs pourront faire un choix parmi une gamme complète de possibilités.
Gardez le contact pour en savoir plus !