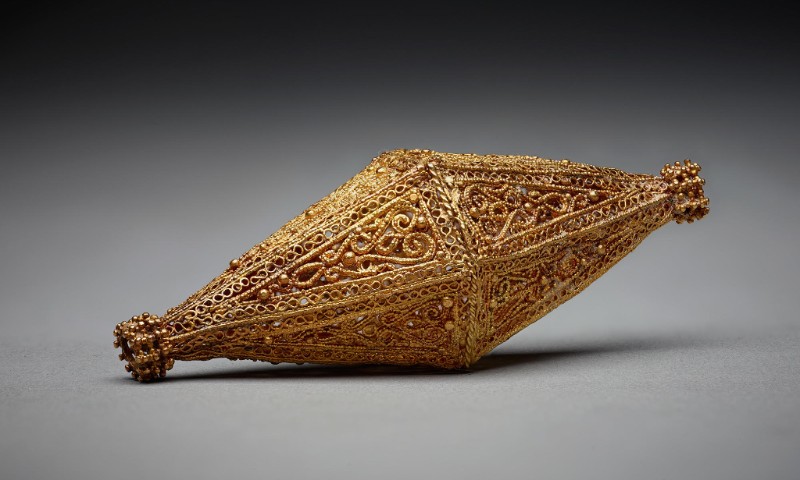 Explore the World of the Fatimids at the Aga Khan Museum !
Now open at the Aga Khan Museum, The World of the Fatimids marks the first time a collection of masterpieces from the Fatimid dynasty are on display in North America! In the 10th and 11th centuries, the Fatimids established one of the world's greatest civilizations, building one of the oldest universities and greatest libraries known to man. Their influence spread throughout the Mediterranean, Europe, and the Near East.
Highlights of the exhibition include monumental marble reliefs from the Museum of Islamic Art in Cairo, luxury objects made of rock crystal and ivory, ceramic lusterware, and masterpieces of metalware. Also on display: drone videography and 360 virtual reality films that offer a glimpse into Fatimid-era Cairo. The exhibit will be accompanied by lectures, films, block printing workshops, and a curator's tour. Click here to watch a stunning preview of the exhibit.
The World of the Fatimids runs until July 2 at the Aga Khan Museum.
Purchase your tickets here.
***
Explorez le monde des fatimides au musée Aga Khan!
Avec The World of the Fatimids, en cours à l'Aga Khan Museum, une collection de chefs-d'œuvre de la dynastie des Fatimides est présentée pour la première fois en Amérique du Nord ! Aux 10e et 11e siècles, les Fatimides ont érigé une grande civilisation en bâtissant l'une des plus anciennes universités et les bibliothèques les plus remarquables de l'histoire de l'humanité. L'influence de cette civilisation s'est répandue en Méditerranée, en Europe et au Proche-Orient.
Parmi les attractions, l'exposition met en lumière des reliefs monumentaux en marbre du Musée islamique du Caire, des objets luxueux fabriqués en cristal de roche et en ivoire, des céramiques au lustre métallique et des chefs-d'œuvre d'orfèvrerie. On pourra aussi voir : une vidéo aérienne filmée par drone et des films de réalité virtuelle à 360 pour observer la vie à l'époque de la civilisation des Fatimides au Caire. Des conférences, des films, des ateliers d'impression sur cliché bois et une visite avec le commissaire complètent la programmation de l'exposition. Cliquez ici pour voir un superbe aperçu de l'exposition.
The World of the Fatimids est en cours jusqu'au 2 juillet au Musée Aga Khan.
Achetez vos billets ici.
_________________________________________________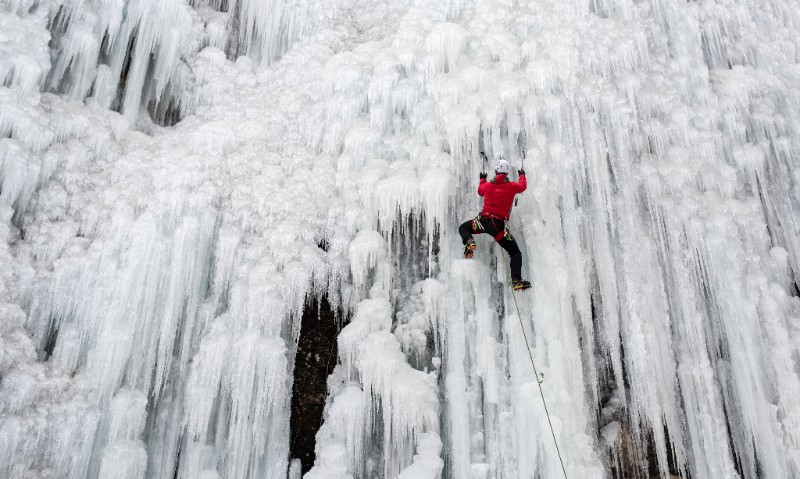 On Now: Beyond Human Limits at Science North!
Experience the thrill of extreme sports at Science North's newest exhibition Beyond Human Limits! At this engaging, high-tech exhibit, visitors can get inside the bodies and minds of extreme athletes through hands-on activities, interactive installations and immersive environments. Entrance to the exhibit includes a simulated flight, some rock-climbing (views not guaranteed) and a surprisingly dry big-wave surf experience.
Beyond Human Limits runs until September 3 at Science North.
Get your tickets here.
***
Au-delà des limites humaines à Science Nord!
Vivez l'excitation des sports extrêmes à Science Nord avec la nouvelle exposition Au-delà des limites humaines ! Avec ses activités pratiques, stimulantes et à haute technologie ainsi que ses installations interactives et ses environnements immersifs, l'exposition permet aux visiteurs de ressentir de la tête aux pieds les sensations que vivent les athlètes de sports extrêmes. Dès l'entrée, l'exposition propose un vol simulé, l'escalade d'une paroi rocheuse (vues non garanties) et de longs surfs sur une vague étonnamment sèche.
Au-delà des limites humaines est en cours jusqu'au 3 septembre à Science Nord.
Procurez-vous vos billets ici.
_________________________________________________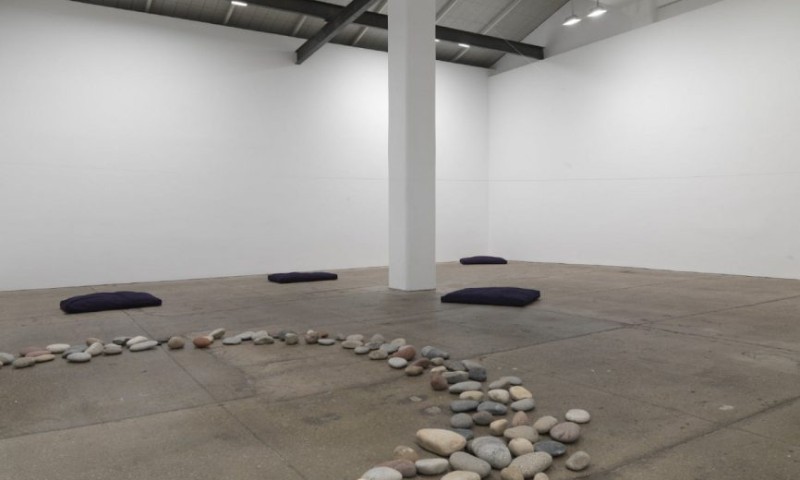 Find Stillness at The Riverbed
"The Riverbed isn't just a playground for repressed museumgoers to throw off inhibitions … It's a place where the nominal shared experience of museum-going puts its money where its mouth is." – Toronto Star
Don't miss your chance to see Yoko Ono's The Riverbed at the Gardiner! Armed with some twine, broken ceramics and smooth river stones, Ono invites visitors to make a spontaneous, collaborative manifestation of their hopes and dreams. Looking to practice stillness, talk peace activism or delve deeper into Ono's work? You're in luck! Join the Shambhala Meditation Centre of Toronto for a monthly guided meditation in the exhibition space before the museum opens to the public. For diehard Ono fans, the Gardiner hosts a three-part monthly screening and performance series inspired by the artist's 60s and 70s film work. Specifically interested in her peace activism? Participate in the IMAGINEPEACE Forum, a two-event series in which artists and academics will discuss how governments and citizens are shaping their future in the digital realm. Click here for a full event schedule.
The Riverbed runs until June 4 at the Gardiner Museum.
Book your tickets here.
***
Trouver calme au lit de la rivière
« The Riverbed, c'est plus qu'un terrain de jeu où des visiteurs de musée réprimés oublient leurs inhibitions… C'est un endroit où l'expérience partagée de la visite d'un musée prend une toute autre dimension. » – Toronto Star
Ne manquez pas votre chance de voir l'exposition The Riverbed de Yoko Ono au musée Gardiner ! Avec des ficelles, de la céramique brisée et des galets de rivière lisses, Ono invite les visiteurs à participer à une manifestation collaborative et spontanée de leurs espoirs et de leurs rêves. Voulez-vous vous adonner à la méditation, parler de militantisme pour la paix ou plonger davantage dans l'œuvre d'Ono ? C'est votre chance ! Une fois par mois, le Shambhala Meditation Centre de Toronto propose une méditation guidée dans la salle d'exposition avant l'ouverture des portes. Pour les admirateurs irréductibles d'Ono, le Gardiner organise chaque mois une projection et une série de performance en trois parties inspirées de la filmographie de l'artiste réalisée dans les années 1960 et 1970. Son militantisme pacifique vous passionne tout particulièrement ? Participez au forum IMAGINEPEACE, une série de deux activités où artistes et universitaires discuteront des méthodes employées par les gouvernements et les citoyens pour façonner leur avenir dans le monde numérique. Cliquez ici pour la programmation complète.
The Riverbed est en cours jusqu'au 4 juin au Gardiner Museum.
Réservez vos billets ici.
_________________________________________________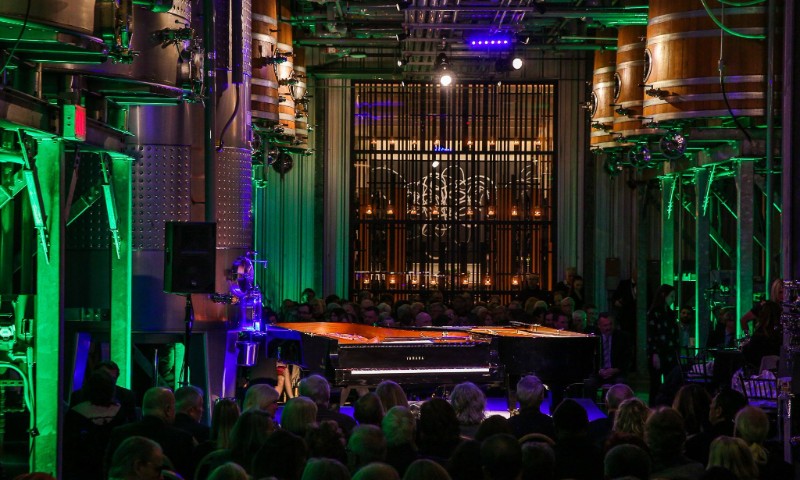 Save the Date: Doors Open Ontario 2018
The 2018 season of Doors Open Ontario kicks off on April 21 in Guelph! This year's event gives visitors a glimpse into the heritage buildings, cultural institutions, and architectural marvels of 35 communities across the province. Since Ontario Heritage Trust launched Doors Open Ontario in 2000, the event has seen 7.3 million visits.
Did you know? The first Doors Open Day took place in France in 1984, but Toronto hosted the North American premiere in 2000.
For updates, keep an eye on the event schedule.
***
Portes ouvertes Ontario 2018
La saison 2018 des Portes ouvertes Ontario s'ouvre le 21 avril à Guelph ! Cette année, la manifestation offre aux visiteurs un aperçu d'édifices patrimoniaux, d'institutions culturelles et de merveilles architecturales dans 35 communautés à travers la province. Depuis le lancement de Portes ouvertes Ontario en 2000 par la Fiducie du patrimoine ontarien, la manifestation a accueilli 7,3 millions de visiteurs.
Saviez-vous que… La première journée Portes ouvertes a eu lieu en France en 1984, mais que c'est à Toronto que s'est déroulée la première nord-américaine en 2000?
Pour des mises à jour, consultez régulièrement le calendrier de l'événement.
_________________________________________________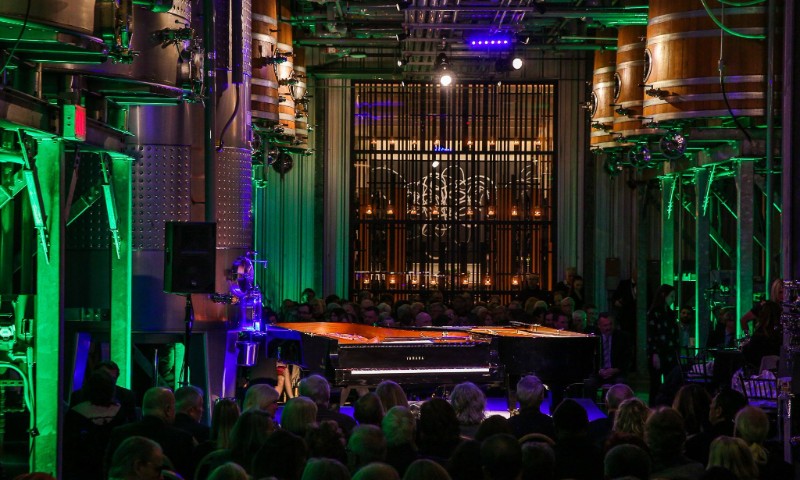 Oscar Peterson Jazz Festival: A Rave Review!
"This was that kind of jazz festival – the Bordeaux-sipping, dreamy ballads kind, something of a lovely social fantasy not far in spirit from that evoked by the 'dear gentle folk of Newport,' as sung in That's Jazz by Bing Crosby in the 1956 film High Society. In broader terms, here was a reminder of jazz's golden afterglow in the 1960s and early 70s, when the music still made money, when compact festivals from Newport, R.I., to Juan-les-Pins on the French Riviera, were well-curated at the start." – The Globe and Mail
It's a rave! Peter Goddard sings the praises of the inaugural Oscar Peterson Jazz Festival in The Globe and Mail. Read the full review here.
***
Oscar Peterson Jazz Festival: une critique élogieuse!
« Voilà le genre de festival de jazz auquel nous avons eu droit : en sirotant du bordeaux, nous avons écouté des ballades rêveuses qui évoquaient une sorte de charmante fantaisie sociale rappelant les "chers gens doux de Newport" comme le chantait Bing Crosby dans la chanson That's Jazz du film High Society en 1956. De manière plus générale, ce fut un rappel de la belle euphorie qui animait le jazz des années 1960 et du début des années 1970, à une époque où cette musique était encore rentable, et que des festivals compacts et bien pensés faisaient la renommée de ville comme Newport (au Rhode Island) et de Juan-les-Pins sur la Côte d'Azur. » – The Globe and Mail
Un concert d'éloges ! Peter Goddard chante les louanges de l'édition inaugurale du Oscar Peterson Jazz Festival dans un article du journal The Globe and Mail. Lisez la critique complète ici (en anglais).
_________________________________________________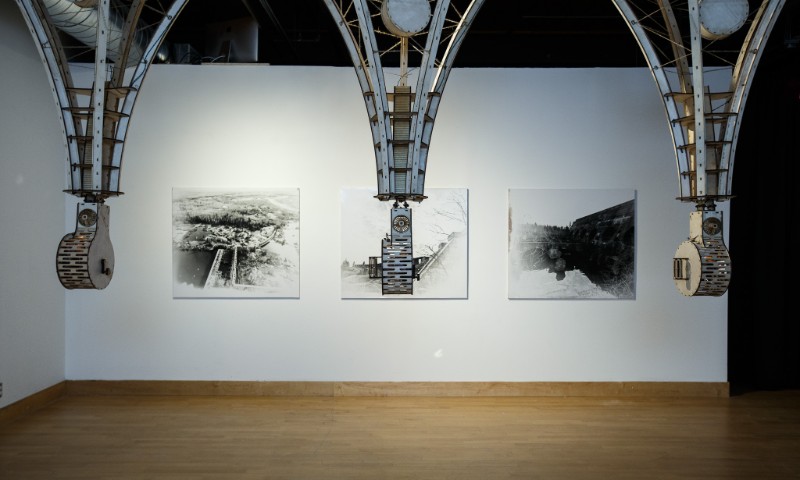 On Now: InterAction at THEMUSEUM
Don't miss InterAction at Kitchener's THEMUSEUM: an innovative, multi-modal exhibit that explores how Canadian artists and designers are engaging the public through interactivity. Futuristic, thought-provoking and playful, the objects and systems at InterAction promote critical reflection about the digital age.
InterAction runs until May 13 at Kitchener's THEMUSEUM.
Click here to purchase tickets.
***
InterAction à THEMUSEUM
Ne manquez pas InterAction à THEMUSEUM à Kitchener : une exposition novatrice à démarches multiples qui explore comment les artistes et les concepteurs se servent de l'interactivité pour communiquer avec le public. Futuristes, stimulants et ludiques, les objets et les systèmes présentés à InterAction favorisent la réflexion critique sur l'âge du numérique.
InterAction est en cours jusqu'au 13 mai à THEMUSEUM à Kitchener.
Cliquez ici pour acheter vos billets.
_________________________________________________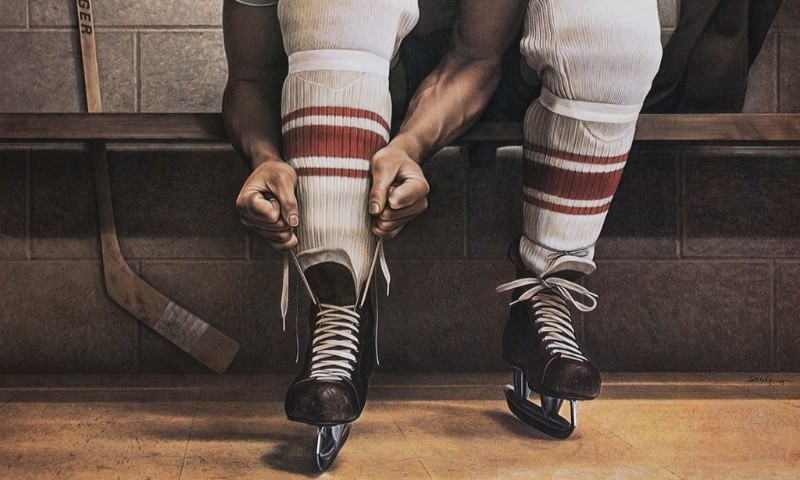 Closing Soon: Ken Danby at the Art Gallery of À venir bientôt: Ken Danby à la Galerie d'art de SudburySudbury
Don't miss the opportunity to see a wonderfully curated collection of Ken Danby's most famous paintings! Escape the cold with a visit to Ken Danby: Beyond the Crease, featuring 38 of the realist artist's most significant works from public and private collections. Get inspired by Danby's take on the Canadian winter – before the season (and exhibit) come to a close.
Beyond the Crease runs until April 1 at the Art Gallery of Sudbury.
***
À venir bientôt: Ken Danby à la Galerie d'art de Sudbury
Ne manquez pas cette merveilleuse exposition des peintures les plus célèbres de Ken Danby ! Échappez aux rigueurs de l'hiver pour visiter l'exposition Ken Danby : Au-delà de la zone de but, qui présente 38 des œuvres réalistes les plus marquantes de l'artiste provenant de collections publiques et privées. Laissez-vous inspirer par la vision de Danby sur l'hiver canadien… avant que la saison (et l'exposition) prennent fin.
Au-delà de la zone de but a lieu jusqu'au 1er avril à la Galerie d'art de Sudbury.
_________________________________________________
More News from the Cultural Sector / Plus de nouvelles du secteur culturel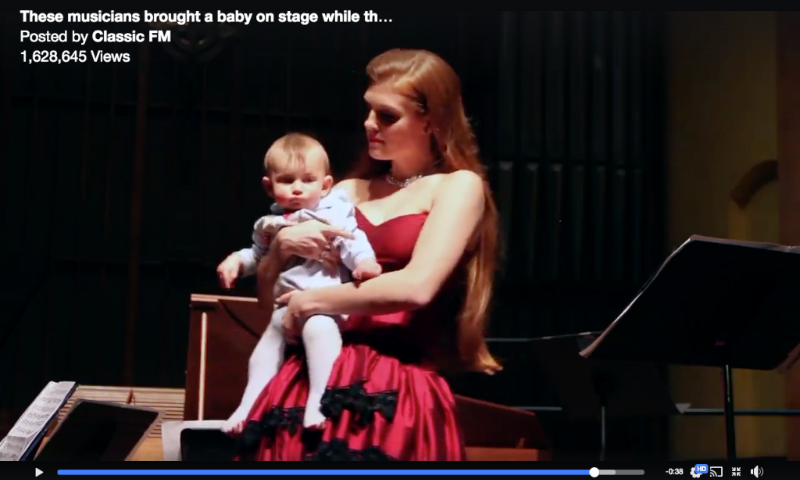 A Christmas performance from our Ottawa client Music and Beyond has gone viral! When Montreal violist Marina Thibeault's seven-month-old son woke up from a nap, the organizers decided to bring him on stage. The end result? A magical rendition of Brahms' Geistliches Wiegenlied that has garnered over 1.6 million views!
Une représentation donnée par notre client d'Ottawa, Musique et autres mondes, est devenue très populaire ! Quand le fils de sept mois de la violoniste montréalaise Marina Thibeault s'est réveillé de son somme, les organisateurs du festival ont décidé de l'emmener sur scène. Le résultat ? Une interprétation magique de Geistliches Wiegenlied de Brahms qui a été vue plus de 1,6 million de fois !
***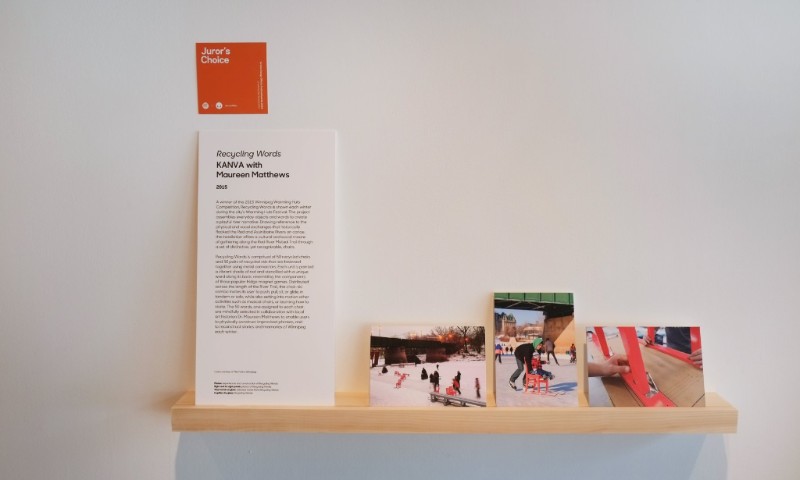 The Toronto Design Offsite Festival has announced the 6th annual TO DO Awards winners. A jury of design professionals determined the winners of the "Best in Festival and "Juror's Choice" categories, while the public voted for the "People's Choice" awards.
Le Toronto Design Offsite Festival a annoncé les lauréats de la 6e édition des prix TO DO Awards. Un jury de designers professionnels a choisi les lauréats dans les catégories « Meilleur du festival » et « Choix du jury », alors que le public votait pour désigner le « Choix du public ».
***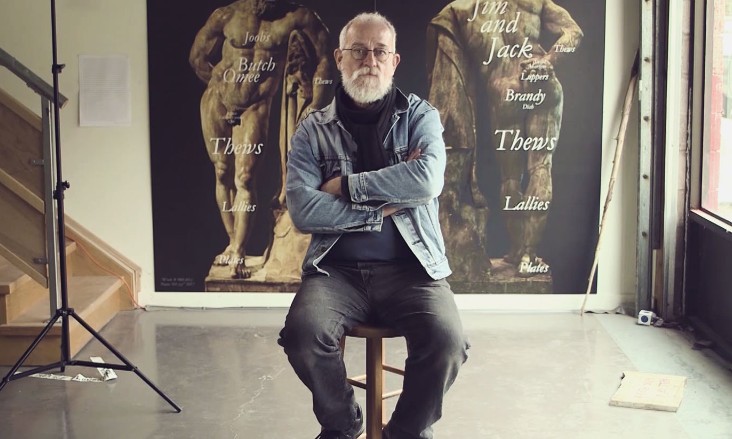 The Canada Council for the Arts has announced the winners of the 2018 Governor General's Awards in Visual and Media Arts. The $25,000 cash prize includes categories for artistic achievement in visual and media arts, fine craft and outstanding contribution.
Le Conseil des arts du Canada a annoncé les lauréats des Prix du gouverneur général en arts visuels et en arts médiatiques de 2018. Les prix, qui s'accompagnent d'une bourse de 25 000 $, comprennent des catégories célébrant les réalisations artistiques en arts visuels, en arts médiatiques et dans les métiers d'art, ainsi qu'une contribution exceptionnelle en art.