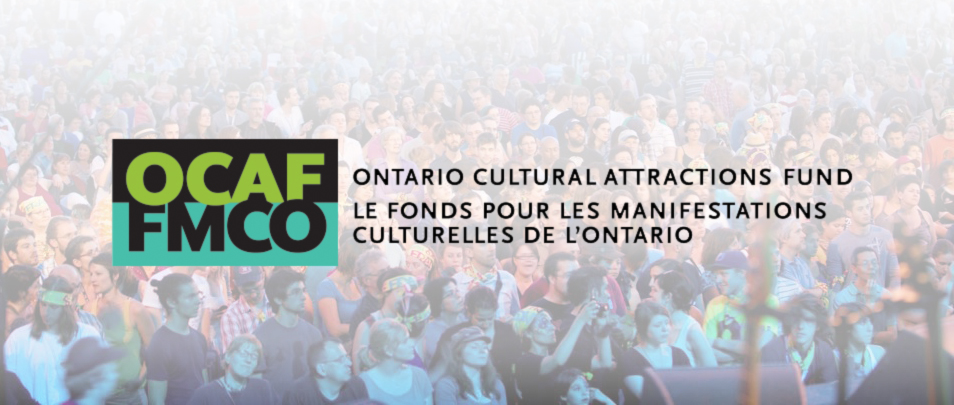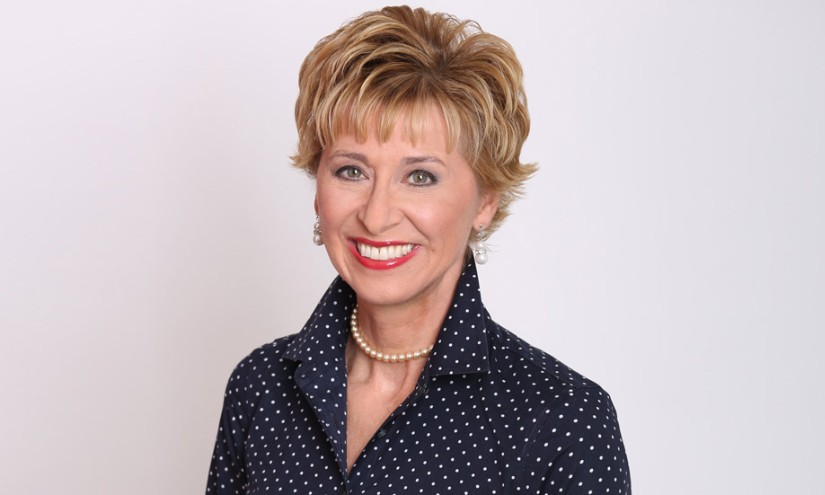 Welcome, Minister Daiene Vernile!
Kitchener-Centre MPP Daiene Vernile succeeds Eleanor McMahon as the new Minister of Tourism, Culture and Sport. First elected to the Ontario Legislature in 2014, Ms. Vernile has been an active supporter of the cultural sector in her riding.
***
Bienvenue à la ministre Daiene Vernile!
La députée provinciale de Kitchener-Centre, Daiene Vernile, succède à Eleanor McMahon à la tête du ministère du Tourisme, de la Culture et du Sport. Élue pour la première fois à l'Assemblée législative de l'Ontario en 2014, madame Vernile a toujours activement appuyé le secteur culturel dans sa circonscription.
___________________________________________________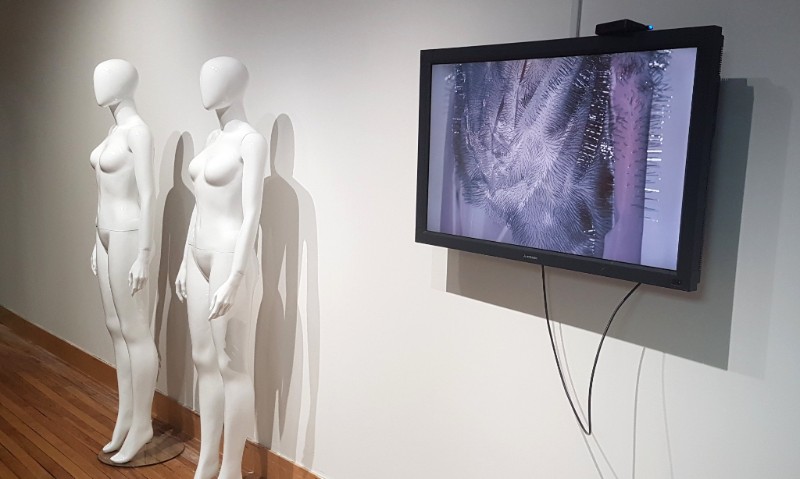 InterAction at THEMUSEUM!
Looking for a different kind of art experience? Check out InterAction at Kitchener's THEMUSEUM: an innovative, multi-modal exhibit that explores how Canadian artists and designers are engaging the public through interactivity. At InterAction, art objects and interactive systems promote critical reflection, engaging the body and mind through playful encounters, sensorially-rich experiences and immersive environments. InterAction inspires us to examine contemporary digital culture and imagine future possibilities.
The exhibit is curated by Jane Tingley and Alain Thibault, and co-produced with Montreal-based digital arts festival Elektra. Alain Thibault – Elektra's artistic director – is a composer, sound designer and electronic music artist. Jane Tingley is an Associate Professor at the Department of Fine Arts at the University of Waterloo – her work explores ideas involving identity and contemporary experience using new media, sculpture and installation.
InterAction runs from January 26 to May 13.
Ready to immerse yourself? Click here to purchase tickets.
***
InterAction à THEMUSEUM!
En quête d'une nouvelle expérience artistique? Ne manquez pas InterAction à THEMUSEUM à Kitchener: une exposition novatrice à multiples démarches qui explore comment les artistes et les concepteurs se servent de l'interactivité pour communiquer avec le public. InterAction présente des objets d'art et des systèmes interactifs qui favorisent la réflexion critique en proposant au corps et à l'esprit des rencontres ludiques, de riches expériences sensorielles et des milieux pour s'immerger. InterAction nous incite à examiner la culture numérique contemporaine et à imaginer des possibilités futures.
L'exposition est organisée par Jane Tingley et Alain Thibault. Elle est coproduite avec Elektra, festival d'art numérique de Montréal. Alain Thibault, directeur artistique d'Elektra, est compositeur, concepteur sonore et artiste de musique électronique. Jane Tingley est professeure agrégée au département des beaux-arts de l'Université Waterloo. Par son travail, elle explore les liens entre identité et expérience contemporaine au moyen des nouveaux médias, de la sculpture et de l'installation.
InterAction est présentée du 26 janvier au 13 mai.
___________________________________________________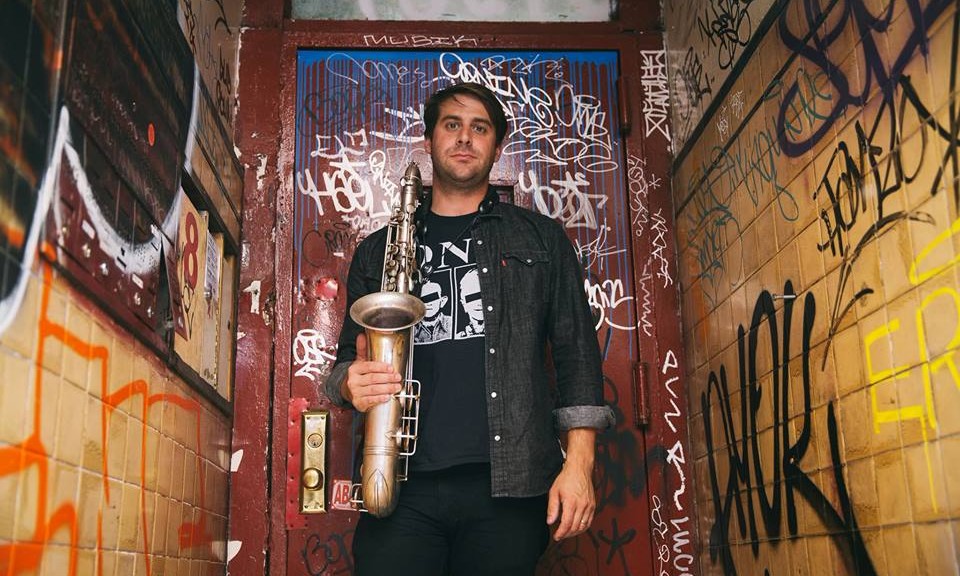 The Hill Is Alive with The Sound of (Jazz) Music
Warm up with some hot jazz at the TD Ottawa Winter Jazz Fest, running from February 8-10 at La Nouvelle Scène. This year's lineup covers all the bases: from progressive jazz, modern, and classical, to Latin, swing, contemporary, Afro-Cuban – and more!
On headlining duties? Grammy-nominated pianists Fred Hersch and Hilariou Durán. Hersch will close the festival's main stage with a solo show on Saturday, while Durán will join the Ottawa Latin Jazz Big Band on Friday evening. Both nights will feature post-show jam sessions, allowing Ottawa musicians to play alongside touring greats. Not only is admission free, but any jazz musician is welcome to join! Other highlights include tunes by the wonderfully innovative Sardinian guitarist Paolo Angeli, the heartfelt, warm stylings of Emma Frank and a uniquely art-inspired performance by saxophonist Chet Doxas.
Did you know? Chet Doxas composed his upcoming performance, Rich in Symbols, while standing in front of his favourite paintings in New York City museums. These artworks will be projected in HD as the ensemble plays the corresponding "soundtrack"!
Click here to buy tickets!
***
La colline s'anime au son de la musique (de jazz)
Venez vous réchauffer avec du jazz hot au Festival de jazz d'hiver d'Ottawa TD qui se déroule du 8 au 10 février à La Nouvelle Scène. Cette année, la programmation en a pour tous les goûts: jazz progressif, moderne, classique, latin, swing, contemporain, afro-cubain, et plus!
Qui sont les têtes d'affiche? Deux finalistes aux prix Grammy, les pianistes Fred Hersch et Hilariou Durán. Le spectacle solo de Hersch sera le clou du festival sur la scène principale le samedi soir. De son côté, Durán se joindra au Ottawa Latin Jazz Big Band le vendredi soir. Les deux soirs, après les spectacles principaux, des séances musicales improvisées permettront aux musiciens d'Ottawa de jouer avec ces légendes en tournée. Non seulement l'entrée est libre, mais tous les musiciens de jazz sont les bienvenus! Parmi d'autres moments forts, des airs joués par Paolo Angeli, guitariste sarde magnifiquement novateur, le style chaud et réconfortant d'Emma Frank et un spectacle d'inspiration artistique du saxophoniste Chet Doxas.
Saviez-vous que… Chet Doxas a composé les musiques de son spectacle, Rich in Symbols, en contemplant ses peintures préférées dans les musées de New York? Les œuvres en question seront projetées en HD pendant que l'ensemble jouera les pièces musicales qu'elles ont inspirées!
Cliquez ici pour acheter des billets!
___________________________________________________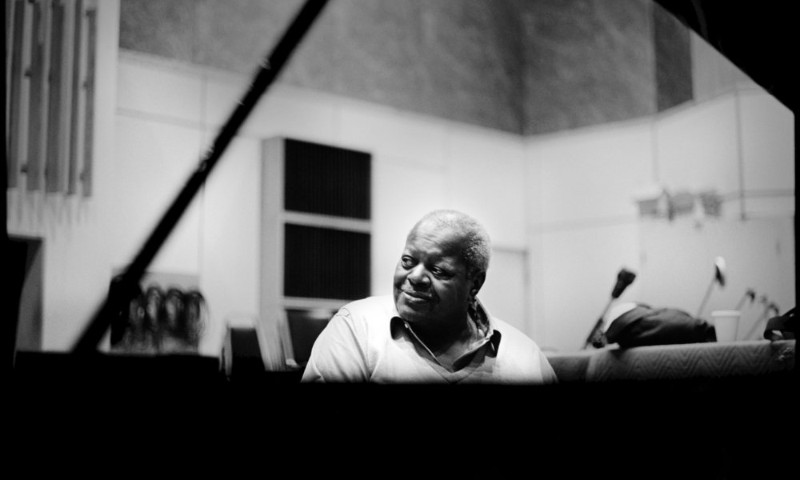 True, Swinging Jazz in the Niagara Region
Calling all jazz aficionados! The inaugural edition of the Oscar Peterson Jazz Festival is taking place on February 16-18 in scenic Niagara-on-the-Lake. Conceived by the pianist's widow Kelly Peterson and produced by Bravo Niagara! Festival of the Arts, the Festival is the first to bear the name of the Montreal-born virtuoso. The organizers hope to present "true, swinging jazz – the music that Oscar dedicated his life to". This year, the festival celebrates the legacy of jazz impresario Norman Granz, Peterson's close friend, civil rights activist and founder of the Jazz at the Philharmonic concert tours: a series of all-star jam-session-style concerts that helped break down racial barriers in the 1940s and 50s.
Enjoy a series of concerts, documentaries, and the presentation of the first Canadian Jazz Master Awards with a glass of Niagara's finest. On the star-studded lineup? Singer Cecile McLorin Salvant, trumpeter Jon Faddis, bassist Christian McBride and pianists Benny Green, Renee Rosnes and Bill Charlap.
Get your tickets here!
***
Du jazz authentique et entraînant dans la région du Niagara
Appel à tous les amateurs de jazz! La première édition du Oscar Peterson Jazz Festival aura lieu du 16 au 18 février dans la belle région de Niagara-on-the-Lake. Le festival, conçu par la veuve du pianiste, Kelly Peterson, est produit par Bravo Niagara ! Festival of the Arts. Ce festival est le premier à porter le nom du virtuose montréalais. Les organisateurs souhaitent présenter « un jazz authentique et entraînant, à l'image de celui auquel Oscar a consacré toute sa vie ». Cette année, le festival célèbre l'héritage de l'ami intime de Peterson, l'imprésario de jazz Norman Granz, militant des droits civils et fondateur des tournées de concerts Jazz at the Philharmonic: une série de séances musicales improvisées avec des étoiles du jazz qui ont aidé à faire tomber les barrières raciales des années 1940 et 1950.
Assistez à une belle série de concerts, à des documentaires et à la présentation des premiers prix Canadian Jazz Master Awards en dégustant un des grands vins du Niagara. Qui sont les vedettes de la programmation? La chanteuse Cecile McLorin Salvant, le trompettiste Jon Faddis, le bassiste Christian McBride et les pianistes Benny Green, Renee Rosnes et Bill Charlap.
Procurez-vous vos billets ici!
___________________________________________________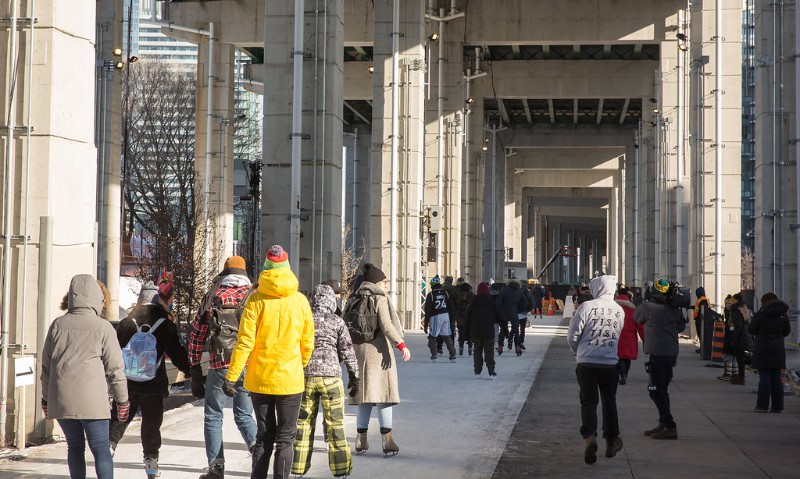 On Now: Skating and Dancing on the Bentway Skate Trail
Don't forget to check out the Beats and Bents Friday night skate party series at the Bentway! On January 26, go 'Back to the 80s' with a mix of hip-hop R&B, funk, soul, electronic, and much more. On February 2, the theme is 'Last Planet' – stay tuned for more details! Also on the schedule? Free skate rentals, pop-up skate instruction and ice breaking workshops.
The Bentway Skate Trail is open until mid-March, weather permitting.
***
En cours : Patinage et danse sur la piste de patin à glace Bentway
Ne manquez pas les Beats and Bents, les fêtes qui ont lieu tous les vendredis soir à la piste Bentway! Le 26 janvier, c'est le retour aux années 1980 avec un mélange de musiques hip-hop, rhythm and blues, funk, soul, électronique et bien d'autres. Le 2 février, la fête sera placée sous le thème de la « dernière planète » : nous aurons plus de détails sous peu! Au menu du reste de la programmation? Location de patin sans frais, leçons éclair de patinage et ateliers brise-glace.
La Bentway Skate Trail sera ouverte jusqu'à la mi-mars si le temps le permet.
___________________________________________________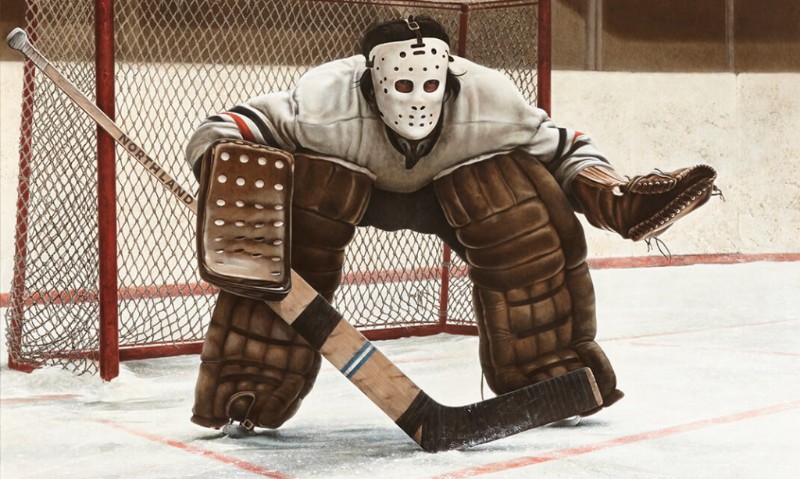 On Now: Wintry, Canadian Realism at the Art Gallery of Sudbury
Don't miss the opportunity to see Ken Danby's most famous paintings – all in one place! Escape the cold with a visit to Ken Danby: Beyond the Crease, featuring 38 of the realist artist's most significant works from public and private collections. Get inspired by Danby's take on the Canadian winter!
The exhibit runs until April 1 at the Art Gallery of Sudbury.
***
En cours : Réalisme de l'hiver canadien à la Galerie d'art de Sudbury
Ne manquez pas cette occasion unique de voir toutes au même endroit les peintures les plus célèbres de Ken Danby! Échappez aux rigueurs de l'hiver pour visiter l'exposition Ken Danby: Au-delà de la zone de but, qui présente 38 des œuvres réalistes les plus marquantes de l'artiste qui proviennent de collections publiques et privées. Laissez-vous inspirer par la vision de l'hiver canadien de Danby!
L'exposition a lieu jusqu'au 1er avril à la Galerie d'art de Sudbury.
___________________________________________________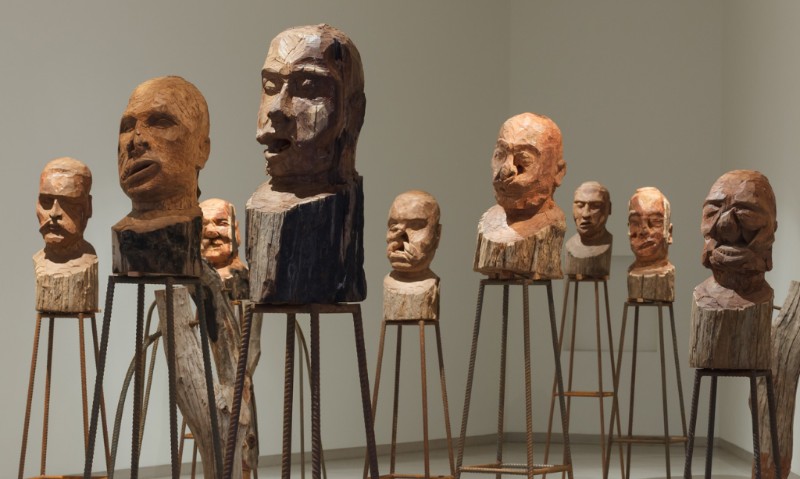 Collective Wounds on Display at the Power Plant
"Our contemporary world is haunted by the wounds of the past" – Kader Attia
Kader Attia's first solo exhibition in Canada, The Field of Emotion, opens on January 27 at the Power Plant. Attia's work examines the notion of "repair" as a physical and symbolic act, comparing modern attempts at wound erasure with traditional approaches: treatments that maintained the visual traces of an object's history.
Inspired by the injury and disfigurement of millions of WWI soldiers, the installation J'accuse places 18 wooden busts in front of an antiwar film by French filmmaker Abel Gance – an unheeded 1938 warning against the looming threat of war. In his most recent film Reflecting Memory, Attia tackles the subject of the phantom limb, drawing a link between a lost body part and genocide. Visitors will also get a chance to watch a new, context-specific film on the subject of Canada's history of colonization and slavery. The film examines the impact that these wounds (and their denial) presently have on both the individual and collective body.
Kader Attia: The Field of Emotion is on from January 27 to May 13.
***
Blessures collectives à la Power Plant
« Notre monde moderne est hanté par les blessures du passé. » — Kader Attia
Le vernissage de la première exposition individuelle de Kader Attia au Canada, The Field of Emotion, aura lieu le 27 janvier à la Power Plant. Attia explore l'idée de « réparation » à titre d'acte physique et symbolique en comparant les efforts contemporains pour effacer les blessures aux approches traditionnelles : des traitements qui ont conservé les traces visuelles de l'histoire d'un objet.
Inspirée par les blessures et la défiguration de millions de soldats de la Deuxième Guerre, l'installation J'accuse est constituée de 18 bustes en bois placés devant un film opposé à la guerre du réalisateur français Abel Gance. Cet avertissement lancé en 1938 contre la menace de guerre imminente n'avait pas été entendu. Dans son film le plus récent Reflecting Memory, Attia aborde le sujet du membre fantôme, en établissant un lien entre amputation et génocide. Les visiteurs pourront aussi voir un nouveau film sur l'histoire canadienne en matière de colonisation et d'esclavage dans le cadre contextuel de ces événements. Le film examine les effets actuels de ces blessures (et de leur déni) sur les corps individuels et l'ensemble de la société.
Kader Attia: The Field of Emotion se déroule du 27 janvier au 13 mai.
___________________________________________________
More News from the Cultural Sector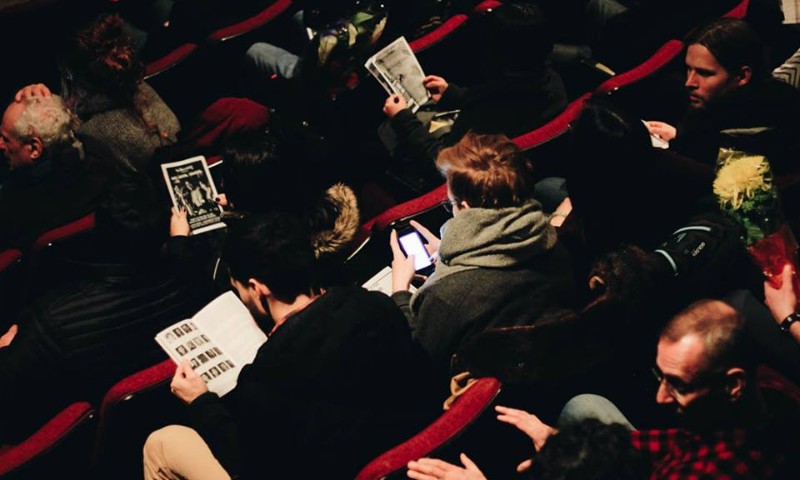 The Next Stage Theatre Festival celebrates one of the most successful seasons in recent years. Despite the record-breaking winter temperatures, they counted 7,300 theatre-lovers, 25 sold-out performances, and one almost sold-out run (Franco Nguyen's Good Morning, Viet Mom). Congratulations #NSTF!
***
The Next Stage Theatre Festival célèbre l'une de ses saisons les plus réussies des dernières années. En dépit de températures hivernales glaciales, le festival a accueilli 7 300 amants du théâtre, a vu 25 représentations jouées à guichet fermé et une production presque entièrement présentée à guichet fermé (Good Morning, Viet Mom de Franco Nguyen). Bravo #NSTF!