It's time to start sharpening pencils and getting ready to head back to school, but that doesn't mean the fun has to stop – there's plenty of great stuff happening to keep Ontarians busy this September.
Check us out on Facebook for more tips and tricks to get your organization back-to-school-ready.
___________________________________________________________________
THE HISTORY OF CULTURE in ONTARIO
___________________________________________________________________
TORONTO INTERNATIONAL FILM FESTIVAL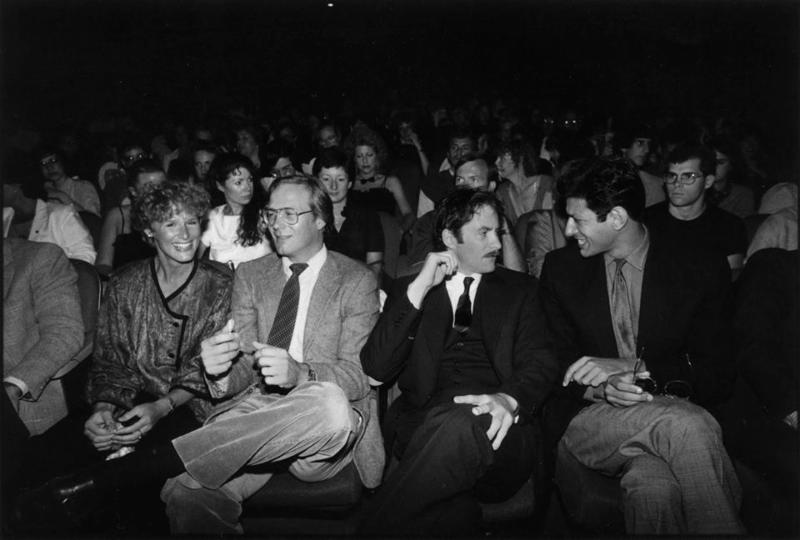 The Big Chill, Festival 1983 – with Glenn Close, William Hurt, Kevin Kline, and Jeff Goldblum.
TIFF began in 1976 as the "Festival of Festivals," collecting the best films from other film festivals around the world and showing them to eager audiences in Toronto. That first year, 35,000 enthusiasts watched 127 films from 30 countries.
By 2012, those numbers have grown to feature 372 films from 72 countries, enjoyed by over 400,000 people. The Festival of Festivals (renamed the Toronto International Film Festival® in 1995) has introduced many of the world's great film artists to Toronto audiences. That first year, a spotlight on German cinema included films by Rainer Werner Fassbinder, Werner Herzog and Wim Wenders.
In the years that followed, many other artists have looked back on the Festival as the place where their films first reached a receptive audience and the foundations of their careers were built. These artists include: Paul Haggis, Jason Reitman, Atom Egoyan, Michael Moore, David Cronenberg, and John Woo.
The secret of the Festival's success is its unique combination of two parallel festivals: one for a large audience passionate about film and one for the world's press and industry. The Festival also manages to be the launch pad for both big Hollywood films and art house cinema from around the world.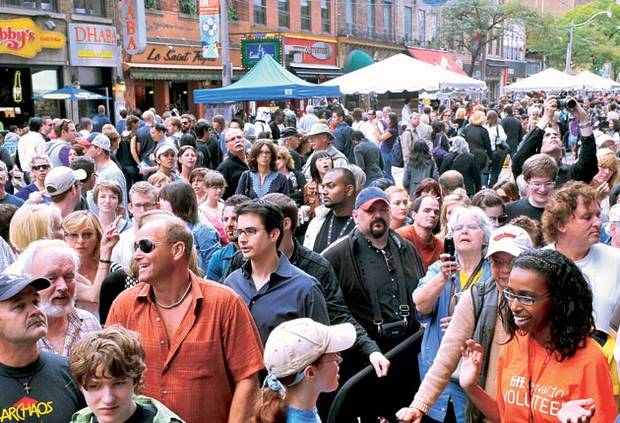 Crowds fill King Street as part of TIFF
TIFF has grown, steadily adding initiatives. TIFF Cinematheque (formerly Cinematheque Ontario) and the Film Reference Library opened in 1990. TIFF Kids International Film Festival (formerly Sprockets) launched in 1998. Film Circuit began exhibiting independent and Canadian films in under-serviced cities across Canada in 1994.
In 2010, TIFF opened TIFF Bell Lightbox, a unique centre for the appreciation of film in the heart of downtown Toronto. TIFF Bell Lightbox features five cinemas, two restaurants, major exhibitions, and learning and entertainment facilities. TIFF has remained committed to educating and broadening audiences, adding to the cultural richness of Canada's community. Along the way, TIFF has become one of the most important and respected film institutions in the world.
The 2012 festival attracted 27,434 out of town visitors to Toronto, and a recent study found the festival itself and year-round programming at the Bell Lightbox created 2,295 jobs and added an estimated $189 million to the economy.
___________________________________________________________________
TIFF turns 40!
September 10-20, 2015

It's been forty years, and The Toronto International Film Festival has gone from a small indie festival to one of the largest in the world, and a spring-board for major motion picture premieres.  The line-up for this year's Festival has just been announced and it's going to be a fantastic festival.
Check out the full listings here.
___________________________________________________________________
SUPERCRAWL in Hamilton
Art Everywhere.
A driven team of Hamilton artists and community builders founded Supercrawl in 2009 out of a desire to expand on the promise of James Street North's monthly Art Crawl. Showcasing great music alongside an entire street of cultural experiences – a diverse and dynamic lineup of music, art, fashion, performance, talks, crafts, food and fun (local, regional national and international) – the festival has captured the imagination of music fans far beyond the city. CBC Music has hailed Supercrawl as "the festival that is cementing Hamilton's place as a Canadian capital of arts and culture" and Festival and Events Ontario recently named Supercrawl one of the province's top 100 festivals.
Check out the Supercrawl website to learn more!
___________________________________________________________________
DESIGN EXCHANGE
Smarter, Tougher, Faster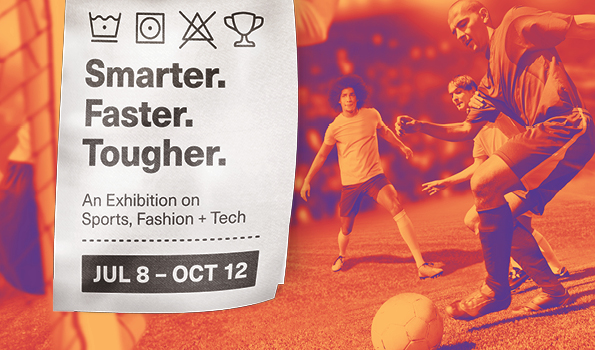 Hit the road – or take a trail – this summer to experience some of the most revolutionary fitness fashion and performance gear that's helping competitive athletes and active lifestyle enthusiasts' get healthy, train and win big!
Sport is ubiquitous. It touches almost every aspect of our lives from health, fashion and culture to technology, design and architecture. With a history that spans little more than a century, sportswear has evolved rapidly due to an interwoven association with technology.
On until October 12 in The Distillery District, Smarter. Faster. Tougher dives into the evolution of sportswear and uncovers how technology, fashion, nature, and culture have contributed to the rapid innovative growth of athletic clothing, equipment, and wearables.
___________________________________________________________________
VICTORIA PLAYHOUSE PETROLIA 
Opening September 9th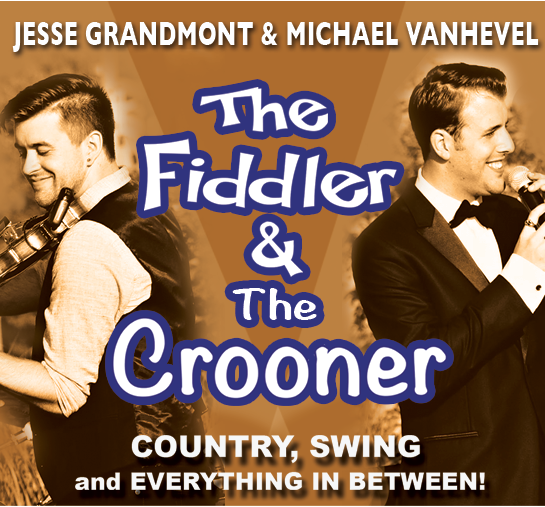 The greatest pairing since Dean Martin and Jerry Lewis! VPP Brings us the fantastic fiddling of Jesse Grandmont and the charismatic crooning of Michael Vanhevel. With nothing in common but great musicianship and dazzling stage presence these two exceptional entertainers join forces to host a jam-packed show of Country Swing and everything in between.
Click Here for tickets and more about the whole season at VPP.
___________________________________________________________________
MYTHBUSTERS 
Until September 13th
@ The Ontario Science Centre
Can you huff, puff and blow a house down? Does toast always land butter-side down? What keeps you drier – running in the rain or walking through it? Can you really make a canoe out of duct tape? Spend a day as a MythBuster at MythBusters: The Explosive Exhibition to uncover the truth. And while you're at it, watch live demonstrations and check out real props and gadgets from the show.
 ___________________________________________________________________