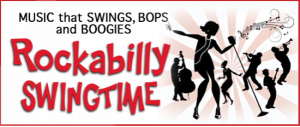 Rockabilly Swingtime at Victoria Playhouse!
It's a wild meeting of western swing, rock and roll, jazz and popular standards from the 1920's right up to modern day. The Playhouse is putting a fun new twist on some of your favourite tunes, all with multi-talented, awesome Canadian talent. You'll be toe tapping and finger snapping as we celebrate with music from Duke Ellington to Buddy Holly and from Lady Day to Lady Gaga. It's a potpourri of fantastic music as only our 'Men of Country' can serve up… with an added dash of some spicy, swingin' sweethearts.
Show opens September 5th and runs until the 24th! Book your tickets NOW!
***
L'heure est au swing rockabilly au Victoria Playhouse! 
Le Victoria Playhouse présente Rockabilly Swingtime!
Une folle rencontre de western swing, de rock'n'roll, de jazz et de standards populaires des années 1920 à nos jours. Au Playhouse, de merveilleux artistes canadiens aux multiples talents revisitent plusieurs tubes en leur donnant une nouvelle tournure amusante. Vous taperez du pied et claquerez des doigts sur une vaste gamme de musiques allant de Duke Ellington à Buddy Holly, et de Lady Day à Lady Gaga. Les « Men of Country » nous offrent un fabuleux pot-pourri musical à leur image, en y ajoutant quelques chansons populaires corsées qui swinguent.
Les représentations ont lieu du 5 au 24 septembre. Réservez vos places DÈS MAINTENANT!
___________________________________________________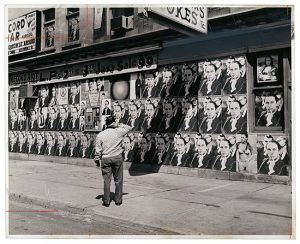 THE FARAWAY NEARBY: Photographs of Canada from the New York Times Archive
September 13 – December 10, 2017 Curators: Gerald McMaster and Denise Birkhofer Main Gallery, Ryerson Image Centre
Featuring photographs of Canadian subject matter from The New York Times Photo Archive, The Faraway Nearby examines a century of Canada's history and its representation in the leading American "newspaper of record." Taking an expansive view of the many stories that have shaped our national experience, the exhibition highlights images of major political events and conflicts, iconic landscapes across the nation, sports heroes, candid reportage on the lives of diverse communities, and portraits of notable Canadians. The exhibition draws from nearly 25,000 photographs preserved in The New York Times Photo Archive, known henceforth as The Rudolph P. Bratty Family Collection. This extraordinary new promised gift, made by Toronto entrepreneur Chris Bratty in honour of Canada 150, joins the renowned Black Star Collection to further establish the Ryerson Image Centre as a key international resource for the study of press photography.
Be sure to check out Zacharias Kunuk: Dog Team, The Faraway Nearby: Photographs of Canada from The New York Times Photo Archive, The Notman Studio: 1858–1915, and Paul Swanson: Air of Uncertainty this September 13th as part of Ryerson Image Centre's exhibit party!
***
Le Ryerson Image Centre présente : Dog Team!
Pendant les 35 ans de sa carrière de vidéaste, le réalisateur et producteur inuit Zacharias Kunuk s'est servi de l'art pour lutter contre les empiétements du colonialisme. Il fait la chronique de l'histoire culturelle de sa nation, tout en ranimant et maintenant dans sa production artistique plusieurs aspects de ses coutumes.
Dans Dog Team (une commande pour le mur des nouveaux médias Salah J. Bachir du Ryerson Image Centre), Kunuk présente un mode de vie traditionnel dans une perspective distinctement contemporaine. Il offre ainsi un point de vue unique sur la persévérance et la résistance.
Ne manquez pas Zacharias Kunuk: Dog Team, The Faraway Nearby: Photographs of Canada from The New York Times Photo Archive; The Notman Studio : 1858-1915 et Paul Swanson : Air of Uncertainty le 13 septembre lors de la fête des expositions au Ryerson Image Centre!
___________________________________________________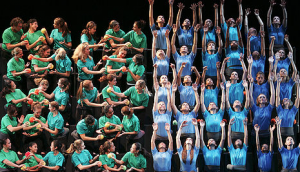 Fall for Dance offers FREE dance and music programming!
A new partnership, Fall for Dance at UNION, will present unique programming in Union Station's West Wing, where the public will be able to experience and participate in FREE dance and music programming at peak times throughout the day!
Focused around presenting home-grown Canadian talent, this year's FFDN program intends to bring the very best of Canadian dance from here and abroad to Toronto as part of Canada's sesquicentennial. ​
Between September 16th and October 7th, come observe the artistic creation process, hear a music concert, participate in workshops, and see an encore performance of 72-Person Ball Passing choreographed by Charles Moulton!​
Fall for Dance North features diverse works from 10 companies over the course of three unique evening programs, including three new festival commissions and plenty of live music, presented once again at the Sony Centre for the Performing Arts.
***
Entrée LIBRE à la programmation en danse et musique de Fall for Dance!
Grâce à un nouveau partenariat, Fall for Dance at UNION présentera une programmation unique à la gare Union dans l'aile ouest. Chaque jour aux périodes d'affluence, le public sera invité à participer et à goûter sans frais à toute une programmation en danse et musique!
Le mandat du FFDN est de faire connaître les talents canadiens. Cette année, dans le cadre du cent-cinquantenaire du Canada, la programmation vise à amener à Toronto les meilleures productions de danse créées ici ou à l'étranger.
Du 16 septembre au 7 octobre, venez observer de près les processus de création, écouter un concert, participer à des ateliers et voir en rappel la performance 72-Person Ball Passing, une chorégraphie de Charles Moulton! Pendant trois soirées de programmation uniques, Fall for Dance North présente des œuvres variées provenant de 10 compagnies de danse, y compris de nouvelles commandes du festival et plusieurs spectacles de musique au Sony Centre for the Performing Arts.
___________________________________________________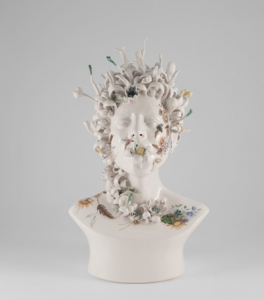 Can Craft? Craft Can! Biennial opening celebrations!
The Art Gallery of Burlington, in collaboration with Craft Ontario, continues to proudly present the first Canadian Craft Biennial – running until October 29th.
As part of their opening celebrations, the Canadian Craft Biennial will host a craft symposium on September 15th at the Holiday Inn in Burlington, and September 16th at OCAD University. With eleven sessions covering a variety of themes and approaches will be presented by forty-four scholars and makers from around the world.
This inaugural event during Canada's 150th anniversary will serve as a spotlight to celebrate and educate on the importance of contemporary craft throughout Canada's diverse history and future. Under the theme "Can Craft? Craft Can!" the Biennial will explore what and who is 'Canadian Craft' and analyze ideas regarding the agency of craft.
There will be optional bus transportation (round-trip) available for $20 on both days of the symposium: departing from the Holiday Inn Burlington Hotel & Conference Centre to the Art Gallery of Burlington on Friday September 15th, to attend the exhibition openings; and round trip departing from the Holiday Inn Burlington Hotel & Conference Centre to OCAD University (Toronto) on Saturday September 16th.
REGISTER NOW to reserve your spot for the opening celebration craft symposium!
***
Can Craft? Craft Can! Célébrations d'ouverture de la biennale!
L'Art Gallery of Burlington, en collaboration avec Craft Ontario, continue de présenter avec fierté la première Biennale canadienne des métiers d'art jusqu'au 29 octobre.
Dans le cadre des célébrations d'ouverture, la Biennale canadienne des métiers d'art organisera un colloque au Holiday Inn de Burlington (le 15 septembre) et à l'Université de l'École d'art et de design de l'Ontario (OCAD), (le 16 septembre). Onze rencontres avec des érudits et des artisans venant des quatre coins du monde porteront sur une variété de sujets et de démarches.
La première édition de cette nouvelle manifestation qui a lieu pendant le 150e anniversaire du Canada permet de dévoiler et célébrer l'importance des métiers d'art dans la riche histoire du pays et dans son avenir. Sous le thème Can Craft? Craft Can!, la biennale nous fera connaître les artistes des métiers d'art et leurs créations, tout en analysant les idées régissant l'agencement des œuvres.
Moyennant un montant de 20 $, vous pourrez prendre l'autobus qui fera la navette (aller-retour) les deux jours du colloque. Départ du Holiday Inn Burlington Hotel & Conference Centre pour l'Art Gallery of Burlington afin d'assister aux vernissages le vendredi 15 septembre; aller-retour du Holiday Inn Burlington Hotel & Conference Centre à l'Université OCAD (Toronto) le samedi 16 septembre.
INSCRIVEZ-VOUS MAINTENANT pour réserver votre place à la célébration d'ouverture du colloque des métiers d'art!
___________________________________________________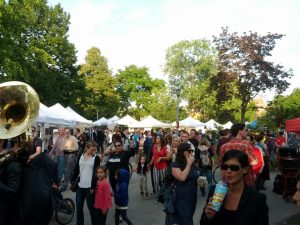 Art Across the World in Queen West!
Happening on the weekend of September 23th and 24th, from 11am to 6pm at the heart of Trinity Bellwoods Park, #QWAC highlights the best cultural and art experiences Toronto has to offer.
This new event is taking place in businesses and galleries on Queen West in Toronto  on September 23rd and 24th, 2017. Modelled on Toronto's Caravan Festival, "Art Around the World" will highlight visual art, dance and music from over 20 different cultures and will include a Canada 150 event!
Artscape Youngplace will serve as the headquarters and will host a project called "My Canada", an interactive project celebrating the sesquicentennial. Other partners include:  The Theatre Centre (Africa); CAMH (Middle East); Curry's (China); The Gladstone Hotel (Caribbean and West Indies); Little Tibetan Restaurant (Tibetan); The Drake Hotel (Japanese); Dog & Bear (United States); Twist Gallery (Latin); Stephen Bulger Gallery (United Kingdom); Gravity Pope (Indian); Paul Petro Contemporary Art (Aboriginal); The County General (Australian Pavilion); Toronto Blues Society (Polish Pavilion); White Squirrel Coffee Shop (German Pavilion); Oyster Boy (Russian and Ukrainian); Smoque N' Bones (French);  Squirly's (Portuguese); It's all GRK (Greek); and Terroni/Sud Forno (Italian Pavilion)"
This includes over 200 artists and artisans, a beer garden sponsored by Steam Whistle, and interactive art for adults and children alike! There will also be a wide array of musical performances and lots of great eats. You don't want to miss it!
***
L'art à travers le monde sur Queen Ouest!
Le week-end des 23 et 24 septembre, de 11 h à 18 h, au cœur du parc Trinity Bellwoods, #QWAC met en lumière ce que Toronto a de mieux à offrir en matière d'arts et de culture.
L'événement se déroule à Toronto les 23 et 24 septembre 2017 dans plusieurs entreprises et galeries de la rue Queen Ouest. Calquant le modèle du Toronto's Caravan Festival, « Art Around the World » mettra en lumière les arts visuels, la danse et la musique de plus de 20 cultures différentes avec, en prime, une activité pour célébrer Canada 150!
Artscape Youngplace servira de quartier général et accueillera « My Canada », un projet interactif qui célèbre le cent-cinquantenaire. Parmi d'autres partenaires, notons :  The Theatre Centre (Afrique); CAMH (Moyen-Orient); Curry's (Chine); The Gladstone Hotel (Caraïbes et les Antilles); Little Tibetan Restaurant (tibétain); The Drake Hotel (japonais); Dog & Bear (États-Unis); Twist Gallery (latin); Stephen Bulger Gallery (Royaume-Uni); Gravity Pope (indien); Paul Petro Contemporary Art (Premières nations); The County General (pavillon de l'Australie); Toronto Blues Society (pavillon de la Pologne); White Squirrel Coffee Shop (pavillon de l'Allemagne); Oyster Boy (russe et ukrainien); Smoque N' Bones (français); Squirly's (portugais); It's all GRK (grec); Terroni/Sud Forno (pavillon de l'Italie).
La programmation inclut plus de 200 artistes et artisans, un bistro en plein air commandité par Steam Whistle, et de l'art interactif pour les adultes et les enfants! Il y aura aussi un large éventail de spectacles musicaux et plusieurs expériences gastronomiques. À ne pas manquer!
___________________________________________________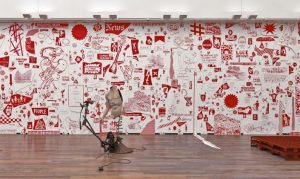 Michael Landy's DEMONSTRATION coming to the Power Plant!
The Power Plant announces Michael Landy's site-specific project DEMONSTRATION as the third edition to the Fleck Clerestory Commission Program opening September 29th.
A key member of the generation of groundbreaking artists that emerged in London in the 1990s, Landy has garnered recognition for his versatile and idiosyncratic practice, which explores notions of capitalism, commerce, value, creation and destruction.
For his exhibition at the Power Plant, Andy invites the public to collaborate in building a 'wall of protest' by submitting images, words, texts, and slogans that represent their thoughts and feelings – of hope or of despair, on matters of small or large, from high to low and across the cultural spectrum – to be transformed by the artist into drawings.
Be sure to check it out!
***
DEMONSTRATION de Michael Landy bientôt à la Power Plant!
La Power Plant annonce le vernissage le 29 septembre du projet in situ DEMONSTRATION de Michael Landy, troisième édition du programme de commande Fleck Clerestory Commission Program.
Figure de proue de la génération d'artistes avant-gardistes qui a émergé à Londres dans les années 1990, Landy est reconnu pour sa pratique flexible, variée et idiosyncrasique par laquelle il explore des notions de capitalisme, de commerce, de valeurs, de création et de destruction.
Pour son exposition à la Power Plant, Andy sollicite la collaboration du public pour construire un « mur de protestation ». Les gens sont invités à proposer des images, des mots, des textes, des slogans qui font écho à leurs sentiments et émotions (espoir ou découragement, sujets de grande ou de petite importance, choisis dans tout le spectre de la culture). L'artiste transformera ensuite cette matière première en dessins.
À voir absolument!