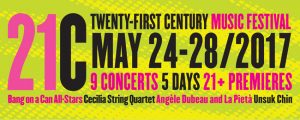 May 24 – 28, marks Canada150 with RCM
Some of the world's most innovative contemporary composers will be in Toronto next week for the Royal Conservatory of Music's 21C Festival!
The five-day festival marks Canada's sesquicentennial with an array of performances and new works by Canadian artists from coast to coast: in fact, 90% of the performers in this year's festival are Canadian! The nine concerts feature collaborations and performances from greats like Unsuk Chin, the Canadian Opera Company Orchestra (led by Johannes Debus), and the Canadian Art Project (featured in an earlier OCAF newsletter!). There is also a strong focus on female creators, including four premiere performances of female composers played by the Cecilia String Quartet.
Time is short: get your tickets to 21C before they're gone! Click here for more info.
***
Du 24 au 28 mai, le CRM souligne Canada150
Plusieurs compositeurs contemporains parmi les plus innovateurs du monde seront à Toronto la semaine prochaine pour le festival 21C du Conservatoire royal de musique!

Le festival, qui s'étend sur cinq jours, marque le cent-cinquantenaire du Canada avec tout un éventail de spectacles et de nouvelles œuvres créées par des artistes canadiens d'un océan à l'autre. De fait, cette année, 90 % des interprètes du festival sont des Canadiens! Les neuf concerts comportent des collaborations et des performances données par des légendes comme Unsuk Chin, La Compagnie d'opéra canadienne (dirigée par Johannes Debus) et le Canadian Art Project (dont on a parlé dans un précédent bulletin du FMCO). Place aux femmes de création avec, entre autres, quatre nouvelles œuvres créées par des compositrices féminines et interprétées par le Cecilia String Quartet.

N'attendez plus : achetez vos billets pour le 21C pendant qu'il reste encore des places! Cliquez ici pour en savoir plus.
___________________________________________________

Kapuskasing organise la 18e édition du Festival de la St-Jean
Du 16 au 18 juin, payez-vous du bon temps au Festival de la St-Jean de Kapuskasing!

Depuis 2000, Kapuskasing organise ce festival annuel qui célèbre la culture francophone en Ontario et au Canada. La célébration de la fête de la Saint-Jean, qui remonte au temps de la colonie française, a lieu le 24 juin. Depuis les débuts du festival, plus de 35 000 festivaliers ont pris part aux célébrations qui ont lieu dans cette communauté résolument francophone et francophile.

Cette année, le groupe rock francophone Les Respectables sera en vedette aux côtés d'autres artistes francophones. De plus, huit finalistes s'affronteront dans un concours de musique très relevé. Il y a plus de 8 000 $ en prix à gagner! 

Avez-vous votre bracelet? Rendez-vous sur le site Web du festival dès aujourd'hui!
***
Kapuskasing hosts 18th Annual Festival de la St-Jean
June 16-18, have a rollicking good time in Kapuskasing at the Festival de la St-Jean!
Starting in 2000, Kapuskasing has hosted this annual Festival celebrating Francophone culture in Ontario and Canada. The Festival, with roots dating back to the first French colonies, is traditionally on June 24. Since that time, more than 35,000 festivalgoers have joined the celebrating in the heart of this enthusiastically Francophile community.
This year, hit Franco-rock band Les Respectables will headline the Festival along with performances from other Francophone artists. As well, the Festival features a fierce music competition where eight finalists will go head-to-head for more than $8,000 in prizes!
Still need your wristband? Head to the Festival website today!
___________________________________________________
Breakin' Convention in the heart of Toronto
Something wicked moonwalks this way in June!
Sony Centre for the Performing Arts hosts Breakin' Convention, a weekend of performances and music by some of the greatest break- and street-dancing artists in the world! June 23 and 24, join world champions BirdGang Dance Company, JustDance and Soweto Skeleton Movers for three days ground-breaking and genre-shattering movement. Then, try out your own moves on June 25 at a Park Jam in David Pecaut Square!
Curious about Breakin' Convention? Watch the video above – and get your tickets at the Sony Centre website!
***
Breakin' Convention au cœur de Toronto
De la danse méchamment excitante nous arrive en juin!

Le Sony Centre for the Performing Arts accueille Breakin' Convention pour un week-end de performances et de musique par certains des plus grands artistes de breakdance et de danse de rue au monde! Les 23 et 24 juin, joignez-vous aux champions du monde BirdGang Dance Company, JustDance et Soweto Skeleton Movers, des révolutionnaires de la danse qui redéfinissent le mouvement. Le 25 juin, jetez-vous dans la danse avec vos propres mouvements lors d'un jam au Square David Pecaut!

Breakin' Convention pique votre curiosité? Regardez la vidéo qui coiffe ce billet et procurez-vous vos billets sur le site Web du Sony Centre!
___________________________________________________
Congratulations to Kindred Spirits Orchestra!
Seven members of the Kindred Spirits Orchestra have been honoured with the Ontario Volunteer Service Award for their outreach into the Markham community.
Rebecca Whiteside, Jonas Feldman, Carol Walsh, and Jobert Sevilleno were celebrated during an awards ceremony on May 9, along with three members of the KSO Youth String Mentorship Program. The award, one of the highest honours bestowed upon volunteers in Ontario, was presented by the Honourable Laura Albanese, Ontario Minister of Immigration of Citizenship.
"Over the past years, hundreds of Kindred Spirits Orchestra's Musicians have been contributing their time, sophisticated skills and commitment towards building the City of Markham's culture," said Mr. Sevilleno, President and CEO of Kindred Spirits Orchestra. The commitment will continue this June with the Markham Contemporary Music Festival, running June 9 to 29 and featuring a brand new outdoor venue!
For more about the Markham Contemporary Music Festival, click here. To read the full press release on the Ontario Volunteer Service Award winners, click here!
***
Félicitations au Kindred Spirits Orchestra!
Sept artistes du Kindred Spirits Orchestra ont reçu la Distinction de l'Ontario pour services bénévoles pour leurs contributions dans la communauté de Markham. 

Les efforts de Rebecca Whiteside, Jonas Feldman, Carol Walsh et Jobert Sevilleno ont été récompensés lors d'une remise des prix le 9 mai, ainsi que le travail de trois membres du programme de mentorat KSO Youth String Mentorship Program. Cette distinction, l'une des plus importantes que peuvent se voir décerner des bénévoles en Ontario, a été présentée par l'honorable Laura Albanese, ministre des Affaires civiques et de l'Immigration.

« Au cours des dernières années, des centaines de musiciens du Kindred Spirits Orchestra ont donné de leur temps pour partager leurs habiletés uniques. Grâce à leur engagement, ils ont contribué à bâtir la culture dans la Ville de Markham », a indiqué M. Sevilleno, président et directeur général du Kindred Spirits Orchestra. Cet engagement se manifestera encore le mois prochain avec le Markham Contemporary Music Festival qui aura lieu du 9 au 29 juin dans un tout nouvel amphithéâtre extérieur!

Pour en savoir plus sur le Markham Contemporary Music Festival, cliquez ici. Pour lire le communiqué de presse intégral (en anglais) sur les lauréats de la Distinction de l'Ontario pour services bénévoles, cliquez ici.
___________________________________________________
#ReachTheBeach at Carivibe this June!
Join the Carivibe Festival June 16-18 and kick off the summer with an epic festival celebrating Caribbean Culture in Ottawa!
The sixth annual Carivibe Festival promises to be the biggest yet at Petrie Island Beach in Orleans. Two stages will fill the beach with Reggae, Soca, Calypso, folk rhythms and live dance performances, crafts and art from Caribbean nations will be exhibited and sold and you can get your roti fix at the Taste of Caribbean Food Fair. Children can enjoy Myers Carnival Village and a special children-only Kiddie Carnival parade!
For more information and to get your tickets, visit the Carivibe website.
***
#ReachTheBeach au Festival Carivibe en juin!
Soyez de la fête au Festival Carivibe du 16 au 18 juin! Accueillez l'été avec un festival grandiose qui célèbre la culture des Caraïbes à Ottawa !

La sixième édition du Festival Carivibe, qui aura lieu sur la plage de l'île Petrie à Orléans, sera la plus importante à ce jour. Avec deux scènes montées pour l'occasion, la plage se remplira de musiques reggae, soca et calypso, de rythmes folk et de spectacles de danse. De l'artisanat et des œuvres d'art des peuples antillais seront exposés et mis en vente. Faites le plein de « roti » au Taste of Caribbean Food Fair. Les enfants pourront s'amuser au Myers Carnival Village et lors du Kiddie Carnival, un défilé qui leur est strictement réservé !

Pour en savoir plus et acheter vos billets, rendez-vous sur le site Web de Carivibe.
___________________________________________________

Un Festival Franco-Ontarien à notre image!
Très bientôt, un autre week-end de rêve aura lieu pour les Francophones et les Francophiles : le Festival Franco-Ontarien à Ottawa !
Sous les thèmes Fêtons le Canada par sa diversité culturelle et ethnique et Place aux jeunes, l'édition 2017 du festival met l'accent sur les jeunes Franco-Ontariens tout en jetant un regard sur le Canada dans le cadre des célébrations de Canada150. Les enfants et les jeunes, et même les tout-petits, auront droit à une pleine journée d'activités pour partager leur culture francophone. 150 ans plus tard nous fait découvrir l'histoire musicale du Canada français. À l'occasion du cent-cinquantenaire, une exposition de photographies célébrera la culture canadienne-française en mettant en images 150 Franco-Canadiens qui ont façonné l'histoire de notre pays. 

Pour en savoir plus et vous procurer vos billets dès maintenant, cliquez ici.
***
A festival franco-ontarien made just for you!
Just around the corner is another great Francophile weekend – this year's Festival Franco-ontarien in Ottawa!
Let's Celebrate Canada, Through Its Cultural and Ethnic Diversity and Make Way for Youth form the backbone of this year's festival, with a focus on young Franco-ontariens and a special look at Canada for the Canada150 celebrations. A full day of child- and youth-centred activities will share Francophone culture with even the youngest speakers and 150 Years Later chronicles the musical history of French Canada. A sesquicentennial exhibition of photography will also celebrate French Canadian culture, looking at 150 Franco-Canadians who have shaped our country's history.
To learn more and to get your tickets now, click here!