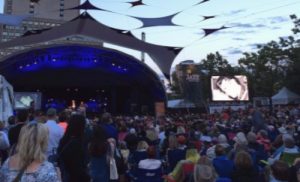 Ottawa Jazz Festival closes this week!
The Ottawa International Jazz Festival closes July 2, but there are still a few days left to enjoy a great concerts!
Until Sunday, concerts will include Kandace Springs, Charles Bradley and His Extraordinaires and a final concert by the legendary Feist. The Festival continues to grow since its inception in 1980, and attracts tens of thousands of visitors to Ottawa – all flocking to one of the greatest jazz lineups ever produced!
With the Festival closing July 2, there are only a few days left for tickets. To get yours, visit the OJF website today!
***
Le Festival de jazz d'Ottawa se termine cette semaine!
Le Festival international de jazz d'Ottawa se termine le 2 juillet. Il reste encore quelques journées pour assister à de très bons concerts!

D'ici à dimanche, Kandace Springs, Charles Bradley and His Extraordinaires, sans oublier la légendaire Feist envahiront la scène pour notre plus grand plaisir. Le festival n'a jamais cessé de grandir depuis sa fondation en 1980. Bon an mal an, des dizaines de milliers d'amateurs de musique se rendent à Ottawa, attirés par une programmation de jazz parmi les plus spectaculaires!

Comme le festival se conclue le 2 juillet, il ne reste plus que quelques jours pour vous procurer des billets. Rendez-vous sur le site Web du FJO dès maintenant!
___________________________________________________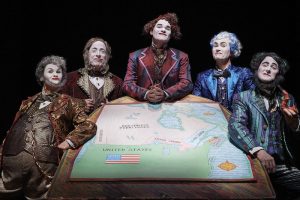 VideoCabaret reinvigorates Canadian history
The reviews are in for Confederation Part 1, and the praise could not be higher!
Known for their innovative and award-winning performances about the Canadian identity, VideoCabaret is celebrating Canada150 with a cycle of four plays about our nation's early history. Confederation Part 1 opened June 9 with effusive praise from publications:
"VideoCab's history plays are a national treasure and should be running in rep in Ottawa as a check on this moment of too-rosy reflection and uncritical celebration." (Jordan Bimm, NOW Magazine)
Confederation Part 2 opened June 23 and features the continuation of Part 1: the first Prime Minister of the country John A. MacDonald is caught accepting bribes, but upstart MP and revolutionary Louis Riel abandons government bureaucracy to re-embrace his revolutionary ideals.
Confederation Parts 1 and 2 will run until August – for tickets and information, click here!
***
VideoCabaret redynamise l'histoire canadienne
La critique a encensé Confederation Part 1!

Bien connu pour ses spectacles novateurs et primés sur l'identité canadienne, VideoCabaret célèbre Canada150 avec un cycle de quatre pièces sur les balbutiements de notre nation. Les articles parus ne tarissent pas d'éloges pour Confederation Part 1, dont la première a eu lieu le 9 juin :

« Les pièces historiques de VideoCab sont un trésor national. Elles devraient être jouées sans interruption à Ottawa comme antidotes aux réflexions idylliques et aux célébrations dénuées de sens critique. » (Jordan Bimm, NOW Magazine)

Confederation Part 2, dont la première a eu lieu le 23 juin, est la suite de Part 1. Le premier Premier ministre, John A. MacDonald, est pris la main dans le sac à accepter des pots-de-vin, tandis que l'ambitieux député Louis Riel abandonne la bureaucratie gouvernementale pour reprendre ses idéaux révolutionnaires. 

Confederation Parts 1 et 2 joueront jusqu'en août. Pour billets et renseignements, cliquez ici.
___________________________________________________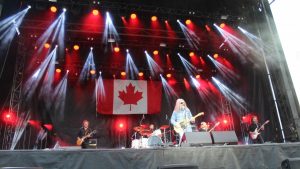 Stars and Thunder ends this Canada Day
Canada Day will end with a big bang in Timmins!
Stars and Thunder takes place annually in the days leading up to Canada Day, featuring big name performers and nightly fireworks displays. In tribute to St Jean-Baptiste Day, the opening day paid homage to the Francophone community and Canada's great musical performers – featuring French Canadian performers including Yvan and the Bandidos and Michel Pagliaro.
From now until Saturday, catch more big name performances and the finale of the live talent competition which has run throughout Stars and Thunder.
For more info on tickets and travel, head to the Stars and Thunder website!
***
Stars and Thunder prend fin à la fête du Canada
La fête du Canada prendra fin avec fracas à Timmins! Chaque année, Stars and Thunder se déroule dans les jours qui précèdent la fête du Canada. Le festival accueille de grands noms de la scène musicale et des feux d'artifice ont lieu chaque soir. Pour la Saint-Jean-Baptiste, première journée du festival le 24 juin, un hommage a été rendu à la communauté francophone et aux grands interprètes musicaux du Canada. Des artistes francophones, dont Yvan and the Bandidos et Michel Pagliaro, étaient en vedette. 

D'ici à samedi, voyez d'autres grands noms de la musique en spectacle ainsi que la finale du concours de nouveaux talents qui s'est déroulé tout au long de Stars and Thunder.

Pour en savoir plus sur les billets et l'itinéraire, rendez-vous sur le site Web de Stars and Thunder.
___________________________________________________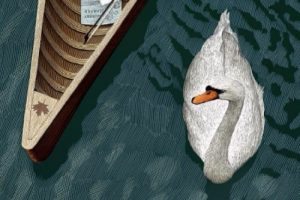 Stratford Summer Music winds up for a Canada150 season
Celebrate the sesquicentennial with Stratford Summer Music Festival!
Starting July 17 and running through to the end of August, downtown Stratford will be filled with music from acclaimed performers from Canada and beyond. Ron Sexsmith, Buffy Sainte-Marie, and the Ennis Sisters are just the tip of the iceberg. With events like the Illustrated Musical Lecture series (documenting milestones in Canadian music history) and Live at Revival House Cabaret (featuring performances from Molly Johnson, Jane Bunnett and more), Stratford will have music in every corner of the city!
Curious? Visit the Stratford Summer Music Festival website today!
***
Le Festival de musique estival de Stratford prépare sa saison pour Canada150
Célébrez le cent-cinquantenaire avec le Festival de musique estival de Stratford!

Du 17 juillet jusqu'à la fin août, le centre-ville de Stratford se remplira de musique interprétée par des artistes acclamés du Canada et d'ailleurs. Ron Sexsmith, Buffy Sainte-Marie et les Ennis Sisters ne sont que la pointe de l'iceberg. Avec des activités comme la série Illustrated Musical Lecture (présentant les jalons de l'histoire de la musique au Canada) et Live at Revival House Cabaret (avec des prestations de Molly Johnson, Jane Bunnett et d'autres artistes), tout Stratford vibrera au son de la musique!

Vous voulez en savoir plus? Visitez le site Web du Festival de musique estival de Stratford dès aujourd'hui!
___________________________________________________
Petrolia lights up again!
Starting July 4, head to the Victoria Playhouse Petrolia for Happy Together 1967!
A charming musical revue, Happy Together 1967 looks back to the centennial celebration of Confederation and the music of the era. Expo '67, The Ed Sullivan Show and The Beatles all meld into beautiful harmonies by a cast of Canadian performers that are sure to excite audiences!
Enjoy a preview of Happy Together 1967 by clicking the video link above – for tickets, visit the VPP website!
***
Petrolia s'enflamme toujours!
À compter du 4 juillet, rendez-vous au Victoria Playhouse Petrolia pour voir Happy Together 1967!

Cette charmante revue musicale jette un coup d'œil sur les célébrations du centenaire de la Confédération et la musique de cette époque. Toute une équipe d'interprètes vocaux du Canada harmonise les musiques d'Expo 67, du Ed Sullivan Show et des Beatles pour le plus grand plaisir des spectateurs!

Écoutez et voyez un aperçu de Happy Together 1967 en cliquant la vidéo ci-dessus. Pour des billets, rendez-vous sur le site Web du VPP.
___________________________________________________

#CanuckItUp this weekend!
Show off your Canadian pride all this weekend at the Redpath Waterfront Festival!
July 1-3 on the Toronto Waterfront, the Festival brings together lumberjack competitions, artisans, art workshops and the World's Largest Rubber Duck for three days of family friendly events. The weekend will be punctuated with amazing fireworks displays and a Family Zone designed to engage even the youngest of Canadians with fun activities.
For the first time, the Redpath Waterfront Festival will travel across the province, with the Ontario150 tour! Between July 1 and August 13, the charming World's Largest Duck will visit locales like Owen Sound, Sault Ste. Marie and Brockville. Travelling with the Duck will be Rhythm of the Nation – a multidisciplinary performance of dance and music that has moved our nation. Also featured is the West-Coast Lumberjack Show, featuring current or former world champions as they show off their award-winning skills.
To learn more, visit the website!
***
#CanuckItUp ce week-end!
Montrez votre fierté canadienne pendant tout le week-end au Redpath Waterfront Festival!

Du 1er au 3 juillet, dans le secteur riverain de Toronto, le festival propose des concours de bûcherons, des ateliers d'arts visuels et le plus grand canard en caoutchouc au monde. Trois jours d'activités à faire en famille! De spectaculaires feux d'artifice viendront illuminer la fin de semaine et les activités amusantes de la Zone famille plairont à tous, même aux plus jeunes Canadiens. 

Pour la première fois, le Redpath Waterfront Festival se déplacera aux quatre coins de la province dans le cadre de la tournée Ontario150! Du 1er juillet au 13 août, le plus grand canard en caoutchouc au monde se rendra dans des villes comme Owen Sound, Sault Ste. Marie et Brockville. Rhythm of the Nation, une troupe de danse et de musique multidisciplinaire qui a touché le cœur de tout un pays, voyagera avec le canard. Également à l'affiche, le spectacle du West-Coast Lumberjack Show met en vedette des champions du monde actuels ou anciens qui montrent toute l'étendue de leur savoir-faire. 

Pour en savoir plus, visitez le site Web!
___________________________________________________