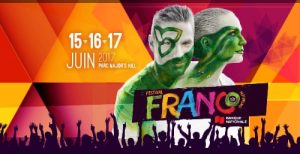 Coup d'envoi du Festival Franco-Ontarien
Le Festival Franco-Ontarien commence le 15 juin à Ottawa en mettant l'accent sur le meilleur de la vie francophone en Ontario!

Le festival, qui se déroule le week-end du 15 au 17 juin, est l'un des seuls festivals à célébrer la vitalité de la communauté francophone de l'Ontario. Cette année, on mettra l'accent particulièrement sur la jeunesse franco-ontarienne et sur le Canada dans le cadre des célébrations de Canada150. Cette dimension s'ajoutera à une programmation déjà bien remplie de spectacles, d'activités et d'événements. Les enfants et les jeunes auront droit à toute une journée d'activités pour partager leur culture francophone, même les tout-petits. De plus, 150 ans plus tard nous fera découvrir l'histoire musicale du Canada français. Pour couronner le tout, une exposition de photographies consacrée au thème du cent-cinquantenaire nous fera connaître 150 Franco-Ontariens qui ont façonné l'histoire du Canada. 

Le festival a lieu au parc Major's Hill ce week-end. Pour en savoir plus et vous procurer des billets dès maintenant, cliquez ici!
***
Festival franco ontarien kicks off
Festival Franco-ontarien kicks off June 15 in Ottawa for a weekend focused on the very best of Francophone life in Ontario!
Running June 15 to 17, the Festival Franco-ontarien is one of only a few festivals that celebrates the Francophone community in Ontario. This year's focus on young Franco-ontariens and a special look at Canada for the Canada150 celebrations add to the three-day festival's busy schedule of performances, activities and events. A full day of child- and youth-centred activities will share Francophone culture with even the youngest speakers, while 150 Years Later chronicles the musical history of French Canada. Finally, a sesquicentennial-themed photography presentation looks at 150 Franco-Canadians who have shaped the course of Canadian history.
The Festival takes place this weekend in Major's Hill Park – to learn more and to get your tickets now, click here!
___________________________________________________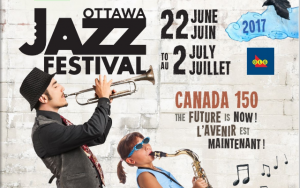 The Future is Now at the Ottawa Jazz Festival!
Celebrate Canada150 and great music at the Ottawa International Jazz Festival!
Starting next week and running until July 2, this staple of the Canadian music scene will play host to dozens of Canadian and international sensations for eleven days of great music. Highlights include Mavis Staples, Feist, Dinosaur, and Kenny Rogers on his final World Tour!
Curious about the schedule? Need to buy your tickets? Visit the OJF website today!
***
L'avenir, c'est maintenant au Festival de jazz d'Ottawa!
Célébrez Canada150 en savourant la musique merveilleuse du Festival international de jazz d'Ottawa!

Dès la semaine prochaine et jusqu'au 2 juillet, cette manifestation incontournable de la scène musicale canadienne accueillera pendant onze jours mémorables des douzaines de talents renversants du Canada et du monde entier. Parmi les moments forts, notons Mavis Staples, Feist, Dinosaur, sans oublier Kenny Rogers dans sa dernière tournée mondiale!

La programmation vous intrigue? Vous voulez vous procurer des billets? Visitez le site Web du FJO dès aujourd'hui!
___________________________________________________

Stars and Thunder hit Timmins!
June 24 to July 1, enjoy an exciting line-up of music and fireworks in the heart of Timmins!
Stars and Thunder is the annual festival taking place in the days leading up to Canada Day, with concerts featuring great popular artists and a daily fireworks display at the end of each night. This year's line-up of performers include Lights, Johnny Reid, Scarlett Jane and Keith Urban!
For more info on tickets, travel and the full line-up, visit the Stars and Thunder website!
***
Timmins frappée par Stars and Thunder!
Du 24 juin au 1 juillet, c'est au centre-ville de Timmins que ça se passe avec des spectacles musicaux enivrants et des feux d'artifice à couper le souffle!

Le festival Stars and Thunder a lieu dans les jours qui précèdent la fête du Canada, avec des concerts de grands artistes populaires et des feux d'artifice éblouissants chaque soir. Lights, Johnny Reid, Scarlett Jane et Keith Urban sont parmi les artistes en vedette cette année!

Pour en savoir plus sur les billets, comment s'y rendre et toute la programmation, rendez-vous sur le site Web de Stars and Thunder!
___________________________________________________
MonstARTity gears up for another great Monster Mashup!
Since 2011, MonstARTity has served up genre-bending performances for the Mississauga community – but the pinnacle of their annual projects is hands-down the Bollywood Monster Mashup!
The largest South Asian festival in Canada, this Mashup brings together the ecstatic performances of Bollywood with styleand flair from Canada and beyond. With a KidsZone, amazing food and vendors, and showcases for every genre, families will have a great time in Celebration Square.
Curious about the festival? Click here to learn more!
***
MonstARTity en route vers un autre grand Monster Mashup!
Depuis 2011, MonstARTity a présenté des performances inusitées à la communauté de Mississauga. Mais chaque année, c'est le Bollywood Monster Mashup qui remporte la palme du projet le plus inclassable!

Plus important festival sud-asiatique au Canada, le Mashup combine les performances extatiques de Bollywood à des styles et des impressions artistiques du Canada et d'ailleurs. Avec une zone réservée aux enfants, des aventures gastronomiques, des marchands et des vitrines pour tous les goûts, les familles s'en donneront à cœur joie au Celebration Square. 

Le festival vous intéresse? Cliquez ici!
___________________________________________________
Kapuskasing organise la 18e édition du Festival de la St-Jean
Du 16 au 18 juin, payez-vous du bon temps au Festival de la St-Jean de Kapuskasing!

Depuis 2000, Kapuskasing organise ce festival annuel qui célèbre la culture francophone en Ontario et au Canada. La célébration de la fête de la Saint-Jean, qui remonte au temps de la colonie française, a lieu le 24 juin. Depuis les débuts du festival à Kapuskasing, plus de 35 000 festivaliers ont pris part aux célébrations qui ont eu lieu dans cette communauté résolument francophone et francophile.

Cette année, pendant trois jours, des groupes et des artistes rock francophones se succéderont sur la scène du festival. De plus, huit finalistes s'affronteront dans un concours musical où il y a plus de 8 000 $ en prix à gagner! La vidéo ci-dessus présente quelques-uns des groupes et artistes talentueux qui prendront part au festival cette année.
Obtenez vos billets dès aujourd'hui sur le site Web du festival!
***
Kapuskasing hosts 18th Annual Festival de la St-Jean
June 16-18, have a rollicking good time in Kapuskasing at the Festival de la St-Jean!
Kapuskasing has hosted this annual Festival celebrating Francophone culture in Ontario and Canada since 2000. The Festival, dating back to colonial France, is traditionally held on June 24. Since the festival began in Kapuskasing, more than 35,000 festivalgoers have joined the celebrating in the heart of this enthusiastically Francophile community.
This year, Franco-rock bands and artists will join together for three days of great performances and a fierce music competition where eight finalists will go head-to-head for more than $8,000 in prizes! The video above highlights some of the great performers that will be on-hand this year.
Get your tickets today at the festival website!
___________________________________________________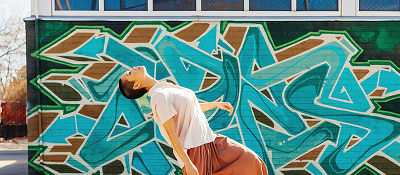 Toronto Fringe Festival inaugurates new home
The Toronto Fringe has a new home for weary Fringe-goers to rest their feet!
After 28 years of hosting the Fringe Club in Honest Ed's Alley, the Festival has moved to its new home in Scadding Court at Bathurst and Bloor, following the closure of Toronto's iconic Honest Ed's. To celebrate the new home and the partnership between Scadding Court Community and Toronto Fringe, the Fringe Club will host more than 50 free events, including body painting, board game nights, button making and so much more!
For the full schedule of events happening at the Fringe club, click here!
***
Inauguration du nouveau domicile du Festival Fringe de Toronto
Les festivaliers du Fringe de Toronto ont désormais un nouvel endroit pour faire la pause!

Pendant 28 ans, le Fringe Club s'est tenu dans la mythique Honest Ed's Alley qui a récemment fermé ses portes. Le festival a donc élu domicile au Scadding Court à l'angle des rues Bathurst et Dundas. Pour inaugurer en grand ce nouveau lieu de rencontre ainsi que le partenariat unissant le Scadding Court Community Centre au Toronto Fringe, le Fringe Club organisera plus de 50 activités gratuites, dont la peinture sur corps, des soirées de jeux de société et la fabrication de macarons!

Pour la programmation complète des activités du Fringe Club, cliquez ici!
___________________________________________________