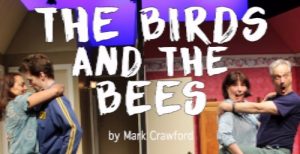 The Birds and The Bees at VPP
Following a raucous start to the season at the Victoria Playhouse Petrolia, a new comedy is now shaking things up even more!
The Birds and The Bees follows four very different characters as they meet, challenge each other and maybe fall in love in this new play by emerging playwright Mark Crawford. On stage now until June 17, The Birds and The Bees is a heart-warming story about love and life that will set the VPP abuzz.
For tickets and showtimes, visit the Victoria Playhouse Petrolia website.
***
The Birds and The Bees au Théâtre Petrolia
Après un début de saison animé au Victoria Playhouse Petrolia, une comédie ajoute encore un peu plus de piquant!
The Birds and The Bees, une nouvelle pièce écrite par le jeune dramaturge Mark Crawford, suit le parcours de quatre personnages très différents qui se rencontrent, se lancent des défis et tomberont peut-être amoureux. The Birds and The Bees est une histoire réconfortante sur l'amour et la vie qui fera vibrer le VPP jusqu'au 17 juin.
Pour l'horaire des représentations et l'achat de billets, visitez le site Web du Victoria Playhouse Petrolia.
___________________________________________________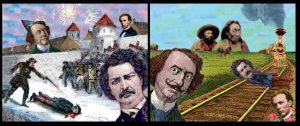 Confederation gets a makeover with VideoCabaret
Enjoy a fresh and darkly comedic look at Confederation this summer with VideoCabaret!
Known for their innovative and award-winning performances about the Canadian identity, VideoCabaret is celebrating Canada150 with a cycle of four plays about our nation's early history. In Confederation Part 1 (opening June 9), the act of uniting the country and its first major rebellion by Métis leader Louis Riel are explored; in Confederation Part 2 (opening June 23), Prime Minister John A. MacDonald is lauded, vilified, and celebrated again, as the burgeoning politician Wilfrid Laurier steadily gains public recognition and the second rebellion to feature Louis Riel ends in bloodshed.
The Confederation cycle will run in repertory through August – for tickets and information, click here!
***
VideoCabaret transforme le visage de la Confédération
Cet été, découvrez le regard rafraîchissant de comédie noire que jette VideoCabaret sur la Confédération!
Bien connu pour ses spectacles novateurs et primés sur l'identité canadienne, VideoCabaret célèbre Canada150 en présentant un cycle de quatre pièces sur les balbutiements de notre nation. Dans Confederation Part 1 (première le 9 juin), la troupe explore l'unification du pays et la première grande rébellion menée par le chef métis Louis Riel; dans Confederation Part 2 (première le 23 juin), le premier ministre John A. MacDonald est tour à tour vanté, vilipendé et louangé à nouveau tandis que la popularité politique de Wilfrid Laurier gagne les électeurs et que la deuxième rébellion orchestrée par Louis Riel se termine dans un bain de sang.
Le répertoire du cycle Confédération est en cours jusqu'au mois d'août. Pour des billets et informations, cliquez ici.
___________________________________________________

Markham Contemporary Music Festival
This June, enjoy a special festival built for lovers of instrumental music in the heart of Markham!
Markham Contemporary Music Festival was founded in 2011 by Kindred Spirits Orchestra, a Markham-based orchestra dedicated to share its love of instrumental music with young performers and the community at large. Music from the 20th century forms the backbone of the festival, including performances of composers such as Stravinsky, Larysa Kuzmenko, and Phillip Glass. Starting June 10 and running through until June 29, enjoy concerts, films and discussions about 20th century instrument music and so much more!
Under the direction of Artistic Director Kristian Alexander, MCMF has grown to include English-French bilingual programming, and more than half a dozen free concerts and community outreach events. Wondering how you can attend? Click here to visit Kindred Spirits and MCMF today!
***
Le Festival de musique contemporaine de Markham
En juin, en plein cœur de Markham, découvrez un festival spécialement conçu pour les amateurs de musique instrumentale!
Le Markham Contemporary Music Festival a été fondé en 2011 par le Kindred Spirits Orchestra, un orchestre de Markham dont la mission est de partager sa passion de la musique instrumentale avec de jeunes interprètes et l'ensemble de la communauté. La musique du 20e siècle est la pièce maîtresse du festival, avec des concerts mettant notamment en vedette les œuvres de compositeurs comme Stravinsky, Larysa Kuzmenko et Phillip Glass. Du 10 au 29 juin, appréciez des concerts, films et discussions sur la musique instrumentale du 20e siècle, et plus!
Sous la direction artistique de Kristian Alexander, le FMCM en est venu à inclure des activités bilingues anglaises/françaises dans sa programmation et plus d'une demi-douzaine de concerts gratuits et d'activités pour la communauté. Curieux de savoir comment y prendre part? Cliquez ici pour visiter le site de Kindred Spirits et du FMCM dès aujourd'hui!
___________________________________________________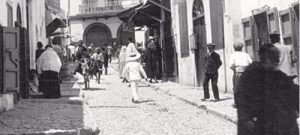 The Communauté juive marocaine de Toronto celebrates Canada150
The Communauté Juive Marocaine de Toronto is throwing a Canada150 spin on their annual festival 2000 Years of Jewish Life in Morocco. A eight-day festival, first produced in 2012, celebrates the rich cultural life of Jewish people in Morocco. This year, 2000 Years will run June 4 to 12!
This year's Canada150 celebrations will bring Jewish, Moroccan, and Canadian cultures together in a cultural festival audiences won't soon forget! With photography exhibitions at the Leibovic Centre, installations from Prosper Trodjman at Alliance Française, film screenings, concerts, and more – this year's festival lauds the place forged by people of Jewish-Moroccan descent.
Curious about the festival? Want to learn more? Visit the CJMT Facebook page to see the latest news!
***
La Communauté juive marocaine de Toronto célèbre Canada150
La Communauté juive marocaine de Toronto donne une tournure Canada150 à son festival annuel 2000 ans de vie juive au Maroc. Pendant huit jours, ce festival organisé pour la première fois en 2012 célèbre la richesse de la vie culturelle de la communauté juive du Maroc. Deux mille ans de vie juive sera présenté du 4 au 12 juin.
Cette année, les célébrations de Canada150 rassembleront les spectateurs autour des cultures juive, marocaine et canadienne dans un festival inoubliable! Avec, entre autres, des expositions de photographies au Centre Leibovic, des installations de Prosper Trodjman à l'Alliance française, des projections de films et des concerts, le festival mettra en lumière la place que se sont forgé les Juifs d'origine marocaine.
Le festival vous intrigue? Vous voulez en savoir plus? Visitez la page Facebook de la CJMT pour connaître les nouvelles les plus récentes!
___________________________________________________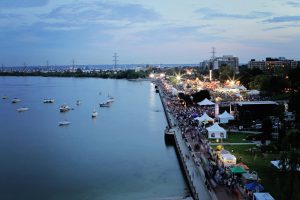 Celebrate Ontario150 at the Burlington Sound of Music Festival
An annual festival with dozens of free concerts, Burlington Sound of Music Festival has thrilled hundreds of thousands of visitors since its inception in 1980. Amidst performances by popular bands and emerging artists, BSOMF also hosts dozens of activities that everyone in your family can enjoy!
In honour of Ontario 150, BSOMF and the City of Burlington have teamed up for a special event that few have ever witnessed. New Canadians will receive their citizenships in a live ceremony onstage in Spencer Smith Park. Following the ceremony, five musical acts from Burlington and across Ontario will perform, celebrating these new Canadians with their unique sound.
Curious about the Burlington Sound of Music Festival? Click here to learn more!
***
Venez célébrer Ontario150 au Festival Sound of Music de Burlington
Avec des douzaines de concerts gratuits, le Burlington Sound of Music Festival a enchanté des centaines de milliers de festivaliers depuis sa fondation en 1980. Parmi les spectacles de groupes populaires et d'artistes de la relève, le BSOMF présente également des douzaines d'activités pour toute la famille!
En l'honneur d'Ontario150, le BSOMF et la Ville de Burlington se sont associés pour présenter une activité spéciale rarement vue. De nouveaux Canadiens recevront leur citoyenneté lors d'une cérémonie sur la scène du parc Spencer Smith. Après la cérémonie, place à cinq artistes musicaux de Burlington et des quatre coins de l'Ontario qui feront la fête aux nouveaux Canadiens avec leur son unique.
Vous voulez en savoir plus sur le Burlington Sound of Music Festival? Cliquez ici!
___________________________________________________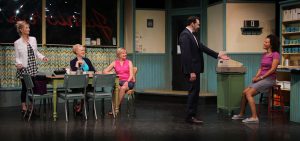 Foster Festival ready to wow
In just a few short weeks, the Foster Festival will kick off its second season celebrating the warmly comedic Canadian playwright Norm Foster.
The ambitious second season includes three shows about the many facets of love, including two world premieres of new works by Foster. Lunenburg (running August 2 to 18) sets a young widow on a mysterious path as she arrives at her newly inherited home in Atlantic Canada. Old Love (July 12 to 28) shares the sweet tale of a man and woman as they navigate the dating world as "older people". But first, the festival opens with Screwball Comedy (opening June 21), a hilarious story about two journalists as they face off in a classic "man vs woman" tale.
All performances will run in the heart of downtown St Catharines in the First Ontario Performing Arts Centre. To learn more about the shows, the festival or to book your tickets, visit the Foster Festival website!
***
Le Foster Festival fera sensation
Dans quelques semaines à peine, le Foster Festival amorcera sa deuxième saison pour célébrer les douces comédies du dramaturge canadien Norm Foster.
Trois spectacles, dont deux premières mondiales de nouvelles œuvres de Foster, seront présentés qui aborderont les nombreuses facettes de l'amour. Dans Lunenburg (du 2 au 18 août), une jeune veuve suit un parcours mystérieux quand elle arrive dans une maison dont elle a récemment hérité dans le Canada atlantique. Old Love (du 12 au 28 juillet) dévoile la douce histoire d'un homme et d'une femme qui naviguent dans l'univers des rencontres pour célibataires à un âge plus avancé. Mais tout d'abord, le festival commence par Screwball Comedy (première le 21 juin), une histoire hilarante sur deux journalistes qui s'affrontent dans un récit classique opposant un homme et une femme.
Toutes les représentations auront lieu au centre-ville de St Catharines au First Ontario Performing Arts Centre. Pour en savoir plus sur les spectacles et le festival, ou pour réserver vos places, visitez le site Web du Foster Festival.