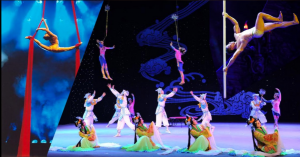 Music & Beyond closes this week!
After a whirlwind 14 days, the seventh annual Music & Beyond Festival closes this weekend.
Since 2010, Music & Beyond has brought multidisciplinary art and classical music to audiences in Ottawa. The celebrated festival focuses on creating performances combining classical music with diverse forms (including dance, circus, science, and comedy.)
The closing weekend will feature a variety of circus troupes, a themed gala, and, of course, some of the brightest stars in the classical music world. If you haven't purchased your tickets yet, head to the website today!
***
Musique et autres mondes se termine cette semaine!
Après 14 journées de programmation exaltante, la septième édition du festival Musique et autres mondes se termine ce week-end.
Depuis 2010, Musique et autres mondes comble les amateurs d'art multidisciplinaire et de musique classique à Ottawa. Ce festival réputé met l'accent sur la création de spectacles qui marient la musique classique à d'autres moyens d'expression (y compris, la danse, le cirque, la science et l'humour).
Lors du dernier week-end, plusieurs troupes de cirque, un gala thématique et, bien sûr, plusieurs grandes étoiles de la musique classique seront à l'honneur. Si vous n'avez pas encore vos billets, rendez-vous sur le site Web du festival!
___________________________________________________

Na zdorovia! (To your health!)
The countdown is on for the Capital Ukrainian Festival! In just a few short days, experience the rich culture that is Ukraine: without leaving Ottawa.
July 21-24, enjoy delicious food, handmade crafts, stunning performances and art, and learn more about Ukrainian heritage. Stroll the banks of the Rideau Canal eating borscht and cabbage rolls, or watch movies in English and Ukrainian: the choice is yours!
There is a cornucopia of things to do at the Capital Ukrainian Festival: check out their website to see everything!
***
Na zdorovia! (À votre santé!)
Le compte à rebours du Festival ukrainien de la capitale est amorcé! Dans seulement quelques jours, vous pourrez vivre toute la riche culture de l'Ukraine sans quitter Ottawa.
Du 21 au 24 juillet, laissez-vous charmer par des mets délicieux, de magnifiques œuvres artisanales, de superbes spectacles et de l'art visuel à couper le souffle tout en découvrant le patrimoine ukrainien. Flânez le long du canal de Rideau en dégustant un bortsch ou des cigares au chou. Ou regardez des films en anglais et ukrainien. Vous avez le choix!
Il y a toute une panoplie d'activités au Festival ukrainien de la capitale: visitez le site Web pour tout savoir!
___________________________________________________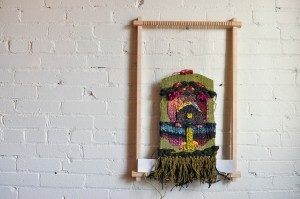 Up next at Tangled Art Gallery
The inaugural season of the Tangled Art Gallery continues, with the opening of Point of Origin. An exhibition of work by melannie g campbell, Point of Origin examines dynamic relationships and intersectional dichotomies with mixed media pieces incorporating poetry, quilts and tapestries (see SELF PORTRAIT #1 ON LOOM (IN PROGRESS) above.)
Point of Origin opens on July 15 and runs until September 15. Click here for the website!
***
Prochainement à la Tangled Art Gallery
La saison inaugurale de la Tangled Art Gallery se poursuit avec le vernissage de Point of Origin, une exposition d'œuvres de techniques mixtes de melannie g campbell. En utilisant la poésie, la courtepointe et la tapisserie (voir SELF PORTRAIT #1 ON LOOM [IN PROGRESS] ci-dessus), elle examine les forces dynamiques des relations personnelles et les dichotomies intersectionnelles.
Point of Origin est présentée du 15 juillet au 15 septembre. Cliquez ici pour visiter le site Web!
___________________________________________________
Window into India July 23 and 24
July 23 and 24, visit Marina Park in Thunder Bay for the Festival of India. This free event is a vibrant party, sharing Indian food, music, and performance!
With a free feast, a festival of colours inspired by Holi, chariot parades, and vendors, the Festival of India brings fun to everyone in the Thunder Bay community. Henna Tattoos, face-painting, yoga sessions: what's not to love?
Mark your calendars now: July 23 and 24, in Marina Park! Check out the website for more details.
***
Fenêtre sur l'Inde les 23 et 24 juillet
Les 23 et 24 juillet, visitez le parc de la Marina de Thunder Bay pour participer au Festival of India. L'entrée est libre pour assister à cette fête animée où la gastronomie, la musique et les spectacles de l'Inde seront à l'honneur!
Venez déguster un grand festin sans frais, admirer un festival de couleurs inspiré par la Holi et un défilé de chars allégoriques, rencontrer des vendeurs ambulants. Toute la communauté de Thunder Bay est invitée à découvrir l'Inde sous ses plus beaux atours. Tatouages à base de henné, maquillages du visage, séances de yoga: comment ne pas aimer?
À inscrire à votre calendrier : les 23 et 24 juillet, parc de la Marina! Consultez le site Web pour en savoir plus.
___________________________________________________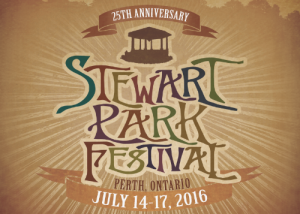 Stewart Park celebrates 25 years – and 200 years!
For the 25th year, Stewart Park in Perth will be filled with music, families and fun. The Stewart Park Festival is held every year during the third weekend in July, and features great musical and theatrical performances, activities and contests, and vendors of all kinds.
But that's not all! This year, the Stewart Park Festival will also host part of the bicentennial celebration of Perth! The town began as Perth Military Settlement, which was founded in 1816. The special date will be commemorated with a special evening performance on the day before the Festival opens.
If you're in the Perth area this weekend, be sure to check out the Festival (it's free, after all!) For more info, head to their website!
***
Stewart Park célèbre ses 25 ans — et ses 200 ans!
Pour une 25e année, la musique, le plaisir et l'amusement des familles résonneront aux quatre coins du parc Stewart à Perth. Le Stewart Park Festival a lieu chaque année pendant le troisième week-end de juillet avec des concerts, des spectacles de théâtre, des activités, des concours et la présence de vendeurs de toutes sortes.
Mais ce n'est pas tout! Cette année, c'est dans le cadre du Stewart Park Festival que sera célébré le bicentenaire de Perth! La ville a été fondée en 1816 sous le nom d'établissement militaire de Perth. Cet anniversaire sera souligné lors d'une soirée bien spéciale la veille de l'ouverture du festival.
Si vous passez dans la région de Perth ce week-end, ne manquez pas de voir ce qui se passe au festival (l'entrée est libre, après tout!) Pour en savoir plus, rendez-vous sur le site Web du festival!
___________________________________________________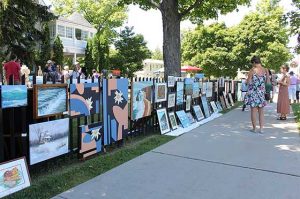 SNEAK PEEK: Southampton Art Walk!
July is a month jam-packed with things to do, but here's one more cool event! The inaugural Southampton Art Walk is a free, totally walkable art event in Southampton.
July 30th – click here for more info!
***
PRIMEUR: Southampton Art Walk!
Il ne manque pas d'activités en juillet, mais il en reste encore une autre formidable à découvrir! La première tournée à pied Southampton Art Walk est une activité sans frais pour découvrir les arts visuels à Southampton.
30 juillet — cliquez ici pour en savoir plus.
___________________________________________________