Celebrating Canada's Sesquicentennial with music
The Toronto Summer Music Festival kicks off this week!
Truth North, Strong and Free celebrates Canada's sesquicentennial with the best of Canada's globally-acclaimed classical performers. This year's festival, which runs July 13 to August 5, features crowd-pleasers like Jane Bunnett (performing with Hilarie Duran), the St Lawrence String Quartet and the Autobahn Modern Jazz Trio. New to this year's festival will be a free Children's series, running three concerts over Wednesday mornings during the festival's run.
This is also the first Festival with newly appointed Artistic Director Jonathan Crow at the helm. For a full schedule of events and to get your tickets, visit the Festival website today!
***
Une célébration du cent-cinquantenaire du Canada tout en musique
C'est le lancement du Toronto Summer Music Festival cette semaine!
Truth North, Strong and Free célèbre le cent-cinquantenaire du Canada avec les musiciens classiques les plus acclamés au pays. Cette année, le festival qui se déroule du 13 juillet au 5 août met en vedette des valeurs sûres comme Jane Bunnett (qui joue avec Hilarie Duran), le St Lawrence String Quartet et l'Autobahn Modern Jazz Trio. Le festival propose pour la première fois une série pour les enfants avec trois concerts le matin, tous les mercredis du festival.
Il s'agit également de la première édition du festival sous la direction artistique de Jonathan Crow, qui vient d'être nommée à cette fonction. Pour la programmation complète des activités et pour obtenir vos billets, rendez-vous sur le site Web du festival dès aujourd'hui!
___________________________________________________

Foster Festival brings some Old Love
The Foster Festival continues its second season with a classic Norm Foster play.
Old Love, first produced in 2008, recounts the slow-burning love story between Molly and Bud, who first meet as married friends – married to other people that is! This heart-warming story follows these two people as they grow over three decades of chance encounters.
The second season of the Norm Foster Festival in St Catherines has already received rave reviews for its world premiere of Screwball Comedy, with audiences filling the FirstOntario Performing Arts Centre to the rafters!
To get your tickets to Old Love, click here!
***
Le Foster Festival fait revivre un vieil amour
La deuxième saison du Foster Festival se poursuit avec un classique du répertoire de Norm Foster.
Old Love, produite en 2008, raconte la lente évolution de l'histoire d'amour entre Molly et Bud, qui se rencontrent d'abord comme deux amis mariés… mariés à d'autres personnes, bien sûr! Dans cette histoire réconfortante, nous suivons ces deux tourtereaux dont l'amour grandit au hasard de leurs rencontres pendant trois décennies.
Avec la première mondiale de Screwball Comedy, la deuxième saison du Norm Foster Festival à St Catherines a déjà reçu des critiques dithyrambiques. Les spectateurs sont au rendez-vous et le FirstOntario Performing Arts Centre est bondé!
Pour vous procurer vos billets pour Old Love, cliquez ici.
___________________________________________________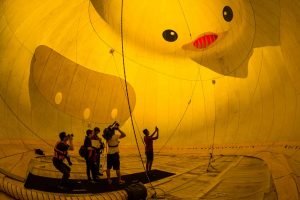 Rubber Duck brings more than joy to Ontario waterfront
The old adage "rubber ducky, you're the one" could not have proven more accurate for the Toronto Redpath Waterfront Festival!
Hundreds of thousands of visitors flocked to the Toronto Waterfront to take a picture with The World's Largest Rubber Duck, in town just in time for Canada Day. Early reports suggest that the Rubber Duck's presence smashed previous attendance records for the Festival and Lea Parrell, the Redpath Festival's co-producer, estimates that revenue generated for the local economy will far exceed the $4.2 million generated in past years.
The Rubber Duck is on tour now as part of the ON150 Tour, visiting Sault Ste. Marie this weekend (July 13-15) and Midland (July 23-25). The tour will continue on to Brockville and Amherstburg in August.
For more information on the Rubber Duck and the ON150 Tour, click here!
***
Bien plus que du bonheur avec le canard en caoutchouc
Des centaines de milliers de visiteurs envahissent le Toronto Redpath Waterfront Festival!
Juste à temps pour la fête du Canada, ils sont venus dans le secteur riverain de Toronto prendre la pose avec le plus grand canard en caoutchouc au monde. Selon les premières estimations, la présence du canard en caoutchouc a permis de fracasser le précédent record de fréquentation du festival. Lea Parrell, coproductrice du Festival Redpath, estime que les retombées financières pour l'économie locale dépasseront largement la somme de 4,2 millions obtenue dans les années précédentes.
Le canard en caoutchouc fait partie de la tournée Ontario150 et se rendra à Sault Ste. Marie ce week-end (13-15 juillet) et à Midland (23-25 juillet). L'itinéraire de tournée comprend ensuite des arrêts à Brockville et Amherstburg en août.
Pour en savoir plus sur le canard en caoutchouc et la tournée ON150, cliquez ici.
___________________________________________________

Burlington Food Truck Festival
July 22 and 23, head to Spencer Smith Park in Burlington for a trucking good time!
The Canadian Food Truck Festival kickstarts their first year in Burlington at the beautiful waterfront park that's perfect for an afternoon of strolling, listening to local music, and eating amazing food. Featuring trucks like Gorilla Cheese, Buster's Sea Cove, and Feasto Dumplings, every type of food imaginable will be available for crowds to enjoy.
The dozens of food trucks will be complemented by local musicians from Burlington, Hamilton and beyond. Stop by Spencer Smith Park on July 22 and 23 for a food fiesta you won't soon forget – visit their website to learn more!
***
Le Burlington Food Truck Festival
Payez-vous du bon temps les 22 et 23 juillet au parc Spencer Smith à Burlington!
Pour sa première année à Burlington, le Canadian Food Truck Festival démarre sur les chapeaux de roue en s'installant dans un superbe parc riverain. Quoi de mieux que de passer un après-midi à flâner au bord de l'eau à écouter de la musique créée par des artistes locaux et savourer des mets délicieux? Avec des camions-cantines comme Gorilla Cheese, Buster's Sea Cove et Feasto Dumplings, il y aura des mets pour tous les goûts.
Pour agrémenter l'expérience gastronomique offerte par les douzaines de camions-cantines, des musiciens de la région provenant de Burlington, Hamilton et d'ailleurs feront entendre leurs talents. Venez faire un tour au parc Spencer Smith les 22 et 23 juillet pour une fête gastronomique que vous n'êtes pas prêts d'oublier. Rendez-vous sur le site Web pour en savoir plus!
___________________________________________________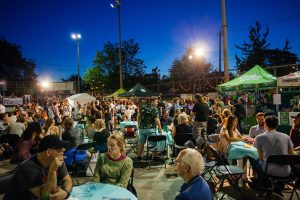 Fringe Festival lights up Scadding Court
The reviews are in for the Fringe Club's new home and it's a winner!
For years, the Honest Ed's Alley served the Toronto Fringe Festival as a huge community gathering, performance venue, restaurant patio and art gallery. With the sad farewell to the iconic Toronto department store, Toronto Fringe has moved its Fringe Club to the bright lights of Scadding Court Community Centre – just down the road at Bathurst and Dundas St West.
Until July 16, head down to the Fringe Club for free events, live musical performances, local food and so much more! Visit the Fringe Festival website to learn more.
***
Pleins feux sur le Festival Fringe à Scadding Court
Les critiques sont unanimes : le nouveau domicile du Fringe Club fait le bonheur de tous les festivaliers!
Pendant des années, Honest Ed's Alley a servi de lieu de grandes rencontres communautaires, de salle de spectacles, de bar-terrasse et de galerie d'art pour le Toronto Fringe Festival. Après des adieux émouvants au mythique grand magasin de Toronto, le Fringe de Toronto a emménagé dans les lumières scintillantes du centre communautaire Scadding Court à un jet de pierre des rues Bathurst et Dundas Ouest.
Jusqu'au 16 juillet, rendez-vous au Fringe Club pour des activités sans frais, des spectacles, de la gastronomie locale et plus encore! Visitez le site Web du Festival Fringe pour en savoir plus.
___________________________________________________

Bollywood Monster Mashup hits the stage in Mississauga
Celebration Square will host MonstARTity's sixth annual Bollywood Monster Mashup on July 21 and 22!
The largest South Asian festival in Canada, the Mashup brings together the ecstatic performances of Bollywood with styles from Canada and beyond. This year's festival line-up includes Bollywood singers Kamal Khan, Akanksha Sharma, and Jonita Gandhi.
A Monster FoodFest, dancing, free concerts and kid-friendly activities are all available during the Bollywood Monster Mashup. Get the full schedule by visiting their website!
***
Bollywood Monster Mashup prend d'assaut la scène à Mississauga
C'est au Celebration Square qu'aura lieu la sixième édition annuelle du Bollywood Monster Mashup de MonstARTity les 21 et 22 juillet!
Plus important festival sud-asiatique au Canada, le Mashup combine les performances extatiques de Bollywood à des styles du Canada et d'ailleurs. Cette année, le festival met en vedette les chanteurs bollywoodiens Kamal Khan, Akanksha Sharma et Jonita Gandhi.
Un monstrueux festival gastronomique, des concerts gratuits et des activités conçues pour les enfants seront aussi de la fête du Bollywood Monster Mashup. Consultez la programmation complète en visitant le site Web!
___________________________________________________
Pan American Food & Music Festival at Yonge and Dundas!
Celebrate the best of the Americas this August in the heart of Toronto!
The Pan American Food & Music Festival will fill Yonge-Dundas Square with dance, live music, events and, of course, food. August 12 and 13, head down for this free event devoted to the cultures of North, Central, and South America and the Caribbean. The fifth annual Festival will also celebrate Canada150, highlighting Canada's role in Pan America.
With food competitions, chef panels, live dance and music performances, what more could you want?
The Pan American Food & Music Festival runs August 12 and 13: For more information, visit the Festival website!
***
Le Pan American Food & Music Festival au Yonge-Dundas Square!
Le meilleur des Amériques vous attend au mois d'août au cœur de Toronto!
Lors du Pan American Food & Music Festival, le Yonge-Dundas Square se remplira de danse, de musique et d'activités. Bien entendu, la gastronomie sera aussi au rendez-vous… Les 12 et 13 août, rendez-vous à cette manifestation qui célèbre les cultures du Nord, du Centre et du Sud des Amériques, sans oublier les Caraïbes. L'entrée est libre. La cinquième édition du festival annuel célébrera aussi Canada150 en mettant en lumière le rôle du Canada dans le territoire panaméricain.
Avec des concours gastronomiques, des panels de chefs et des spectacles musicaux, que demander de plus? Le Pan American Food & Music Festival aura lieu les 12 et 13 août. Pour en savoir plus, rendez-vous sur le site Web du festival.