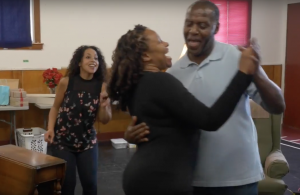 Portia at the Victoria Playhouse comes to an end!
Celebrate Portia White, Canada's first Black singer to win international acclaim, with a voice considered "A Gift from Heaven"!
She began singing with her church choir in Halifax and rose to fame in the 1940's against all odds. Through the support of her parents, Izie and the Reverend Andrew White, and teacher Ernesto Vinci, we follow Portia's journey to greatness that was to inspire so many. Glorious Spiritual and Classical Music are the background for this heartwarming and joyful story of a Canadian Legend.
Show closes August 27th, don't miss your chance! For information on tickets, click here!
***
Portia quittera bientôt le Victoria Playhouse! 
Venez célébrer la vie de Portia White, première chanteuse noire du Canada à avoir acquis une notoriété internationale. Sa voix était considérée comme « un cadeau du ciel »!
Elle a commencé à chanter dans une chorale paroissiale à Halifax. Contre toute attente, elle a connu la gloire dans les années 1940. Grâce au soutien de sa mère, Izie, et de son père, le pasteur Andrew White, puis de son professeur de musique, Ernesto Vinci, on voit comment Portia a pu atteindre des sommets inégalés qui ont inspiré tant de gens. Musiques glorieuses, spirituelles et classiques servent de toile de fond à cette histoire réconfortante et joyeuse sur une légende canadienne.
La dernière représentation a lieu le 27 août. Ne manquez donc pas votre chance de voir Portia! Pour renseignements sur les billets, cliquez ici!
___________________________________________________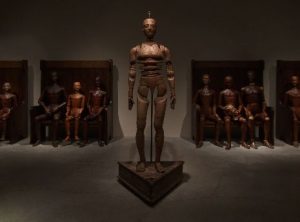 The Power Plant presents Ydessa Hendeles' first retrospective exhibition!
Ydessa Hendeles explores perceptions of difference and diversity in her work, The Milliner's Daughter, assembling objects and artefacts into contemporary fables about the way representation and distortion, appropriation and assimilation can filter group and individual identities. For her first retrospective exhibition at a public institution, The Power Plant will display a selection of her artworks drawn from the past decade.
Ydessa Hendeles is a pioneering exponent of curating as a creative artistic practice by blurring the borders between collector, curator and artist, she has fashioned her own distinctive space in the contemporary art world.
Presented over both floors of the gallery, The Milliner's Daughter offers a single, multi-layered narrative. Included is From her wooden sleep… (2013), built around a group of wooden artists' mannequins composed in an unsettling tableau vivant.
This exhibition closes September 4th, don't miss your chance to see Hendeles' soul exposing artwork!
***
La Power Plant présente la première rétrospective d'Ydessa Hendeles!
Ydessa Hendeles explore la différence et la diversité dans son œuvre, The Milliner's Daughter. En assemblant des objets et artefacts dans des fables contemporaines, elle dévoile des identités collectives et individuelles filtrées par la représentation et la déformation, par l'appropriation et l'assimilation. Pour la première rétrospective d'Ydessa Hendeles dans une institution publique, The Power Plant exposera une sélection des œuvres qu'elle a réalisées dans la dernière décennie. Exposante d'avant-garde, Ydessa Hendeles conçoit la conservation comme une pratique artistique où s'estompent les frontières entre collection, conservation et art. Ainsi, elle s'est modelé un espace distinct dans le monde de l'art contemporain.
Étalé sur les deux étages de la galerie, The Milliner's Daughter propose un seul récit multidimensionnel. From her wooden sleep… (2013), une œuvre construite avec des groupes de mannequins artistiques en bois aménagés pour créer un tableau vivant troublant, fait partie de l'exposition.
L'exposition se termine le 4 septembre. Ne manquez pas la chance de voir le travail fascinant d'Hendeles!
___________________________________________________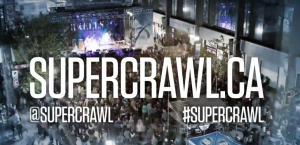 Seriously big music fans at Supercrawl!
Since 2009, Supercrawl has hosted a vibrant range of compelling and contemporary musical talent and has consistently showcased the best of local live music alongside national and international artists.
Taking place along James Street North in Hamilton from September 8th to 10th, Supercrawl has amazing performances planned, such as: Sam Roberts Band, Tanya Tagaq, Blackie and the Rodeo Kings, and much, much more! This popular event has festival organizers adding a second stage to the site for the increasing crowd size!
To learn more about Supercrawl click here, or to see their full lineup here!
***
Supercrawl : pour amateurs de musique avertis!
Depuis 2009, Supercrawl a accueilli toute une gamme de grands talents de la musique contemporaine et n'a jamais cessé de présenter les meilleurs artistes musicaux de la région, du pays et de l'étranger.
Supercrawl se déroulera sur la rue James Nord à Hamilton du 8 au 10 septembre. Des spectacles extraordinaires sont au programme, notamment le Sam Roberts Band, Tanya Tagaq, Blackie and the Rodeo Kings. Et ce n'est qu'un aperçu! Ce festival est si populaire que les organisateurs ont dû ajouter une deuxième scène sur le site pour accueillir le nombre croissant de spectateurs!
Pour en savoir plus sur Supercrawl, cliquez ici. Pour consulter la programmation complète, cliquez ici!
___________________________________________________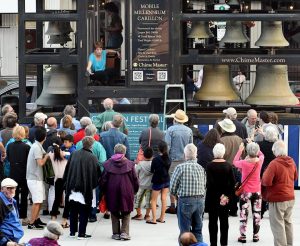 Stratford Summer Music Festival coming to a close this Sunday
The Stratford Summer Music Festival is an annual multi-week music festival set in both indoor and outdoor venues throughout downtown Stratford, Ontario.
Only three more chances to catch Moo'd Swing, and two chances to catch Musical Brunches at the Prune restaurant. Be sure to check out the calendar for more music and events! Show closes tomorrow, August 25th, book your tickets NOW! 
***
Le Festival de musique estival de Stratford se termine dimanche prochain
Pendant plusieurs semaines, le Festival de musique estival de Stratford anime des salles et des scènes extérieures au centre-ville de Stratford, Ontario.
Il ne reste plus que trois représentations de Moo'd Swing et deux chances de voir Musical Brunches au restaurant Prune. N'oubliez pas de consulter l'horaire pour tout savoir sur la musique et les activités! La manifestation se termine le 25 août. Réservez vos billets dès MAINTENANT! 
___________________________________________________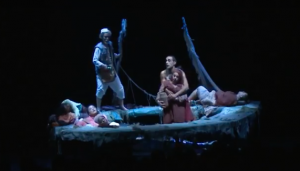 Coming soon… IMPACT 17
Running September 26th – October 1st, 2017, IMPACT 17 features productions from New Zealand, Mexico, and Tunisia, theatre and dance from Vancouver, Halifax, Whitehorse, Calgary, Montreal, Ottawa, and Toronto, and locally born and bred work.
IMPACT is a biennial celebration organized by MT Space in Ontario's Waterloo Region. IMPACT is focused on Indigenous and culturally diverse work from Canada and around the world, with special emphasis on interdisciplinary, intercultural, and physical productions.
Passes and tickets available for purchase HERE!
***
Bientôt à l'affiche… IMPACT 17
Du 26 septembre au 1er octobre 2017, IMPACT 17 présente des productions de la Nouvelle-Zélande, du Mexique et de la Tunisie, du théâtre et de la danse de Vancouver, Halifax, Whitehorse, Calgary, Montréal, Ottawa et Toronto, ainsi que des œuvres imaginées et crées ici.
IMPACT est une célébration bisannuelle organisée MT Space dans la région ontarienne de Waterloo. IMPACT met l'accent sur des œuvres diversifiées créées par des aborigènes et des représentants de diverses cultures. Ces productions interdisciplinaires, interculturelles et physiques proviennent du Canada et de partout dans le monde.
On peut se procurer laissez-passer et billets ICI!