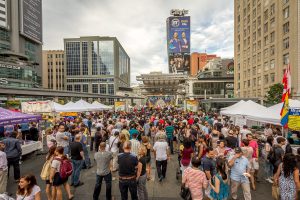 PanAmerican Food Festival coming this weekend!
The Pan American Food & Music Festival is Canada's only annual festival that celebrates the Western Hemisphere's rich diversity of cuisine, music and art.
The name of the Festival has been changed this year to include Music, reflecting the expanding level of music programming presented alongside the culinary programs. The fifth annual PAFMF will be presented on August 12th to 13th, 2017, with a programming focus on Canadian food and music in celebration of Canada 150.
This free event is presented annually in Toronto, reinforcing the growing cultural identity shared among Canadians and the 40 other countries of North, Central and South America and the Caribbean.
The Festival is produced by ArtsXplosion, a non-profit cultural organization based in Toronto. ArtsXplosion has successfully delivered four editions of the Pan American Food Festival, where the Americas showcase their incredible food diversity and cultural richness.
***
C'est le week-end du PanAmerican Food Festival!
Le Pan American Food & Music Festival est la seule manifestation canadienne à célébrer chaque année les multiples richesses culinaires, musicales et artistiques de l'hémisphère occidental.
Le nom du festival a été modifié cette année pour refléter l'importance grandissante de la programmation musicale aux côtés du programme gastronomique. La programmation de la cinquième édition du PAFMF, qui aura lieu les 12 et 13 août 2017, mettra l'accent sur la musique et les mets canadiens dans le cadre des célébrations de Canada150.
Cette manifestation, présentée chaque année à Toronto, renforce l'identité culturelle émergente partagée par les Canadiens et les populations de 40 autres pays du Nord, du Centre et du Sud des Amériques, et des Caraïbes. L'entrée est libre.
Le festival est produit par ArtsXplosion, un organisme culturel à but non lucratif de Toronto. ArtsXplosion a organisé avec succès les quatre éditions précédentes du Pan American Food Festival qui met en vitrine l'incroyable diversité gastronomique et les richesses culturelles des Amériques.
___________________________________________________
Canadian Craft Biennial at the AGB!
The Art Gallery of Burlington, in collaboration with Craft Ontario, is proud to present the first Canadian Craft Biennial from August 19th, 2017 to October 29th, 2017.
The launch of this inaugural event during Canada's 150th anniversary will serve as a spotlight to celebrate the importance of contemporary craft throughout Canada's diverse history and future, under the theme: Can Craft? Craft Can!
The Biennial will explore what and who is 'Canadian Craft', and analyze ideas regarding the agency of craft.
***
Biennale canadienne des métiers d'art à l'AGB!
L'Art Gallery of Burlington, en collaboration avec Craft Ontario, présente avec fierté la toute première Biennale canadienne des métiers d'art du 19 août au 29 octobre 2017.
L'inauguration de cette nouvelle manifestation dans le cadre de Canada150 permettra de dévoiler et célébrer l'importance des métiers d'art tout au long de la riche histoire du Canada… et dans son avenir. Sous le thème Can Craft? Craft Can!, la biennale mettra en lumière le talent des artistes des métiers d'art et leurs créations. Elle proposera aussi une analyse des idées qui régissent l'agencement des œuvres.
___________________________________________________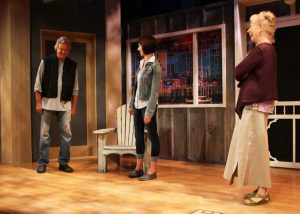 World Premiere at the Foster Festival!
Incorporated in 2015, The Norm Foster Festival is a theatre company inspired by the work of internationally renowned Canadian playwright Norm Foster.
Taking place June 21st to August 27th, 2017 in the 200-seat Cairns Hall at the FirstOntario Performing Arts Centre in St. Catharines. For its second season the Festival will be adding a second world premiere to its three-play program. Organizers will also be adding a catered lunch to their matinee performances.
The Foster Festival is proud to present the world premiere of "Lunenburg". Running from August 2nd through August 18th at the FirstOntario Performing Arts Centre as well as touring to the Rose Theatre in Brampton for five performances the following week. An examination of US/Canadian relations, Lunenburg is part mystery, part romance. Directed by Patricia Vanstone and designed by Peter Hartwell, "Lunenberg" is already receiving rave reviews. You don't want to miss it! Get your tickets NOW! 
***
Première mondiale au Foster Festival!
Constitué en société en 2015, le Norm Foster Festival est une compagnie de théâtre qui s'inspire de l'œuvre de Norm Foster, dramaturge canadien internationalement reconnu.
Le festival a lieu du 21 juin au 27 août 2017 dans la salle Cairns Hall (200 places), au FirstOntario Performing Arts Centre à St Catharines. Une deuxième première mondiale sera ajoutée à la programmation de trois pièces pour la deuxième saison du festival. Les organisateurs ont aussi prévu d'agrémenter les matinées d'un déjeuner servi par un traiteur.
Le Foster Festival est fier de présenter la première mondiale de « Lunenburg » : du 2 au 18 août au FirstOntario Performing Arts Centre, puis au Rose Theatre de Brampton pour 5 représentations la semaine suivante. Avec pour toile de fond les relations canado-étatsunienne, Lunenburg se situe à mi-chemin du mystère et de la romance. Dans une mise en scène de Patricia Vanstone et une scénographie de Peter Hartwell, Lunenberg a déjà reçu des critiques dithyrambiques. À voir absolument! Procurez-vous vos billets dès MAINTENANT! 
___________________________________________________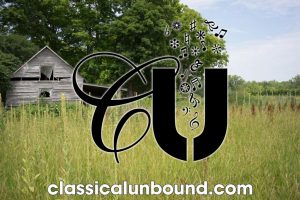 Classical Unbound gets Unleashed this weekend!
The premise of Classical Unbound Festival concerts is to 'give' classical music to their audience members in an environment/context that leads to a particular intimacy between and among audience members and musicians, powerful enough to create a period of community as inclusive of the musicians as of the audience.
Taking place between August 14th and 27th, 2017, the Festival will include seven different classical music concerts in four non-traditional venues in Prince Edward County.
Seating is limited so book your tickets now!
***
Classical Unbound se déchaîne ce week-end!
La raison d'être des concerts du Classical Unbound Festival est de « donner » la musique classique aux spectateurs dans des endroits ou contextes propices à l'intimité entre le public et les musiciens; bref, dans des environnements assez marquants pour créer dans la communauté un espace qui englobe tout autant les interprètes que l'auditoire.
Du 14 au 27 août 2017, le festival présentera sept concerts différents de musique classique dans quatre lieux non traditionnels du comté de Prince Edward.
___________________________________________________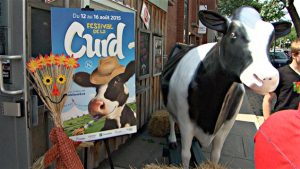 Aiguisez votre appétit pour le Festival de la curd!
La communauté de St-Albert, en collaboration avec sa célèbre coopérative fromagère et l'appui des Producteurs laitiers du Canada, nous accueille pour la 24e édition du Festival de la curd! Cette nouvelle édition propose des activités pour la famille et une programmation locale. Plusieurs activités qui ont passé l'épreuve du temps sont au programme comme le marché fermier, la dégustation de vins et fromages, les cascades en VTT, la soirée d'humour et les promenades en poney.
Venez en grand nombre pour découvrir les nombreuses activités de la zone familiale, une loterie en compagnie de la seule et unique Albertine, une soirée réservée aux talents locaux et plusieurs autres nouveaux spectacles.
Fondée en 1894 par un groupe de producteurs laitiers franco-ontariens, la Fromagerie St-Albert est l'une des plus anciennes coopératives au Canada.
Les fromages St-Albert sont produits à 100 % de lait pur fourni par les fermes laitières de l'est de l'Ontario. Lauréate du Grand Prix des fromages canadiens (cheddars âgés) en 2015, la Coopérative St-Albert se classe régulièrement parmi les meilleures fromageries au pays!
Achetez vos billets pour goûter à l'un des festivals les plus savoureux de votre vie!
***
Get ready, get hungry, Festival de la Curd is here!
The community of St. Albert, in collaboration with its famous cheese cooperative and the support of the Dairy Farmers of Canada, welcomes us to the 24th edition of the Curd Festival! This new edition features family activities and local programming. Tried and true activities including the Farmer's Market, Wine and Cheese Tasting, ATV stunts, comedy night, and pony rides.
They invite you to come and discover the many options in the family area, a lottery in the company of the one and only Albertine, a special night for local talents, and many more new shows.
Founded in 1894 by a group of Franco- Ontarian dairy producers, the St. Albert Cheese Co-operative is one of the oldest co-operatives in Canada.
St. Albert cheeses are made from 100% pure milk provided by Eastern Ontario dairy farms. Having won first prize for best aged Cheddar in the Canadian Cheese Grand Prix in 2015, St. Albert is regularly ranked among the best in the country!
Buy your tickets to one of the tastiest festivals you will ever have the pleasure of attending!
___________________________________________________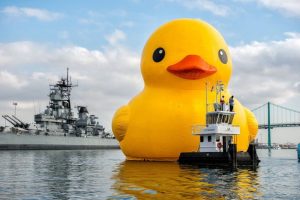 All good Ducks come to an end
The World's Largest Rubber Duck, which had never before been to Canada, joined the Ontario 150 Tour to help celebrate Canada's 150th Anniversary! A unique attraction to encourage waterfront visitors; the Duck has been doing just that!
Since her time in Canada, the Duck has travelled through Toronto, Owen Sound,  Sault St. Marie, Midland, Amherstburg, and will be ending her journey in Brockville.
Redpath Waterfront Festival organizers estimate half a million visitors attended the festival on Canada day in Toronto's waterfront.
The Great Canadian Duck Tour comes to an end, this Sunday August 13th, in Brockville ON. See where the Duck has been or follow her now!
 ***
Toute chose grandiose a une fin
Le plus grand canard en caoutchouc au monde, qui n'avait jamais posé ses palmes au Canada auparavant, s'est joint à la tournée Ontario 150 pour célébrer le 150e anniversaire du Canada! Conçu pour attirer les visiteurs dans les secteurs riverains, le canard a atteint son but!
Pendant son séjour au Canada, le canard s'est promené à Toronto, Owen Sound, Sault Ste. Marie, Midland et Amherstburg. Il terminera son voyage à Brockville.
Les organisateurs du Redpath Waterfront Festival estiment qu'un demi-million de spectateurs torontois ont participé à la fête du Canada dans le secteur riverain de Toronto.
La grande tournée du canard canadien prend fin le dimanche 13 août à Brockville (Ont.). Voyez le chemin parcouru par le canard ou son emplacement actuel!