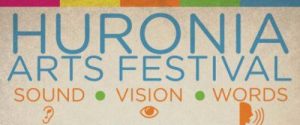 Visit the Inaugural Huronia Arts Festival this weekend!
This weekend, join the Huronia Cultural Campus at the inaugural Huronia Arts Festival, with musicians, playwrights, authors, and artists coming together for a day of performances, conversations, and events.
Orillia's Lakehead University campus will overflow with more than 100  artists of every genre for a fun-filled day. Created by the Huronia Cultural Campus Foundation, the Huronia Arts Festival aims to build a multi-disciplinary celebration of the arts, with guests like playwright Tomson Highway, author Terry Fallis, jazz fusion band MANTECA and many more performing throughout the day.
Tickets are only $25, and everyone under 16 can attend for free. For more information and a event schedule, head to the Huronia Arts Festival website!
***
Visitez le tout premier Huronia Arts Festival ce week-end!
Ce week-end, rendez-vous au Huronia Cultural Campus pour participer au tout premier Huronia Arts Festival qui accueille des musiciens, des dramaturges, des auteurs et des artistes. Pendant une journée amusante remplie de spectacles, de discussions et d'activités, le campus de l'Université Lakehead à Orillia sera envahi par plus de 100 artistes de toutes les disciplines.
Créé par la Huronia Cultural Campus Foundation, le Huronia Arts Festival vise à mettre sur pied une célébration multidisciplinaire des arts avec des invités comme le dramaturge Tomson Highway, l'auteur Terry Fallis, le groupe jazz fusion MANTECA et plusieurs autres artistes qui seront en spectacle pendant toute la journée.
Il n'en coûte que 25 $ par billet et l'entrée est gratuite pour les personnes de 16 ans et moins. Pour en savoir plus et consulter l'horaire des activités, rendez-vous sur le site Web du Huronia Arts Festival!
__________________________________________________________________________________________________
Shakespeare is completely, irrovocably in love
The Stratford Festival is celebrating the 400th birthday of William Shakespeare with workshops, events, showcases and brand-new performances of Shakespeare plays and plays about Shakespeare. Shakespeare 400's crown jewel is the brand new adaptation of Shakespeare in Love. 
Based on the Oscar Award-winning film, Shakespeare in Love follows a fictionalized William Shakespeare, who is suffering from writer's block while trying to finish his play Romeo and Juliet. When he meets Viola, a woman in disguise as a boy so that she can pursue acting, Shakespeare finds his muse…and a whole lot more!
"Romantic and boisterous" (Hamilton Spectator), Shakespeare in Love runs until October 16 in the Avon Theatre. For your tickets, head to the Stratford website!
***
Pas de remède en vue : Shakespeare est définitivement amoureux
Le Festival de Stratford célèbre le 400e anniversaire de William Shakespeare en présentant des ateliers, des activités, des vitrines et de nouvelles créations de ses pièces et de pièces qui parlent de lui. La toute nouvelle adaptation de Shakespeare in Love est le joyau des célébrations entourant de le 400e anniversaire de Shakespeare.
La pièce, créée d'après le film primé aux oscars, suit les aventures fictives de William Shakespeare aux prises avec l'angoisse de la page blanche alors qu'il tente d'achever sa pièce Roméo et Juliette. Lorsqu'il rencontre Viola, une femme qui se déguise en homme dans l'espoir de poursuivre sa carrière de comédienne, Shakespeare trouve sa muse… et plus encore!
« Pièce romantique au rythme endiablé » (Hamilton Spectator), Shakespeare in Love est présentée jusqu'au 16 octobre au Théâtre Avon. Pour vous procurer des billets, rendez-vous sur le site Web du Festival de Stratford!
__________________________________________________________________________________________________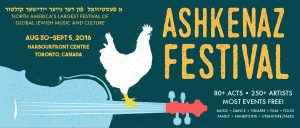 Celebrate Jewish Arts and Music at Ashkenaz Festival
August 30 to September 5, Harbourfront Centre in Toronto will host more than 250 artists of all types at the Ashkenaz Festival. A festival celebrating global Jewish culture and the Yiddish language, the six-day festival will host performers and audiences for all over the world.
Produced biennially since 1995, the Ashkenaz Festival has evolved over the years into an eclectic showcase of global Jewish art and culture, as well as cross-cultural fusion with the many regions and cultures in which Jewish artists have flourished. This year, there will be theatrical performances, film screenings, workshops, food, and of course, music!
90% of the events and activities are free for everyone to enjoy – to see everything that's happening between Aug 30 – Sep 5, click here!
***
Le Festival Ashkenaz célèbre la musique et les arts juifs
Du 30 août au 5 septembre, au Harbourfront Centre à Toronto, plus de 250 artistes de tous horizons prendront part au Festival Ashkenaz. Une célébration de la culture juive mondiale et de la langue yiddish, le festival accueillera pendant six jours des interprètes et des festivaliers provenant des quatre coins de la planète.
Le Festival Ashkenaz, biennale organisée depuis 1995, reflète la fusion interculturelle de plusieurs régions et cultures dans lesquelles les artistes juifs se sont épanouis. Le festival s'est bonifié au fil des ans pour devenir une vitrine éclectique de la culture et des arts juifs de par le monde. Cette année, le programme comprend des représentations théâtrales, des projections de films, des ateliers, des dégustations et, bien entendu, de la musique!
Pour le plus grand plaisir de tous, 90 % des présentations et activités sont gratuites. Pour consulter le programme complet du 30 août au 5 septembre, cliquez ici!
__________________________________________________________________________________________________
Bloody Brilliant: Sweeney Todd at Shaw
Until October 19, enjoy the darkly comedic and hilariously unsettling musical thriller at Shaw that critics have declared "simply a masterpiece"!
Sweeney Todd: The Demon Barber of Fleet Street opened in July to great acclaim. The dystopian musical follows Sweeney Todd, a barber with dark plans for revenge against the establishment that has wronged him and the people that have betrayed him. Steven Sondheim's acclaimed musical has thrilled audiences for since 1979, winning nearly three dozen major awards and adapted as a hit film starring Johnny Depp in 2007.
Watch the video above for the 5th installment of The Razor's Edge, a documentary produced by the Shaw Festival about the creation of this production. For tickets to the show, head to the Shaw Festival website!
***
Effroyablement brillant : Sweeney Todd au Festival Shaw
Vous avez jusqu'au 19 octobre pour voir cette comédie musicale à sensations et à l'humour noir dérangeant que les critiques ont tout simplement qualifiée de « chef-d'œuvre »!
Sweeney Todd : The Demon Barber of Fleet Street connaît un grand succès depuis ses premières représentations en juillet. Ce musical dystopique suit le parcours de Sweeney Todd, un barbier qui cherche à se venger de l'establishment qui l'a lésé et des gens qui l'ont trahi. Cette œuvre acclamée de Steven Sondheim séduit le public depuis 1979 et s'est méritée près de trois douzaines de prix. En 2007, le musical a été adapté avec succès au cinéma dans un film mettant en vedette Johnny Depp.
Dans la vidéo qui coiffe ce billet, voyez la 5e partie de The Razor's Edge, un documentaire produit par le Festival Shaw qui raconte la création de cette production. Pour obtenir des billets pour le spectacle, rendez-vous sur le site Web du Festival Shaw!
__________________________________________________________________________________________________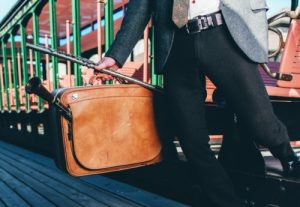 Talk is Free Presents The Music Man
Music fever is about to hit Barrie, and only one musical production can cure it! Talk is Free Productions will be producing the classic musical The Music Man.
September 14 to October 2, the city of Barrie, Ontario will be transformed into River City, Iowa in this daring site-specific production of Meredith Wilson's beloved tale. Audiences will be whisked across the city, following the tale of con artists Professor Harold Hill as he attempts to pull off the con of a lifetime!
Featuring a barbershop quartet and a full brass band in a cast of 60, Talk is Free's production will be one of the largest-ever outdoor productions in Canada. To be part of history, click here for tickets!
***
Les productions Talk Is Free présentent The Music Man
La fièvre de la musique s'emparera bientôt de Barrie avec, pour seul remède, une production musicale! Talk is Free Productions présentent un classique de la musique, The Music Man.
Du 14 septembre au 2 octobre, pour les besoins de cette audacieuse production in situ du récit populaire de Meredith Wilson, la ville de Barrie, en Ontario deviendra River City, en Iowa. Les spectateurs seront transportés d'un bout à l'autre de la ville pour suivre le récit du professeur Harold Hill, un magouilleur qui tente de réussir l'escroquerie du siècle!
Avec son quatuor de figaros et son orchestre de cuivres complet dans une distribution de 60 artistes, cette production de Talk is Free sera l'une des plus importantes jamais réalisées au Canada. Pour faire partie de l'histoire, achetez vos billets ici!