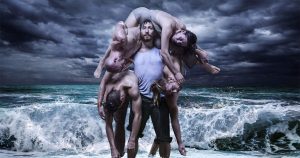 Ending soon at Spotlight Australia
Spotlight Australia continues to thrill audiences with its powerful performers and engrossing pieces. But it can't last forever, and in its final weeks Spotlight Australia has a flurry of performances that will leave you breathless!
Storytelling (Blood Links, April 19-23), performance art (Endings, April 26-30), dance (Meeting, April 26-30) and circus (The Return, May 3-7) all weave together to create a spectacular portrait of Australia – nuanced, beautiful and defiant of categorization.
Enjoy Spotlight Australia before it's gone! Check out their website today.
***
Spotlight Australia se termine bientôt
Spotlight Australia continue d'épater le public avec de formidables interprètes et des pièces palpitantes. Mais toute bonne chose a une fin et il ne faut rien manquer des dernières semaines. Les spectateurs auront droit à une foule de spectacles à couper le souffle!

Le conte (Blood Links, 19 au 23 avril), l'art de la performance (Endings, 26 au 30 avril), la danse (Meeting, 26 au 30 avril) et le cirque (The Return, 3 au 7 mai) tissent un portrait haut en couleur de l'Australie, à la fois nuancé, magnifique et inclassable.

Voyez Spotlight Australia pendant qu'il en est encore temps! Consultez le site Web dès aujourd'hui.
________________________________________________________
Hot Docs kicks off April 27
The internationally-renowned Hot Docs Festival returns next week with a program of award-winning, visually stunning, completely engrossing true stories from Canada and across the world. Stories range from personal to political, and everything in-between.
About My Liberty follows the student-led protests in Japan, as they work to counter governmental efforts to include Japanese military in overseas actions. These actively engaged pacifists formed a planning committee Students Emergency Action for Liberal Democracy(s). My Liberty explores the burgeoning protest movement as it wrestles for the future of Japan.
About My Liberty and more than 200 other documentaries will screen at Hot Docs – head to their website to buy your tickets today!
***
Lancement de Hot Docs le 27 avril
Dès la semaine prochaine, le festival de renommée internationale Hot Docs présente une programmation d'œuvres primées du Canada et du monde entier. Avec des histoires vraies, palpitantes et d'une grande beauté visuelle, la programmation propose toute une gamme de sujets, depuis des réalités personnelles à d'autres politiques.

About My Liberty suit les manifestations des étudiants du Japon qui s'opposent à la volonté du gouvernement d'envoyer des forces armées japonaises dans des interventions à l'étranger. Ces pacifistes actifs et engagés ont formé un comité de planification, le Students Emergency Action for Liberal Democracy(s). My Liberty explore l'essor de ce mouvement qui lutte pour l'avenir du Japon. En plus d'About My Liberty, Hot Docs présente plus de 200 autres documentaires. Rendez-vous sur le site Web pour obtenir vos billets dès maintenant!
________________________________________________________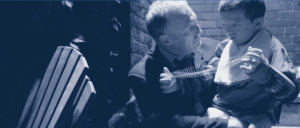 Heartbreak and reconciliation at Crow's Theatre
May 9 to 17 at Crow's Theatre: a life-changing birth shifts a family wildly off-course.
Based on the multi-award-winning memoir of journalist Ian Brown, Boy in the Moon follows the story of a family heart-sick of their young son's severe disability. As they fight to raise their son and struggle to understand him, the family experiences its own transformation, for better or worse. First produced by the Great Canadian Theatre Company, Boy in the Moon has been reimagined for Crow's Theatre by playwright Emil Sher and director Chris Abraham. For more info, visit Crow's website.
Also on now at Crow's Theatre: Century Song, a performance melding music, video projection and art in one riveting experience.
***
Chagrin et réconciliation au Crow's Theatre
Du 9 au 17 mai au Crow's Theatre : une naissance fait violemment dévier de son parcours tranquille la vie d'une famille.

Pièce créée d'après le récit de souvenirs maintes fois primé du journaliste Ian Brown, Boy in the Moon raconte l'histoire d'une famille éplorée par le handicap sévère qui afflige leur jeune fils. Alors que la famille se démène pour élever le garçon et le comprendre, elle subit une profonde transformation pour le meilleur ou pour le pire. D'abord produite par le Great Canadian Theatre Company, Boy in the Moon a été repensée par le dramaturge Emil Sher et le metteur en scène Chris Abraham du Crow's Theatre. Pour en savoir plus, visitez le site Web du Crow's.

Maintenant à l'affiche au Crow's Theatre : Century Song, un spectacle envoûtant qui marie musique, projection vidéo et arts visuels.
________________________________________________________

Foster Festival's second season in
St. Catharines
Just entering its second season, the Norm Foster Festival has become a staple in St Catharines with its extensive outreach into the community. Its dedication to showcase Foster's plays has grown into a three-show season with two world premieres – all written by the great Canadian playwright.
Screwball Comedy (June 27-July 7) pits two reporters against each other in a battle of wills and skills. Lunenburg (August 2-18) follows an American widow's journey to Nova Scotia to visit the home of her late husband. In addition to these brand-new plays, fan favourite Old Love (July 12-28) will move your heart with its sweetly romantic tale.
To learn more about the Foster Festival, visit their website. Can't wait until June? Check out Laughter in the Vineyard, the annual Spring Fundraiser taking place April 30!
***
Deuxième saison du Foster Festival à St. Catharines
À sa deuxième saison, le Norm Foster Festival est déjà un incontournable à St. Catharines grâce aux nombreuses activités de liaison organisées dans la communauté. L'engagement du festival à présenter les pièces de Foster a grandi. Cette année, trois spectacles seront présentés (dont deux premières mondiales), toutes des pièces écrites par le grand dramaturge canadien.

Screwball Comedy (27 juin au 7 juillet) met en opposition deux journalistes dans une bataille de volontés et de compétences. Dans Lunenburg (2 au 18 août), on suit le parcours d'une veuve américaine qui se rend en Nouvelle-Écosse pour visiter la maison de son défunt mari. En plus de ces deux nouvelles créations, comptez sur la reprise de la pièce populaire Old Love (12 au 28 juillet). Cette histoire touchante et romantique bouleversera les cœurs. 

Pour en savoir plus, visitez le site Web du Foster Festival. Vous ne pouvez pas attendre au mois de juin? Le 30 avril, participez à Laughter in the Vineyard, la campagne de financement annuelle du printemps.
________________________________________________________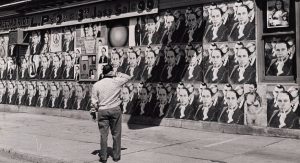 Ryerson Image Centre acquires 25,000 photographs from The New York Times
OCAF is proud to support Ryerson Image Centre's upcoming exhibition The Faraway Nearby – one of many projects celebrating the Canadian sesquicentennial this year.
As part of the project, RIC has repatriated just under 25,000 Canadian photographs, previously held in the The New York Times Photo Archive. The photographs, purchased in 2008, were generously donated to the RIC by real-estate magnate Chris Bratty.
The Faraway Nearby runs September 13 to December 10 and examines the event, stories, and people that have shaped the Canadian identity. To read more about the photo acquisition, click here.
***
Le Ryerson Image Centre acquiert 25 000 photographies du New York Times
C'est avec fierté que le FMCO appuie l'exposition à venir du Ryerson Image Centre (RIC). The Faraway Nearby est l'un des nombreux projets organisés pour célébrer le cent-cinquantenaire du Canada. 

Dans le cadre du projet, le RIC a rapatrié près de 25 000 photos canadiennes jusqu'ici conservées dans les archives photographiques du New York Times. Le magnat de l'immobilier, Chris Bratty, a généreusement donné au RIC les photographies acquises en 2008. 

The Faraway Nearby, qui se déroule du 13 septembre au 10 décembre, met en lumière les événements, les histoires et les gens qui ont façonné l'identité canadienne. Pour en savoir plus sur l'acquisition des photographies, cliquez ici.
________________________________________________________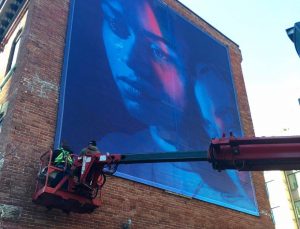 CONTACT opens next week!
The world's largest festival of photography opens next week in Toronto.
CONTACT Photography Festival hosts dozens of nationally- and internationally-acclaimed photographic artists in exhibitions celebrating the modern medium.
Ahead of the festival, a piece by Petra Collins Jackie and Anna (rainbow tear) was installed outside the CONTACT's main office.
Still not sure what to see at CONTACT? Visit their website today to learn more!
***
CONTACT commence la semaine prochaine!
Le plus grand festival de photographie au monde s'ouvre la semaine prochaine à Toronto. 

Le CONTACT Photography Festival accueille des douzaines d'artistes photographes acclamés du Canada et de l'étranger dans le cadre d'expositions qui célèbrent ce moyen d'expression moderne. 

Avant l'ouverture du festival, une œuvre de Petra Collins, Jackie and Anna (rainbow tear), a été installée à l'extérieur du bureau principal de CONTACT. 

Que faut-il voir absolument à CONTACT? Visitez le site Web dès aujourd'hui pour faire vos choix!