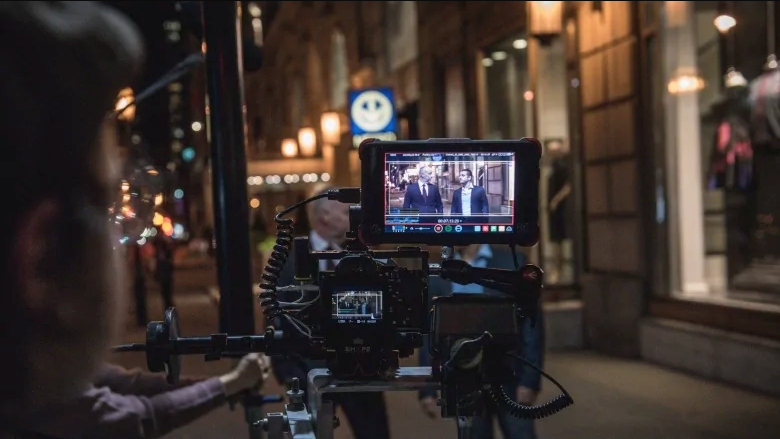 Blood in the Snow 2018: Canadian Film at Its Goriest
Another of Toronto's unique film festivals is back! Running from November 22-27 at the Royal Cinema, Blood in the Snow is an imaginative showcase of contemporary Canadian horror, genre and underground cinema. Expect a selection of thrilling and experimental flicks from up-and-coming and established Canadian directors, along with shorts, a newly introduced web series program, and a four-day industry market. The festival kicks off with SUPERGRID from Saskatchewan director Lowell Dean, a high-octane road movie set in a post-apocalyptic Canadian wasteland. In the 18-director, no-budget anthology film Montreal Dead End, a supernatural mist seeps across the city, unleashing a series of urban paranormal events. BITS 2018 will host the world premieres of two virus flicks, Deadsight and Altered Skin, and horror/comedy mockumentary The Hoard.
***
Blood in the Snow 2018: le cinéma canadien à son plus sanglant
Un autre festival unique en son genre est de retour à Toronto! Du 22 au 27 novembre, Blood in the Snow au Royal Cinema révèle les plus récents films à couper le souffle du cinéma contemporain de l'horreur et de la contre-culture réalisés au Canada. Une sélection de films d'épouvante et expérimentaux de cinéastes canadiens de la relève et établis, des courts métrages et une nouvelle programmation de séries Web vous y attendent. Un marché de l'industrie battra son plein pendant quatre jours. SUPERGRID du réalisateur saskatchewanais Lowell Dean, un road-movie à sensations qui se déroule dans un désert canadien post-apocalyptique inaugure le festival. Dans le film d'anthologie Montreal Dead End, 18 réalisateurs sans budget parlent d'une brume surnaturelle qui s'infiltre à travers la ville, déclenchant une série d'événements paranormaux urbains. BITS 2018 sera l'hôte des premières mondiales de deux films sur les virus, Deadsight et Altered Skin, ainsi que du faux documentaire de comédie et d'horreur, The Hoard.
____________________________________________________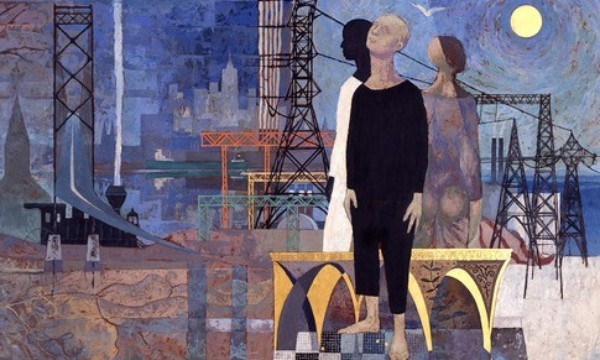 Look Again! AGW Collection at 75 Years
The Art Gallery of Windsor invites us to 'Look again!' in its 75th anniversary retrospective, opening on November 30. The exhibition explores themes of 'Canadian Heritage and the Land', and 'Portraiture and the Body', while celebrating the historical collections leading to the 20th century. Visitors can expect to see new acquisitions alongside reigning favourites, including works by Prudence Heward, Emily Carr, members of the Group of Seven and their contemporaries. The Gallery's commitment to Indigenous histories is reflected in works by Bonnie Devine, Norval Morrisseau, Daphne Odjig and Angus Trudeau. The opening reception will take place on November 30 as part of the Gallery's Fridays Live! series.
***
Un autre regard sur la collection de l'AGW à 75 ans
L'Art Gallery of Windsor nous invite à revisiter le passé grâce à la rétrospective consacrée à son 75e qui s'ouvrira le 30 novembre. L'exposition explore les thèmes du « Patrimoine canadien et la terre » et du « Portrait et le corps », tout en célébrant les collections historiques qui ont mené l'art vers le XXe siècle. Les visiteurs pourront admirer de nouvelles acquisitions aux côtés de pièces indémodables, notamment des œuvres réalisées par Prudence Heward, Emily Carr, des membres du Groupe des Sept et leurs contemporains. L'engagement de la galerie envers l'histoire autochtone se reflète dans les œuvres de Bonnie Devine, Norval Morrisseau, Daphne Odjig et Angus Trudeau. Le vernissage aura lieu le 30 novembre dans le cadre de la série Fridays Live!
____________________________________________________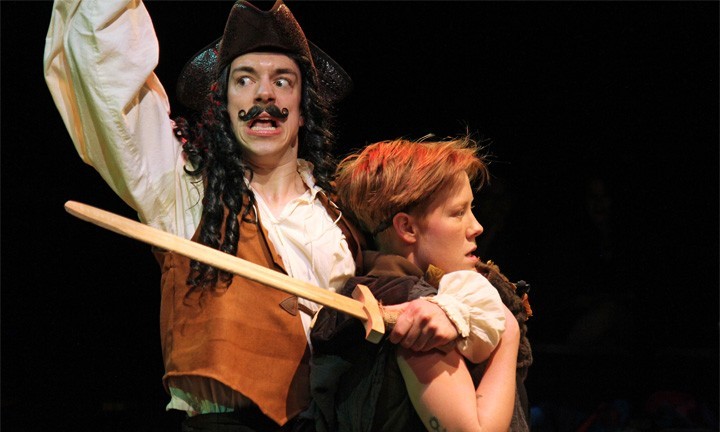 Holiday Classics at the Soulpepper Family Festival
Celebrate the holiday season at Soulpepper's fifth annual Family Festival! From Christmas classics to circus performances, this year's programming offers something every family can enjoy. The festivities kick off on December 7 with "the best holiday show in town" – Soulpepper's beloved production of A Christmas Carol. This yuletide classic is joined by Peter Pan, an audience favourite and the winner of three Dora Mavor Moore Awards, including Outstanding Production. Soulpepper is also bringing back its popular First Story Bus Tour, an interactive three-hour experience that showcases Indigenous stories of accomplishment, struggle, and resilience. Audience members are in for an extra treat – free entry to the Toronto Christmas Market on the day of the show!
***
Classiques des fêtes au Soulpepper Family Festival
Célébrez le temps des fêtes dans le cadre du cinquième festival annuel pour la famille, le Family Festival de Soulpepper! Des classiques de Noël aux spectacles de cirque, la programmation de cette année offre quelque chose qui plaira à chaque famille. Les festivités commenceront le 7 décembre par « le meilleur spectacle des fêtes en ville », A Christmas Carol, la populaire production de Soulpepper. À cela s'ajoute Peter Pan, un autre classique bien-aimé du public et lauréat de trois prix Dora Mavor Moore (y compris le prix de la meilleure production). Soulpepper ramène sa populaire tournée First Story Bus Tour, une aventure interactive de trois heures qui met en lumière des récits autochtones de réalisations, de lutte et de résilience. Les spectateurs auront droit à une gâterie supplémentaire : l'entrée libre au marché de Noël de Toronto le jour de la représentation!
____________________________________________________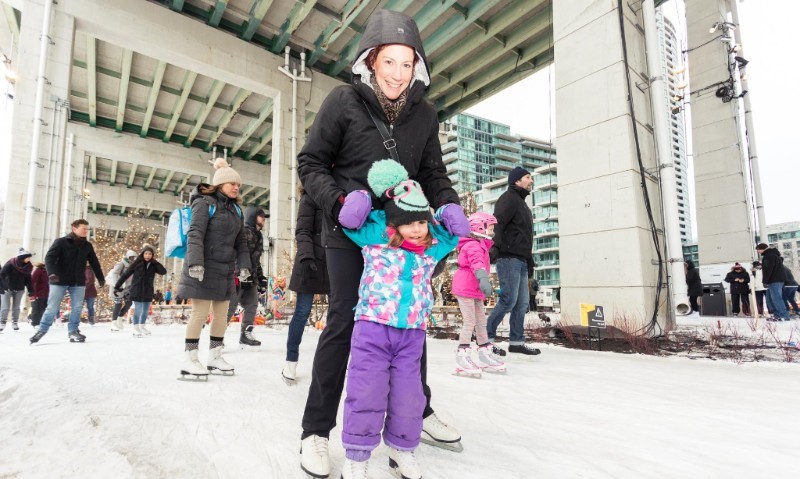 'Skate the 8 in the Six' at the Bentway
The Bentway's unique figure-eight skate trail opens for its second season on December 21. Last winter, more than 50,000 winter warriors braved the cold to enjoy one of Canada's most unique skate spots! This year, visitors can enjoy an expanded winter village full of snuggly blankets, warming lounges, and fire pits. As always, expect skate rentals, skating lessons, and curated food and beverage options. The fall season's public art exhibition If, But What If? will also be extended through the winter months. Keep an eye on this page to stay in the loop.
***
Amusez-vous sur la patinoire en 8 du Bentway
L'unique patinoire en forme de 8 du Bentway est ouverte pour une deuxième saison à compter du 21 décembre. L'hiver dernier, plus de 50 000 patineurs ont bravé le froid pour profiter de cette patinoire unique! Cette année, un village d'hiver élargi attend les visiteurs avec couvertures douillettes, salons chauffants et foyers. Comme d'habitude, vous pourrez compter sur la location de patins, les leçons de patinage et un choix d'aliments et de boissons. L'exposition d'art public lancée à l'automne If, But What If? se prolonge pendant les mois d'hiver. Revenez sur cette page pour rester au courant.
____________________________________________________
Opera Atelier Takes Chicago by Storm
Chicago might be the windy city, but Toronto's Opera Atelier took it by storm! The company enjoyed a triumphant debut at the Harris Theater with their masterful production of Actéon & Pygmalion! Next stop? The Royal Opera House in the Palace of Versailles, France!
***
Opera Atelier déferle sur Chicago
Chicago est peut-être la ville des vents, mais c'est l'Opera Atelier de Toronto qui a soufflé sur elle récemment! La compagnie a connu des débuts triomphants au Harris Theater avec sa magistrale production Actéon et Pygmalion! Prochain arrêt? L'Opéra royal du château de Versailles, France!
____________________________________________________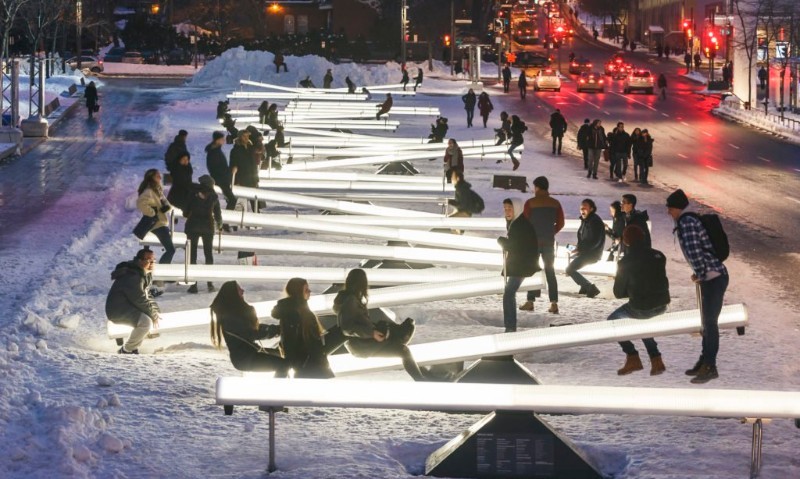 Deck the Falls in Niagara
Niagara's Winter Festival of Lights is bringing back its popular Deck the Falls Holiday Walking Tour! Over three weekends in December, visitors can enjoy pop-up carolers, gourmet food samplings, holiday beverages, entertainers, holiday-themed photo-ops and craft activities in the heart of the Falls' tourist district. Starting in November, four stunning light art installations will illuminate parts of the Festival's 8km route. Prismatica, Passage, Impulse and Loop are experiential and interactive: think see-saws, tunnels and prisms! Plan your route using this helpful festival map.
***
Deck the Falls aux chutes Niagara
Le Winter Festival of Lights du Niagara revient avec sa populaire randonnée pédestre du temps des Fêtes Deck the Falls! Pendant les trois week-ends de décembre, des chants de Noël, des dégustations gastronomiques, des boissons des fêtes, des divertissements, des séances de photos sur le thème des fêtes et des activités artisanales au cœur du quartier touristique des chutes attendent les visiteurs. À partir de novembre, quatre superbes installations d'art lumineux éclaireront des parties du parcours de 8 km du festival. Prismatica, Passage, Impulse et Loop sont des stations expérientielles et interactives : pensez balançoires, tunnels et prismes! Planifiez votre itinéraire au moyen de cette carte du festival.
____________________________________________________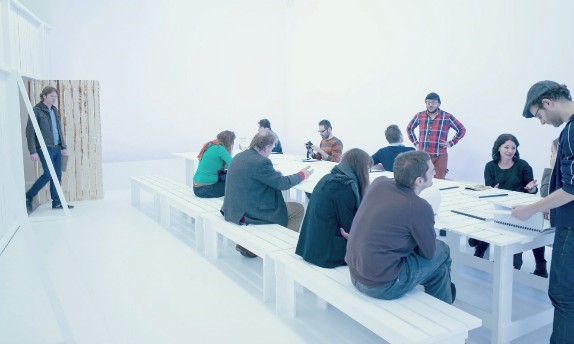 On Now at MOCA: Light Therapy and Promised Land
Starting on November 27, MOCA presents a series of screenings and an artist talk with Nikolaj Bendix Skyum Larsen. For over a decade, Larsen has been working in a variety of media and materials to create visual responses to challenges within today's society. His film Promised Land, featured in the exhibition BELIEVE, follows migrants in Calais, France as they attempt the highly dangerous and near impossible task of getting into England.
The Museum's second Art in Use project, Light Therapy by Apolonija Šušteršič, opens on November 28. Light Therapy is a room filled with a generous amount of light to simulate a bright, sunny day. Exposure to light is usually used as a treatment for Seasonal Affective Disorder (SAD), but in this context, it allows visitors to consider a museum's role in society.
***
En cours au MOCA : Light Therapy et Promised Land
À compter du 27 novembre, MOCA présente une série de projections et une causerie d'artiste avec Nikolaj Bendix Skyum Larsen. Depuis plus d'une décennie, Larsen utilise une variété de moyens d'expression et de matériaux pour créer des réponses visuelles aux défis de la société actuelle. Son film Promised Land, présenté pendant l'exposition BELIEVE, suit des migrants à Calais, en France, alors qu'ils tentent d'entrer en Angleterre, une mission dangereuse et pratiquement impossible.
Le deuxième projet Art in Use du musée, Light Therapy d'Apolonija Šušteršič, s'ouvre le 28 novembre. Light Therapy est une pièce remplie d'une généreuse quantité de lumière afin de simuler une journée ensoleillée et lumineuse. L'exposition à la lumière est habituellement utilisée comme traitement du trouble affectif saisonnier (TAS), mais dans ce contexte, elle permet aux visiteurs de considérer le rôle du musée dans la société.
____________________________________________________
MORE NEWS FROM THE CULTURAL SECTOR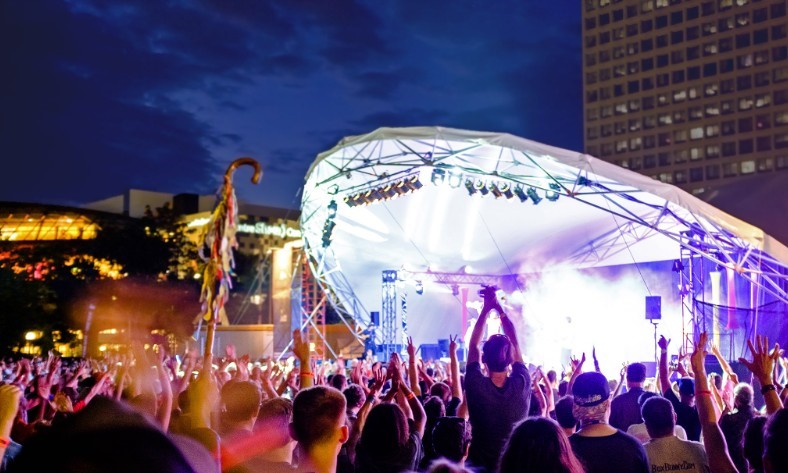 Virtually All Canadians Participate in Culture
In 2016, virtually all Canadians participated in some type of arts, culture or heritage activity, according to the newest Hill Strategies Research report. Nearly 9 in 10 attended an art gallery, arts performance, artistic or cultural festival, or movie theatre. Click here to learn more.
***
Presque tout le monde au Canada participe à des activités culturelles
En 2016, presque toutes les Canadiennes et tous les Canadiens ont participé à des activités artistiques, culturelles ou patrimoniales, selon le plus récent rapport de Hill Stratégies. Près de 9 personnes sur 10 ont visité une galerie d'art, assisté à un spectacle sur scène ou à un film au cinéma, ou fréquenté un festival artistique ou culturel. Cliquez ici pour en savoir plus.
____________________________________________________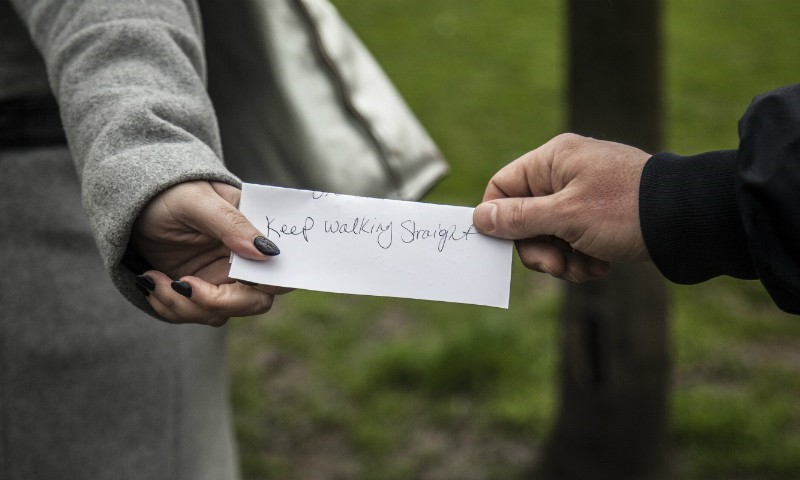 Talk Is Free Theatre's The Curious Voyage Comes to Toronto
Talk Is Free Theatre's The Curious Voyage, the innovative audience-specific immersive theatrical experience, will transfer to Toronto in spring 2020. The two-day experience will begin in Barrie and end in Toronto, while the one-day experience will be performed in Toronto only.
***
The Curious Voyage de Talk is Free Theatre s'en vient à Toronto
L'aventure théâtrale immersive et novatrice, The Curious Voyage, de Talk Is Free Theatre s'installera à Toronto au printemps 2020. L'expérience de deux jours commencera à Barrie et se terminera à Toronto, alors que celle d'une journée sera présentée à Toronto seulement.
____________________________________________________