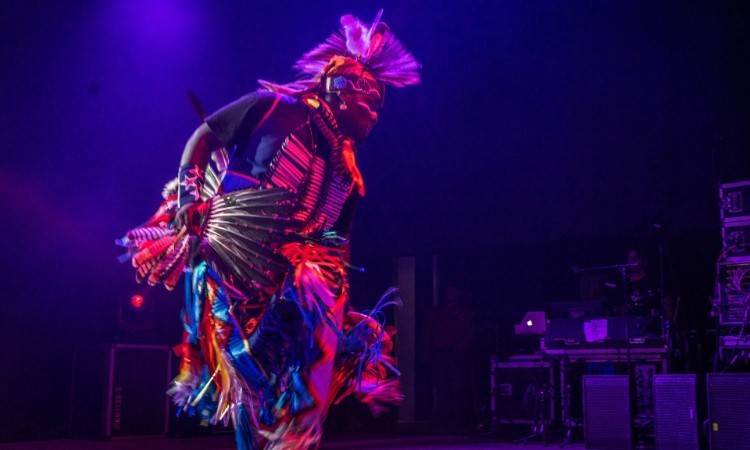 Northern Lights Festival: Eclectic Sounds in Sudbury's Bell Park
This year, the Northern Lights Festival Boréal brings four days of Canadian roots and modern music to the picturesque shores of Ramsey Lake in Sudbury's Bell Park. The Festival features an eclectic blend of emerging and established artists in the folk, indie, world and rock genres, with an expanded lineup of African musicians. Headlining this year's edition are Canadian rock stars Arkells and the international indie act Alvvays. Also on the lineup: father-son duo Bill & Joel Plaskett, Acadian folk-rocker Lisa LeBlanc, Afro-beat pioneer Orlando Julius, and over 45 other musicians. This year, workshops and after-hours performances will honour the hip-hop arts – rapping, DJing and beat making – with HellnBack, Veked, Fresh Kils and NiLLA. Those looking for a more scenic concert can catch a themed musical cruise aboard the William Ramsey – choose from bluegrass/outlaw-country, literary or rock'n'roll.
***
Festival Boréal: mélange éclectique de misuques au parc Bell de Sudbury
Cette année, pendant quatre jours, le Northern Lights Festival Boréal fera résonner sur les rives pittoresques du lac Ramsay à Sudbury un mélange éclectique de musique canadienne et moderne au parc Bell. Le festival présente une brochette d'artistes émergents et établis dans les genres folk, indie, musique du monde et rock, avec une grande présence de musiciens africains. Les vedettes rock canadiennes Arkells et le groupe international indie Alvvays tiennent le haut de l'affiche cette année. Parmi d'autres attractions, on entendra : le duo père-fils Bill et Joel Plaskett, l'artiste folk rock acadienne Lisa LeBlanc, le pionnier de l'afro-beat Orlando Julius et plus de 45 autres musiciens. Des ateliers et des spectacles couvre-feu rendront hommage aux arts du hip-hop : rap, DJ et beatmaking avec HellnBack, Veked, Fresh Kils et NiLLA. Les mélomanes qui le désirent pourront assister sur le lac, à bord du William Ramsey, à une croisière musicale bluegrass/outlaw-country, littéraire ou rock'n'roll.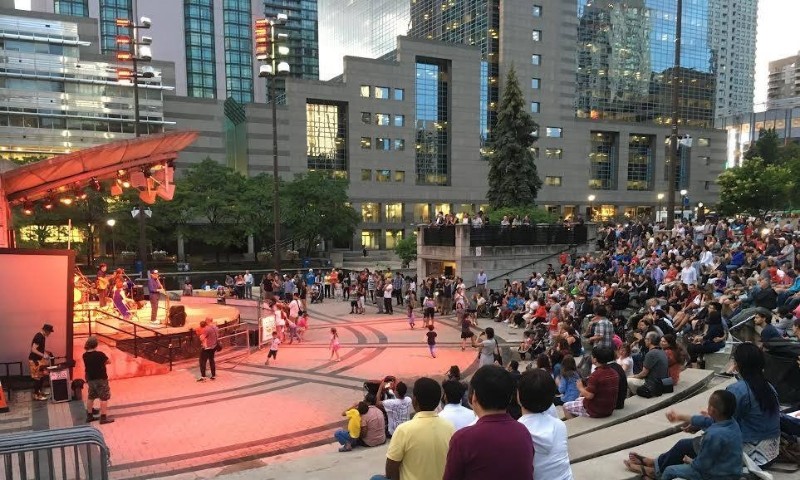 Cultura Brings Music, Film and Buskers to Mel Lastman Square
North York Arts' Cultura is making Friday nights at Mel Lastman Square a little bit more festive! The free family-friendly outdoor festival celebrates Toronto's diversity with world-renowned musicians, international street food, buskers, dance, interactive art activities and outdoor film screenings. This year's lineup includes Canada's premier gospel group Sharon Riley & the Faith Chorale, the talented Persian All Stars: Amir Amiri and Friends, an homage to Leonard Cohen and local legends the Lemon Bucket Orkestra. The family entertainment program is bigger than ever, featuring an extended set time to accommodate 12 buskers performances and a market showcasing local arts and crafts. Best of all, proceeds of busker performances will be donated to local charities!
Click here for the full schedule.
***
Cultura: musique, cinéma et arts de la rue au Square Mel Lastman
Les soirées du vendredi seront plus festives au Square Mel Lastman avec le festival Cultura de North York Arts! Ce festival extérieur gratuit et convivial pour toute la famille célèbre la diversité de Toronto avec des musiciens de renommée mondiale, de la cuisine de rue internationale, des artistes de rue, de la danse, des activités artistiques interactives et des projections de films en plein air. Cette année, la programmation comprend le merveilleux ensemble gospel canadien Sharon Riley & the Faith Chorale, les étoiles persanes Amir Amiri and Friends, un hommage à Leonard Cohen et la légende locale, le Lemon Bucket Orkestra. Dans son offre record pour la famille, le festival propose une plage horaire élargie pour accommoder 12 spectacles de rue et une vitrine pour les métiers d'art et les arts locaux. Mieux encore, les recettes des spectacles de rue seront remises à des organismes de bienfaisance locaux!
Cliquez ici pour la programmation complète.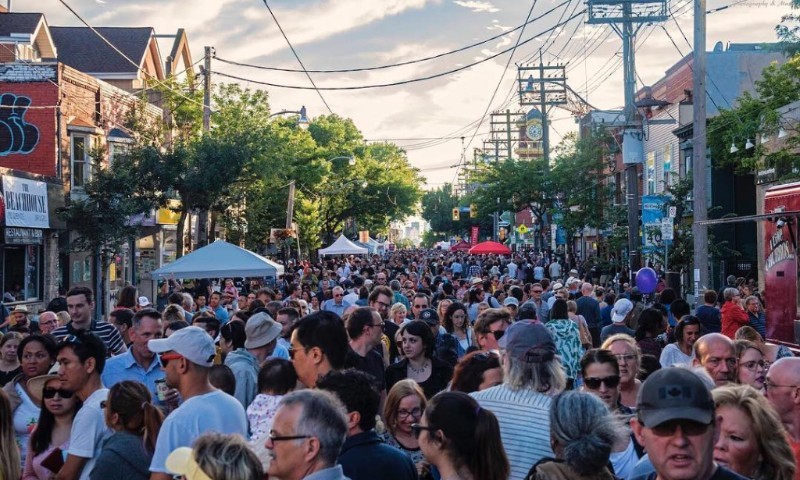 Beaches Jazz Festival: Block Party, Latin Carnival – and More!
The Beaches Jazz Festival is celebrating its 30th anniversary with its biggest lineup to date! Over the weekend of July 6-8, check out the new three-day Sounds of Leslieville and Riverside Block Party, taking place across six performance locations along Queen Street East. During the Festival's signature Streetfest, get a chance to hear over 45 of Toronto's finest bands along a closed 2.5km stretch of the street, featuring ten new performance spots! On the second weekend of the Festival, the main stage will host the new Latin Carnival with a lively selection of music performances and dance classes. Other highlights include workshops (ukulele, New Orleans style brass, improv, drums, and dueling pianos) and the annual Beaches Jazz Run.
The festival runs from July 6-29. Check out the full lineup here.
***
Au Beaches Jazz Festival: fête de quartier, carnaval latin et plus!
Le Beaches Jazz Festival fête ses 30 ans avec sa plus grande programmation à ce jour! Au cours du week-end du 6 au 8 juillet, pendant trois jours, découvrez Sounds of Leslieville et Riverside Block Party, qui auront lieu dans six sites de spectacles le long de la rue Queen Est. Pendant le Streetfest, événement prestigieux du Festival, vous aurez la chance d'entendre 45 des meilleurs groupes de Toronto dans dix nouvelles aires de spectacle étalées sur 2,5 km d'une rue fermée à la circulation. Le deuxième week-end du festival, la scène principale accueillera le premier Latin Carnival avec une sélection impressionnante de spectacles musicaux et de cours de danse. Parmi les autres attractions, mentionnons les ateliers (ukulélé, cuivres de la Nouvelle-Orléans, improvisation, batterie et pianos en duel) et la course annuelle Beaches Jazz Run.
Le festival se déroule du 6 au 29 juillet. Consultez la programmation complète ici.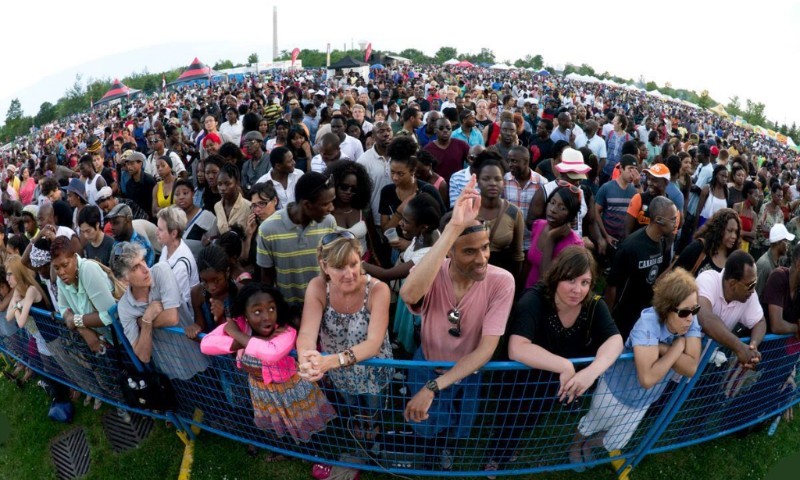 Toronto's Afrofest Celebrates 30 Years
Experience the best in African music and culture at Afrofest 2018! For its 30th anniversary, the festival is expanding from its regular two-day weekender to an incredible nine days across seven cities in Ontario. The grand finale will take place at Toronto's Woodbine Park on July 7-8, with performances by Roga Roga & Extra Musica, Monique Seka, Dice Ailes, Lady Ponce – and many more. On Sunday, July 8, Afrofest attendees will attempt to create a new Guinness World Record with the largest and most diverse Djembe Drum Ensemble in the world! Register here to take part in this larger-than-life drum circle.
Follow Afrofest on Facebook for the latest updates.
***
Célébration des 30 ans de l'Afrofest de Toronto
Découvrez le meilleur de la musique et de la culture africaine à l'Afrofest 2018! Pour son 30e anniversaire, la durée du festival passe d'un week-end à neuf merveilleuses journées dans sept villes de l'Ontario. Le festival se conclura en grand au Woodbine Park de Toronto les 7 et 8 juillet, avec des spectacles de Roga Roga Roga & Extra Musica, Monique Seka, Dice Ailes, Lady Ponce et bien d'autres. Le dimanche 8 juillet, les participants à l'Afrofest tenteront de battre un record mondial Guinness avec l'ensemble de tambours Djembe, le plus grand et le plus diversifié au monde! Inscrivez-vous ici pour prendre part à ce cercle de tambours plus grand que nature.
Suivez Afrofest sur Facebook pour les dernières mises à jour.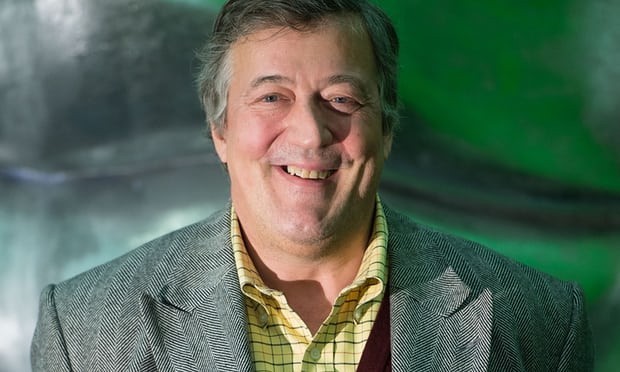 On Now: Stephen Fry's Mythos at Shaw
See the master storyteller in action! At the Shaw Festival's Mythos, Stephen Fry puts his own modern spin on ancient Greek tales about gods, heroes and men. This hilarious one-man show is based on Fry's most recent book, Mythos: A Retelling of the Myths of Ancient Greece. Presented as a trilogy, Mythos takes the audience on a thousand-year journey, from the creation of the cosmos to the Trojan war.
Mythos runs until July 15 at the Shaw Festival Theatre. Click here to find out more.
***
En cours: Mythos de Stephen Fry au Shaw
Voyez le maître-conteur en action! Avec Mythos au Festival Shaw, Stephen Fry donne sa propre version moderne des contes grecs anciens sur les dieux, les héros et les hommes. Ce spectacle solo désopilant est basé sur le plus récent livre de Fry, Mythos : A Retelling of the Myths of Ancient Greece. Présentée sous forme de trilogie, Mythos entraîne les spectateurs dans un périple étalé sur mille ans, de la création du cosmos jusqu'à la guerre de Troie.
Mythos est présenté jusqu'au 15 juillet au théâtre du Festival Shaw. Cliquez ici pour en savoir plus.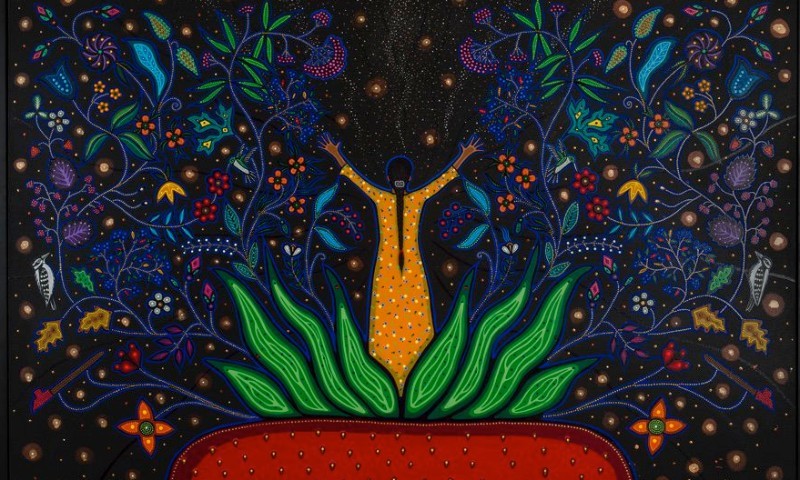 On Now: Christi Belcourt Retrospective at the Thunder Bay Art Gallery
Don't miss your chance to see Christi Belcourt's touring exhibition Uprising: The Power of Mother Earth at the Thunder Bay Art Gallery. Co-produced with the Carleton University Gallery, the retrospective features 35 of the Canadian artist's most famous works. Belcourt is best known for her use of beautiful twining stems, flower blossoms and root systems to symbolize the connection of all life across Turtle Island.
Uprising: The Power of Mother Earth runs until November 25.
***
En cours: rétrospective de Christi Belcourt à la Thunder Bay Art Gallery
Ne manquez pas l'exposition itinérante de Christi Belcourt, Uprising : The Power of Mother Earth à la Thunder Bay Art Gallery. Coproduite avec la Galerie d'art de l'Université Carleton, la rétrospective comprend 35 œuvres célèbres réalisées par l'artiste canadienne. Belcourt est surtout connue pour son utilisation de belles tiges retorses, de fleurs et de systèmes racinaires pour symboliser le lien entre toutes les formes de vie sur l'île de la Tortue.
Uprising: The Power of Mother Earth se déroule jusqu'au 25 novembre.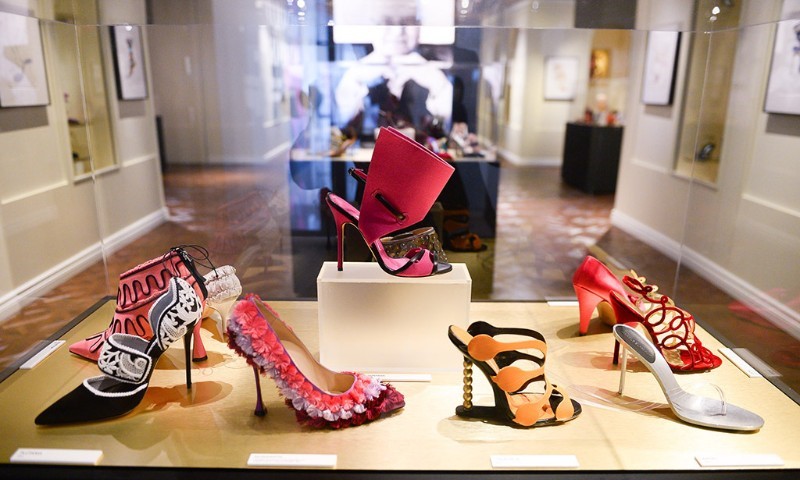 On Now: Manolo Blahnik: The Art of Shoes at Toronto's Bata Shoe Museum
Calling all Toronto fashionistas! Don't miss the final and only North American stop of the Manolo Blahnik traveling exhibition at the Bata Shoe Museum. The collection features 212 of Blahnik's favourite shoes, from the early 70s to the modern day, accompanied by exclusive footage of the master at work, 80 artistic drawings and sketches, as well as a selection of photographs from the Condé Nast archives.
Manolo Blahnik: The Art of Shoes is on until January 6.
***
En cours: Manolo Blahnik – The Art of Shoes au Bata Shoe Museum de Toronto
Appel à tous les passionnés de mode de Toronto! Ne manquez pas l'ultime et unique étape nord-américaine de l'exposition itinérante de Manolo Blahnik au Bata Shoe Museum. La collection comprend 212 modèles de chaussures préférés de Blahnik, créés du début des années 70 à ce jour, des films exclusifs du maître à l'œuvre, 80 dessins et croquis artistiques, ainsi qu'une sélection de photographies tirées des archives de Condé Nast.
Manolo Blahnik : The Art of Shoes se poursuit jusqu'au 6 janvier.
____________________________________________________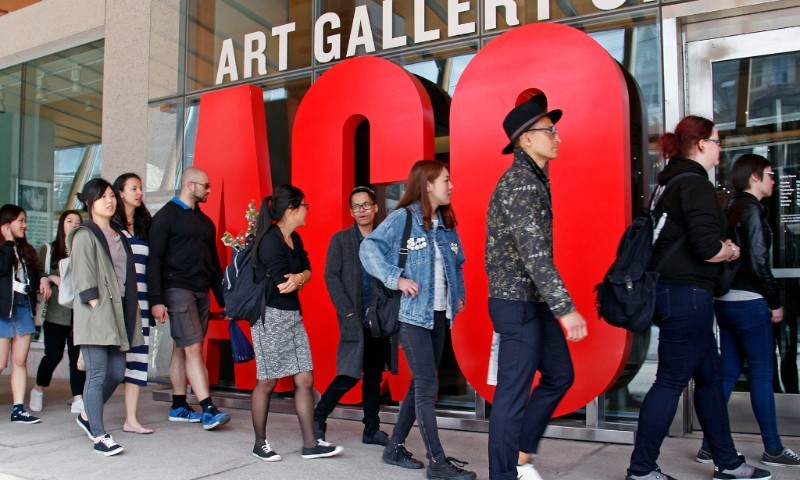 A Snapshot of Cultural Consumption in Canada
A new study of cultural consumption reveals that Canadian arts lovers come from diverse backgrounds and age groups. According to Culture Track: Canada, allophones are more culturally engaged than anglophones or francophones, while millennials are more involved than other age groups. Click here to read more.
***
Aperçu de la consommation culturelle au Canada
Une nouvelle étude sur la consommation culturelle révèle que les amateurs d'art canadiens proviennent de divers milieux et groupes d'âge. Selon Culture Track : au Canada, les allophones sont plus engagés dans la culture que les anglophones ou les francophones, tandis que les millénaires s'y investissent plus que les autres groupes d'âge. Cliquez ici pour plus de détails.