10 Years Strong of MNFSTO
MNFSTO's Volume 10 (or 10th anniversary, if you'd prefer) kicks off on September 9 with a schedule of concerts, battles, conversations, and events that will make any hip-hop aficionado weep. From a concert with Anderson .Paak and KAYTRANADA at Echo Beach to a keynote address from Desmond Cole; there is so much to see and hear!
This year's MNFSTO is jam-packed with homegrown and international talent, across music, film, fashion, pop culture, and politics. Every inch of downtown Toronto will be highlighted throughout the 10-day festival, with film screenings at TIFF, The Summit conversations at Ryerson University, and of course, a massive free Block Party at Yonge-Dundas Square with A Tribe Called Red!
MNFSTO is active throughout the year, engaging young artists from underserved communities (watch the video above to see their partnership with Regent Park School of Music and fellow OCAF alumnus Luminato!) with music and mentorship. For the full schedule and tickets, check out the MNFSTO website!
***
10 ans de croissance pour MNFSTO
Le dixième volume de MNFSTO (ou son 10e anniversaire si vous préférez) s'ouvre le 9 septembre. Au programme : des concerts, des compétitions, des conversations et des manifestations à faire pleurer tout aficionado du hip-hop. Entre un concert avec Anderson .Paak et KAYTRANADA à l'Echo Beach et une conférence de Desmond Cole, il y a tant à voir et à entendre!
Cette année, MNFSTO accueille de nombreux talents d'ici et d'ailleurs des domaines de la musique, du cinéma, de la mode, de la culture pop et de la politique. Tout le centre-ville de Toronto sera mis en valeur au cours des dix jours du festival : projections de films au TIFF, conversations à The Summit à l'Université Ryerson et, bien sûr, immense fête de quartier gratuite avec A Tribe Called Red au Yonge-Dundas Square!
MNFSTO est actif durant toute l'année, s'engageant par la musique et le mentorat auprès de jeunes artistes dans des communautés mal desservies (regardez la vidéo ci-dessus pour voir la collaboration de MNFSTO avec la Regent Park School of Music et d'anciens bénéficiaires du FMCO, Luminato!)  Pour tout savoir sur la programmation et obtenir des billets, rendez-vous sur le site Web de MNFSTO!
_____________________________________________________________

What's the Word, Bird?
Fall brings changing leaves, festive lattés, and the annual The Word On The Street Festival. Since 1990, The Word On The Street has engaged book-lovers with a packed day of events, readings, conversations, and exhibitors. On September 25, Harbourfront Centre will be transformed into a literary paradise.
Literature enthusiasts of all ages and persuasions will find something to love at The Word On The Street. Fiction, Non-Fiction, Children, Young Adult, Comedy, Cooking, Journalism: all these genres and more are represented at The Word on The Street! Expect a day of big ideas, big laughs, and big fun for visitors.
To plan your day, head to the WOTS website!
***
Les mots prennent la rue d'assaut!
L'automne nous apporte des feuillages au beau coloris, des lattés de saison et le festival annuel The Word On The Street. Depuis 1990, pendant une journée remplie d'activités, de lectures et d'échanges, au milieu des stands des exposants, le festival Word On The Street attire tous les amants des livres. Le 25 septembre, le Centre Harbourfront sera transformé en paradis littéraire.
Les amateurs de littérature de tous âges et de tous horizons pourront nourrir leur imaginaire au festival Word On The Street. Fiction, essai, livres pour jeunes publics ou jeunes adultes, comédie, art culinaire, journalisme : il y a tout cela et plus encore à The Word on The Street! De grandes idées, des éclats de rire et bien du plaisir vous attendent tout au long de la journée.
Pour planifier votre itinéraire, rendez-vous sur le site Web de WOTS!
_____________________________________________________________
Are you ready for #nbTO16?
For many Ontarians, October 1 can't come soon enough: that's when over 90 contemporary artists will share installations across Toronto for one long night. Nuit Blanche returns with a bang this fall, and we cannot wait to go!
Since 2006, Nuit Blanche has opened up the world of contemporary art to everyone. Installations, presentations, performances, and mixed-media exhibitions spill into the streets, engaging the young, the old, and the art-adverse with a whole new understanding of art. Collaborative projects have also been a big part of the history of Nuit Blanche, and this year will be no exception (just check out the video above for a sneak peek at this year's event)!
Nuit Blanche's reach is not just local: in 2015 alone, over 205,000 visitors travelled into the city to engage with contemporary art. So leave your bunny slippers at home and get your adventure shoes ready for one night you won't forget! For more schedule information, click here.
***
Êtes-vous prêt pour #nbTO16?
Bien des gens en Ontario comptent leurs dodos d'ici le 1er octobre. C'est au cours de cette longue nuit que plus de 90 artistes contemporains partageront des installations partout à Toronto. Nuit Blanche sera plus lumineuse que jamais cet automne et nous n'en pouvons plus de l'attendre!
Depuis 2006, Nuit Blanche a fait connaître l'art contemporain à un large public. Les rues se remplissent d'installations, de présentations, de spectacles et d'expositions de techniques mixtes qui interpellent les jeunes, les aînés et les opposants de l'art en leur proposant une toute nouvelle approche de la création artistique. L'historique de Nuit Blanche a toujours été marqué par les projets de collaboration. Cette année ne fait pas exception à la règle (voyez la vidéo qui coiffe ce billet pour un aperçu de la programmation de 2016)!
Les Torontois ne sont pas les seuls à participer à Nuit Blanche : en 2015 seulement, plus de 205 000 visiteurs ont séjourné dans la ville pour s'initier à l'art contemporain. Alors, laissez vos pantoufles à la maison et partez à l'aventure pendant toute une nuit inoubliable! Pour plus de détails sur la programmation, cliquez ici.
_____________________________________________________________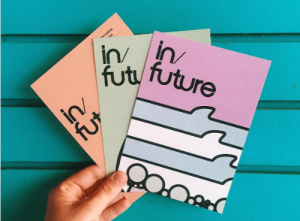 A transformative art experience at in/future
Audiences can kick off the new season with a new festival of site-specific art, performance and world music. For the first time, Art Spin and Small World Music have teamed up to present in/future. Taking place at Ontario Place September 15-25, in/future is showcasing amazing talent from Canada and across the globe in every genre imaginable.
Dance, Music, Visual Art, and Performances give shape to a festival whose goal is to engage visitors with a multi-disciplinary art experience. Award-winning performances at the Small World Music Festival are just one stop throughout the 11 day festival. For the food-focused, there will be new food trucks and options every day, and the entire festival grounds have been licensed, so you can enjoy your beverage of choice without staying in a beer tent!
To see the whole schedule and to book your tickets, click here!
***
in/future propose une expérience artistique qui transforme
Les spectateurs ont l'occasion de démarrer la saison du bon pied avec un nouveau festival d'art contextuel, de performance et de musique du monde. Pour la première fois, Art Spin et Small World Music unissent leurs efforts pour présenter in/future. Présenté à Ontario Place du 15 au 25 septembre, in/future met en vedette des talents extraordinaires du Canada et du monde entier dans toutes les disciplines imaginables.
La danse, la musique, les arts visuels et les performances façonnent ce festival qui vise à plonger les visiteurs dans une expérience d'art multidisciplinaire. Des spectacles primés présentés au Small World Music Festival font partie de la programmation de 11 jours du festival. Pour les gourmands, des camions-cantines offrent des mets différents chaque jour. Et comme le festival a un permis de boisson valide sur tout son territoire, vous pourrez boire sans être obligé de rester sous la tente où l'on vend la bière!
Pour consulter l'ensemble de la programmation et réserver vos billets, cliquez ici!
_____________________________________________________________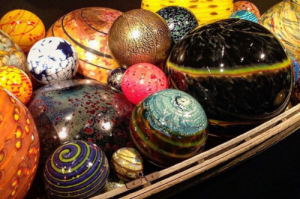 Chihuly continues to amaze at the ROM
The first major Ontario exhibition of glass-blowing artist Dale Chihuly continues at the Royal Ontario Museum, to great acclaim from audiences.
Chihuly specializes in creating intricate individual pieces, layering together to create truly magnificent statements about nature, art and glass. Visitors have been astonished by the spectacular installations, which layer textures, shapes and sizes in arrangements that can only be described as astonishing. It's fitting then, that Chihuly says, "I want people to be overwhelmed with light and colour in a way that they've never experienced."
You can still see this exhibition (including the literally-named Balls in A Boat, above) until December. For more information and to get your tickets today, check out the ROM website!
***
L'émerveillement se poursuit à l'exposition de Chihuly au MRO
La première grande exposition de soufflage de verre en Ontario de l'artiste Dale Chihuly est toujours en cours au Musée royal de l'Ontario. Les visiteurs en ressortent ébahis.
Chihuly est un spécialiste de la création de pièces individuelles délicates qu'il agence pour formuler des réflexions magnifiques sur la nature, l'art et le verre. Les visiteurs sont émerveillés par les installations spectaculaires où se superposent textures, formes et dimensions dans les compositions. Le résultat est à couper le souffle. Pas étonnant d'entendre Chihuly affirmer : « Je veux que les gens soient inondés de lumière et de couleur comme ils ne l'ont jamais été auparavant. »
Vous pouvez toujours visiter l'exposition (et admirer l'œuvre ci-dessus baptisée Balls in A Boat) jusqu'en décembre. Pour en savoir plus et vous procurer des billets dès aujourd'hui, rendez-vous sur le site Web du MRO!