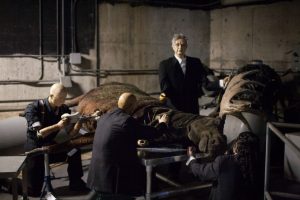 in/future reimagines Ontario Place
in/future kicked off last week, and already audiences are raving about the new multidisciplinary arts festival.
The 11-day festival of music, visual art, performance, and media has captured visitors' senses with intriguing installations, concerts, and events designed with the community in mind. Visit the refurbished attraction areas, have a drink with your friends, and uncover all that in/future has to offer!
We at OCAF aren't the only people excited for in/future – read about a few highlights of the festival in the Toronto Star. For tickets and info, head to the in/future website!
***
in/future réinvente Ontario Place
Le coup d'envoi d'in/future a été donné la semaine dernière et les spectateurs n'ont que de bons mots à dire sur ce nouveau festival des arts multidisciplinaires.

Musique, arts visuels, performances et médias sont à l'honneur pendant les 11 jours du festival. Déjà, les sens des visiteurs ont été sollicités de toutes parts par des installations, concerts et activités fascinants conçus avec la communauté en tête. Visitez les espaces d'attraction rénovés, prenez un verre avec des amis et découvrez tout ce qu'in/future vous propose!

Nous ne sommes pas les seuls au FMCO à nous emballer pour in/future! Lisez ce qu'écrit le Toronto Star sur la programmation du festival. Pour des billets et des renseignements, rendez-vous sur le site Web d'in/future!
___________________________________________________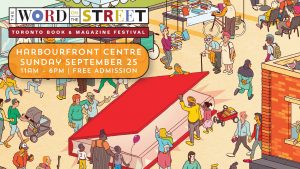 The Word (is almost) On The Street
This Sunday, bibliophiles will have their wildest literary dreams come true at The Word On The Street. A packed day of events, readings, conversations, and exhibitors will transform Harbourfront Centre into a literary paradise.
Literature enthusiasts of all ages and persuasions will find something to love at The Word On The Street. Fiction, Non-Fiction, Children, Young Adult, Comedy, Cooking, Journalism: all these genres and more are represented at The Word on The Street! Something that we at OCAF are excited about: The Author Cruises, four 60-minutes cruises around Lake Ontario with a different author speaking each time around the harbour.
Since its inception, The Word On The Street has been an event with free admission, so everyone's invited! Come down on September 25 to meet some authors, buy some books, and have some fun with people who love reading as much as you do! For schedule information, head to the WOTS website.
***
Les mots prennent (presque) la rue d'assaut
Dimanche qui vient, les bibliophiles verront leurs rêves littéraires les plus fous se réaliser à The Word On The Street. Toute la journée, des activités, lectures, conversations et expositions transformeront le Centre Harbourfront en paradis littéraire.

Les amateurs de littérature de tous âges et de tous horizons pourront nourrir leur imaginaire au festival The Word On The Street. Fiction, essai, livres pour jeunes publics ou jeunes adultes, comédie, art culinaire, journalisme : il y a tout cela, et bien plus, à The Word on The Street!  The Author Cruises est l'une des activités qui nous fascinent le plus au FMCO. Il s'agit de quatre croisières de 60 minutes autour du lac Ontario. Chaque fois, un auteur différent donne une causerie dans les environs du port.

Depuis sa fondation, The Word On The Street est une activité tout à fait gratuite pour le plus grand bonheur de tous! Venez faire un tour le 25 septembre pour rencontrer les auteurs, acheter des livres et vous amuser avec des personnes éprises de littérature comme vous! Pour l'horaire de la programmation, rendez-vous sur site Web de WOTS.
___________________________________________________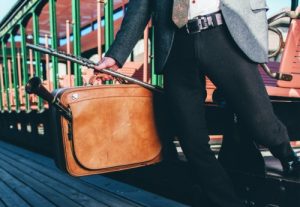 Talk is Free's Music Man
The Music Man is making headlines!
Talk is Free's innovative rendition of the classic musical takes place throughout Barrie's downtown core, bringing audiences along for a wild night of love, laughter, and music. Inspired by the small town setting of The Music Man, Talk is Free has made Barrie the backdrop for familiar tunes and a heartwarming tale.
In a recent profile by the National Post, founder Arkady Spivak positions his site-specific production as a natural extension of both The Music Man and Talk is Free. "'The whole idea is to perform the show around a living city,' says Spivak. 'They're not closing the streets, any businesses. We're going to a library that continues to function as a library and it's quite possible that someone is going to walk into the library and check a book out.'" Click here for the full article.
There are only 100 tickets per show – get yours before The Music Man closes October 2!
***
The Music Man fait les manchettes!
La production novatrice de ce classique musical réalisée par Talk is Free occupe tout le centre-ville de Barrie. Le public est entraîné dans une folle soirée d'amour, de divertissement et de musique. Barrie devient la petite ville du Music Man : des chansons familières et une histoire réconfortante y résonnent.

Dans un portrait récent réalisé par le National Post, le fondateur de la compagnie Arkady Spivak estime que sa production in situ est une suite logique au travail de Talk is Free et au récit de The Music Man. « Le but est de présenter le spectacle dans une ville vivante et animée », explique Spivak. « Nul besoin de fermer des rues ou des entreprises. Quand nous allons à la bibliothèque, elle demeure une bibliothèque. C'est bien possible que quelqu'un y entre pour chercher des livres. »Cliquez ici pour lire l'article intégral.
Il n'y a que 100 places par représentation! Procurez-vous la vôtre  avant la dernière de The Music Man le 2 octobre!
___________________________________________________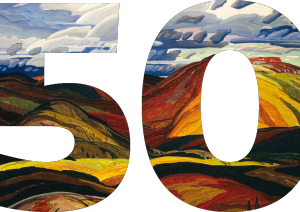 McMichael Gallery 50th Anniversary
The McMichael Gallery has spent 49 years as the gallery devoted to Canadian artists and works. Now, they're celebrating their 50th anniversary in truly quintessential McMichael style: a huge program, filled with exhibitions, events, and conversations about Canada's great artists.
Classic paintings from the Group of Seven, Norval Morrisseau, and Tony Scherman are just a few of the dozens of artists who will be featured throughout the 50th anniversary. The exhibitions are not limited to one medium: Edward Burtynsky (photography), Colleen Heslin (fabric and paint mixed media), and Ivan Eyre (sculpture) all have works as part of exhibitions for the McMichael 50.
Starting Now: Once Upon A Time, Deep In The Dark Forest opened just yesterday as part of the McMichael 50.  A re-examination of the naturalist paintings favoured by the Group of Seven, Once Upon A Time seeks to juxtapose classic works with more contemporary imaginings of the forest. Visit the McMichael anytime until mid-April to take in this new exhibition. For more information on the McMichael 50, click here!
***
50e anniversaire de la Galerie McMichael
Depuis 49 ans, la Galerie McMichael se consacre aux artistes canadiens et à leurs œuvres. Aujourd'hui, elle célèbre son 50e anniversaire à la manière McMichael : une programmation riche, remplie d'expositions, d'événements et de discussions sur les grands artistes du Canada. 

Parmi les douzaines d'artistes et d'œuvres en vedette lors de la célébration du 50e anniversaire, il y a des peintures classiques du Groupe des Sept, Norval Morrisseau et Tony Scherman. Les expositions couvrent plusieurs moyens d'expression : Edward Burtynsky (photographie), Colleen Heslin (techniques mixtes de tissu et peinture) et Ivan Eyre (sculpture) exposent leurs œuvres à l'occasion de McMichael 50.

Dès maintenant : le vernissage de Once Upon A Time, Deep In The Dark Forest a eu lieu hier dans le cadre de McMichael 50. L'exposition Once Upon A Time jette un nouveau regard sur le style de peintures naturalistes préconisé par le Groupe des Sept en juxtaposant ces œuvres classiques avec des représentations plus contemporaines de la forêt. Visitez la Galerie McMichael en tout temps jusqu'à la mi-avril pour admirer cette nouvelle exposition. Pour en savoir plus sur McMichael 50, cliquez ici!
___________________________________________________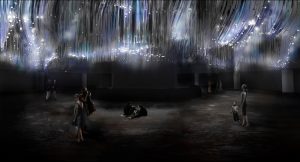 Nuit Blanche 2016 is almost here!
Nuit Blanche is a night of big ideas, big installations, and huge audiences. Join the fun on October 1 for an incredible night of art and community.
Since 2006, Nuit Blanche has opened up the world of contemporary art to everyone. Installations, presentations, performances, and mixed-media exhibitions spill into the streets, engaging the young, the old, and the art-adverse with a whole new understanding of art.
For the first time, Nuit Blanche will last longer than ever before. This year at City Hall, audiences will be able to experience a triptych of works entitled OBLIVION, including Director X's Death of the Sun,Floria Sigismondi's PNEUMA, and Ocean by Philip Beesley (see an artist's rendering above!) from October 2 to October 10.
Nuit Blanche's reach is not just local: in 2015 alone, over 205,000 visitors travelled into the city to engage with contemporary art. For more schedule information, click here
***
Nuit Blanche 2016 s'en vient!
Nuit Blanche est remplie de grandes idées, d'installations immenses et d'un large public. Le 1er octobre, goûtez tout le plaisir d'une nuit incroyable où l'art et la communauté se mêlent.

Depuis 2006, Nuit Blanche a fait connaître l'art contemporain à un large public. Les rues se remplissent d'installations, de présentations, de spectacles et d'expositions de techniques mixtes qui interpellent les jeunes, les aînés et les opposants de l'art en leur proposant une toute nouvelle approche de la création artistique.

Cette année, Nuit Blanche sera plus longue que jamais. Du 2 au 10 octobre, à l'Hôtel de Ville, les spectateurs pourront faire l'expérience d'un triptyque intitulé OBLIVION qui comprend Death of the Sun de Director X, PNEUMA de Floria Sigismondi et Ocean de Philip Beesley (voir une présentation artistique ci-dessus!).

Les Torontois ne sont pas les seuls à participer à Nuit Blanche : en 2015 seulement, plus de 205 000 visiteurs ont séjourné en ville pour s'initier à l'art contemporain. Pour en savoir plus sur la programmation, cliquez ici.