Carrousel of Nations wins tourism award
Congratulations are in order!
At the Ontario Tourism Summit, Windsor's annual multicultural celebration was honoured with the award for Top Festival of the Year. Hosted by the Tourism Industry Association of Ontario, the annual conference is part industry event and part awards ceremony. To learn more about the Ontario Tourism Summit, click here.
OCAF is proud to have supported Carrousel of Nations, one of the longest running community festivals in Ontario. Since 1974, Carrousel of Nations has brought the world to Windsor, with food, music, and performances from all over the globe. To learn more about Carrousel's award, click here!
***
Carrousel of Nations remporte un prix de tourisme
Félicitations!

Lors du Ontario Tourism Summit, la célébration multiculturelle annuelle de la ville de Windsor a obtenu le prix du meilleur festival de l'année. Chaque année, les intervenants de l'industrie se rencontrent lors de la conférence organisée par la Tourism Industry Association of Ontario pendant laquelle une cérémonie de remise de prix a également lieu. Pour en savoir plus sur l'Ontario Tourism Summit, cliquez ici.
Le FMCO se réjouit d'avoir soutenu le Carrousel of Nations, l'un des plus anciens festivals communautaires en Ontario. Depuis 1974, le Carrousel of Nations reçoit le monde à Windsor. Les festivaliers découvrent des mets, de la musique et des spectacles de partout sur la planète. Pour en savoir plus sur le prix de Carrousel, cliquez ici!
___________________________________________________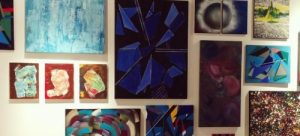 MAD ROOM closes this week!
Art lovers have only a few short days left to enjoy MAD ROOM, which closes December 3 at Tangled Art Gallery.
Created by Gloria Swain (recipient of the Canadian International Black Women's 100 Black Women to Watch), MAD ROOM examines the intersections of mental health stigma, race, self-care, and trauma. More than fifty paintings and installations make up this highly personal look at institutionalization, domestic and sexual abuse, and the barriers that Black women face with depression and treatment.
A multi-disciplinary artist with focuses on photography, video and ink sketching (in addition to painting and installation), Gloria Swain is the 2016 Tangled Arts + Disability Artist-in-Residence. For gallery times and more information about this exhibition, visit the TAG website!
***
MAD ROOM se termine cette semaine!
Les amateurs d'art n'ont plus que quelques jours pour admirer MAD ROOM, exposition qui se termine le 3 décembre à la Tangled Art Gallery (TAG).

Créée par Gloria Swain (distinguée parmi les 100 femmes à surveiller par l'organisme Canadian International Black Women), MAD ROOM présente des œuvres au carrefour de la santé mentale, la stigmatisation, la race, l'autoprise en charge et du traumatisme.

Artiste multidisciplinaire gravitant dans les domaines de la photographie, de la vidéo et du dessin à l'encre (en plus de la peinture et de l'installation), Gloria Swain est l'artiste en résidence de Tangled Arts + Disability en 2016. Pour les heures d'ouverture de la galerie et en savoir plus sur l'exposition, rendez-vous sur le site Web de la TAG.
___________________________________________________
Livestreaming Koerner Hall
Too busy to see the Royal Conservatory's spectacular season in person? Not anymore!
New this year, Royal Conservatory of Music is sharing a select number of performances online, through the website Livestream. Programs are taped and shared live online, with free access for anyone who is interested. Performances can also be viewed after the fact: just select what you want to see and enjoy the entire performance!
Check out the RCM's season brochure to find out what's being streamed next – to watch earlier livestreams, click here!
***
Diffusion en direct depuis Koerner Hall
Il vous est impossible d'assister en personne à la saison spectaculaire du Conservatoire royal? Voici la solution!

Cette année, pour la première fois, le Conservatoire royal de musique diffuse en direct un certain nombre de spectacles en ligne sur son site Web. Des représentations sont enregistrées et partagées en temps réel en ligne. Toutes les personnes intéressées y ont accès gratuitement. Par la suite, il est possible de voir les spectacles enregistrés en différé. Vous n'avez qu'à choisir ce que vous voulez voir et apprécier la représentation au complet!

Consultez la brochure de saison du CRM pour découvrir les prochains spectacles diffusés en direct en ligne. Pour voir les représentations en différé, cliquez ici.
___________________________________________________

Crow's Theatre opens new cultural space
2017 will mark the beginning of a brand-new chapter for cutting-edge theatre spaces. Crow's Theatre, a steadfast member of the Toronto theatre community, will open Streetcar Crowsnest. A brand-new facility where culture and community are intertwined, Streetcar Crowsnest considerably expands the available performing arts space in the east end of the city.
The first year that Crow's Theatre inhabits Streetcar Crowsnest will be one long celebration. With a full performance season, including their first show The Wedding Party (a collaboration with Barrie-based Talk is Free Theatre, also a recent recipient of OCAF investment), 2017 will have a number of community events designed to highlight the best that the new Streetcar Crowsnest facility has to offer. We can't wait to see more!
***
Crow's Theatre inaugure un nouveau lieu culturel
En 2017, un tout nouveau chapitre s'ouvrira pour les salles de théâtre de pointe. Le Crow's Theatre, figure immuable de la communauté théâtrale de Toronto, inaugurera la salle Streetcar Crowsnest. Avec cette toute nouvelle installation, point de rencontre culturel de la communauté, l'est de la ville aura maintenant beaucoup plus d'espace de représentation à sa disposition. 

La première année d'occupation du Streetcar Crowsnest par le Crow's Theatre sera une longue célébration. En plus de toute une saison de spectacles qui comprend leur premier spectacle intitulé The Wedding Party (une collaboration avec Talk is Free Theatre de Barrie, qui a aussi reçu des investissements du FMCO), il y aura en 2017 un grand nombre d'activités communautaires qui mettront en valeur toutes les possibilités du nouveau bâtiment Streetcar Crowsnest. Nous sommes impatients de voir la suite des choses!
___________________________________________________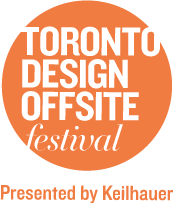 Coming Soon: Toronto Design OffSite Festival
OCAF is excited to support a number of initiatives in the coming months, including the Toronto Design OffSite Festival. This seven-year-old festival brings art "out of the studio and into the urban sphere", with installations, exhibitions and design work set up in non-traditional community spaces. Starting January 16 2-17 and running until January 22, expect to see even more art around Toronto!
You'll see more about the Toronto Design Offsite Festival soon: in the meantime, check out their website to learn more!
***
Bientôt à l'affiche : le Toronto Design OffSite Festival
Le FMCO appuie avec plaisir plusieurs initiatives qui auront lieu au cours des prochains mois, y compris le Toronto Design OffSite Festival. La septième édition du festival vise à « sortir l'art des studios pour le faire entrer de plain-pied dans la sphère urbaine » avec des installations, des expositions et des concepts qui prennent d'assaut des espaces communautaires non conventionnels. Du 16 au 22 janvier 2017, attendez-vous à voir plus d'œuvres d'art partout à Toronto!

Le Toronto Design Offsite Festival nous en dévoilera davantage sous peu : en attendant, rendez-vous sur le site Web du festival.
___________________________________________________
QUANTUM: The Exhibition continues
QUANTUM, the bold collaboration between THEMUSEUM and the Institute for Quantum Computing continues to wow visitors seeking to learn more about the tiny intricacies that make up our everyday lives. Click here to check out exhibition hours, and click here for a video celebrating the opening of the Canada150 Signature event!
***
QUANTUM, la collaboration audacieuse de THEMUSEUM et l'Institute for Quantum Computing, suscite encore l'étonnement des visiteurs curieux d'en apprendre davantage sur les détails microscopiques présents dans nos vies quotidiennes. Cliquez ici pour consulter les heures d'ouverture de l'exposition et cliquez ici pour voir une vidéo de l'inauguration de l'exposition, initiative retenue par Canada150!