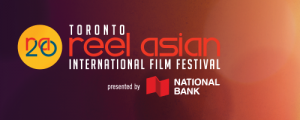 REEL Asian Kicks Off November 8
Tuesday November 8 marks the Opening Night for the twentieth anniversary of the REEL Asian Film Festival.
Since 1997, REEL Asian has shared contemporary Asian cinema with a Canadian audience. Short films, documentaries, and feature-length films from West, East, and South Asia have built a platform for widespread awareness of contemporary Asian films.
Along with the more standard offerings, more than 50% of the films at REEL Asian 206 feature female directors. There is also a focus on the Asian diaspora (another key focus for the film festival), with more than 60% of the films produced by North American filmmakers.
REEL Asian Film Festival runs November 8 to 19; for the full schedule click here.
***
Ouverture du festival REEL Asian le 8 novembre
La soirée d'ouverture de la 20e édition du REEL Asian Film Festival aura lieu le mardi 8 novembre.
Depuis 1997, le festival REEL Asian jette des ponts entre le cinéma asiatique contemporain et le public canadien. Courts métrages, documentaires et longs métrages provenant de l'Asie de l'Ouest, de l'Est et du Sud offrent une tribune pour une prise de conscience du cinéma asiatique contemporain.
Avec des films plus conventionnels, REEL Asian 2016 propose aussi des films tournés par des réalisatrices (qui composent plus de 50 % de la programmation). Le festival met aussi l'accent sur les films de la diaspora asiatique (une autre grande attraction du festival), dont plus de 60 % sont créés par des réalisateurs nord-américains.
Le REEL Asian Film Festival se déroule du 8 au 19 novembre. Pour la programmation complète, cliquez ici.
___________________________________________________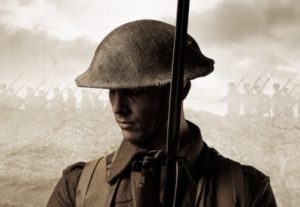 4th Line Theatre honours veterans with Wounded Soldiers tour
This November, 4th Line Theatre highlights the lives of soldiers with an Ontario-wide tour of their play Wounded Soldiers.
Written by Robert Winslow and first performed in 2014, Wounded Soldiers follows a young soldier recuperating at a military hospital during World War I. Reunited with a childhood friend, he struggles to recover from the traumas of war in a story that explores the complexities of war and its impact on those fighting.
Wounded Soldiers will visit Peterborough, Belleville, and Ottawa throughout the month of November. Two performances will take place in honour of Remembrance Day while in Peterborough. For tickets, head to the 4th Line Theatre website.
***
Le 4th Line Theatre rend hommage aux vétérans avec la tournée de Wounded Soldiers 
En novembre, le 4th Line Theatre met en lumière la vie des soldats dans sa pièce Wounded Soldiers, présentée en tournée aux quatre coins de l'Ontario.
Écrite par Robert Winslow et créée en 2014, Wounded Soldiers suit le parcours d'un jeune soldat en convalescence dans un hôpital militaire durant la Grande Guerre. Il y retrouve un ami d'enfance qui l'aide dans sa lutte pour se remettre des traumatismes de la guerre. L'histoire explore la complexité de la guerre et ses répercussions sur les personnes qui la font.
Wounded Soldiers s'arrêtera à Peterborough, Belleville et Ottawa au cours du mois de novembre. Il y aura deux représentations le jour du Souvenir à Peterborough. Pour vous procurer des billets, rendez-vous sur le site Web du 4th Line Theatre.
___________________________________________________

Exploring Mental Health with Tangled Arts
The Tangled Arts Gallery (TAG) continues its inaugural season with MAD ROOM.
Created by Gloria Swain (recipient of the Canadian International Black Women's 100 Black Women to Watch), MAD ROOM examines the intersections of mental health stigma, race, self-care, and trauma. More than fifty paintings and installations make up this highly personal look at institutionalization, domestic and sexual abuse, and the barriers that Black women face with depression and treatment.
A multi-disciplinary artist with focuses on photography, video and ink sketching (in addition to painting and installation), Gloria Swain is the 2016 Tangled Arts + Disability Artist-in-Residence.
MAD ROOM is open now, and runs until December 3. For gallery times and more information, visit the TAG website!
***
Tangled Arts explore le sujet de la santé mentale
La saison inaugurale de Tangled Arts Gallery (TAG) se poursuit avec l'exposition MAD ROOM.
Créée par Gloria Swain (distinguée parmi les 100 femmes à surveiller par l'organisme Canadian International Black Women), MAD ROOM présente des œuvres au carrefour de la santé mentale, la stigmatisation, la race, l'autoprise en charge et du traumatisme. Composée de plus de cinquante peintures et installations, cette exposition jette un regard très personnel sur le placement en institution, les abus domestiques et sexuels, et les obstacles auxquels doivent faire face les femmes noires aux prises avec la dépression et les traitements.
Artiste multidisciplinaire gravitant dans les domaines de la photographie, de la vidéo et du dessin à l'encre (en plus de la peinture et de l'installation), Gloria Swain est l'artiste en résidence de Tangled Arts + en 2016.
Déjà commencée, MAD ROOM se poursuit jusqu'au 3 décembre. Pour tout savoir sur l'exposition, y compris les heures d'ouverture de la galerie, rendez-vous sur le site Web de TAG!
___________________________________________________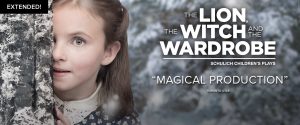 C.S. Lewis masterpiece closes at Stratford November 14
Only a few more chances remain to see The Lion, The Witch, and The Wardrobe!
Audiences have been raving about Stratford's adaptation of C.S. Lewis' beloved children's book, on now at the Avon Theatre. Narnia comes to life with enchanting staging and celebrated Canadian actors, as the Pevensie children try to save the magical kingdom from the evil spell of the White Witch.
Tim Carroll's production is one of only a handful still running at Stratford: Enjoy it while you can! The Lion, The Witch and The Wardrobe runs until November 14 – for tickets, check out the Stratford website!
***
Dernière représentation du chef-d'œuvre de C.S. Lewis à Stratford le 14 novembre
Dernière chance de voir The Lion, The Witch, and The Wardrobe à l'Avon Theatre!
Le public a unanimement salué l'adaptation réalisée par le Festival de Stratford du livre bien-aimé pour enfants de C.S. Lewis. Le monde de Narnia prend vie dans une mise en scène envoûtante, avec le jeu de comédiens canadiens chevronnés. Les enfants Pevensie tentent de sauver le royaume magique du mauvais sort jeté par la sorcière blanche.
La production de Tim Carroll est l'une des dernières encore à l'affiche à Stratford. Profitez-en pendant qu'il est encore temps! The Lion, The Witch and The Wardrobe se poursuit jusqu'au 14 novembre. Pour vous procurer des billets, consultez le site Web du Festival de Stratford!
___________________________________________________