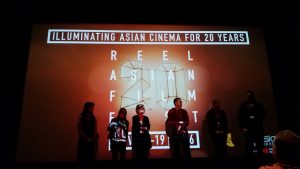 3 Days Left to see REEL Asian!
You have just a few more days to catch the best of contemporary Asian cinema!
Launched in 1997, REEL Asian Film Festival has grown into the premier North American film festival celebrating the modern accomplishments of West, East and South Asian filmmaking. Until November 19, you too can enjoy short films, documentaries, and feature-length films from Asia and the Asian diaspora.
The festival will close with a special gala screening from SAIRAT, a feature film from Indian creator Nagraj Manjule. Manjule's compelling approach to filmmaking includes bringing non-actors into major roles for an authentic emotional experience. The highest-grossing Marathi-language film in India this year, SAIRAT will premiere in Toronto on November 19 – click here for tickets!
***
Plus que 3 jours pour vivre Reel Asian!
Plus que quelques jours pour voir tout ce que l'Asie a à offrir en matière de cinéma contemporain!

Depuis sa première édition en 1997, le REEL Asian Film Festival a connu une croissance qui lui a permis de devenir le plus grand festival du genre en Amérique du Nord. Le Reel Asian célèbre les plus grandes réalisations modernes du cinéma d'Asie de l'Ouest, de l'Est et du Sud. Jusqu'au 19 novembre, découvrez les courts métrages, documentaires et longs métrages provenant de l'Asie et de la diaspora asiatique.

SAIRAT, le long métrage du créateur indien Nagraj Manjule, clôturera le festival lors d'une soirée de gala. Au cœur de sa démarche cinématographique fascinante, Manjule aime distribuer des rôles principaux à des gens ordinaires pour saisir sur le vif des émotions authentiques. La première de SAIRAT, le film en langue mahratte qui a généré le plus de revenus au guichet en Inde cette année, aura lieu à Toronto le 19 novembre. Cliquez ici pour vous procurer des billets!
___________________________________________________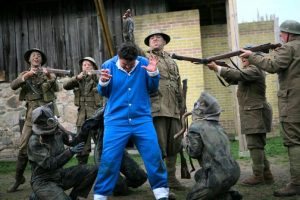 Wounded Soldiers tour continues across Ontario
After a stunning opening weekend in Peterborough, 4th Line Theatre's Ontario-wide tour of their play Wounded Soldiers continues this weekend.
First performed in 2014, Wounded Soldiers follows a young soldier recuperating at a military hospital during World War I. Reunited with a childhood friend, he struggles to recover from the traumas of early modern war in a manner that is heartrendingly familiar to a contemporary audience. Written by Robert Winslow, Wounded Soldiers was first performed at 4th Line Theatre's home of Winslow Farm.
The Wounded Soldiers tour continues this weekend in Ottawa, and November 24-26 in Belleville. For tickets, head to the 4th Line Theatre website.
***
La tournée ontarienne de Wounded Soldiers se poursuit
À la suite d'un premier week-end remarquable à Peterborough, la tournée ontarienne de Wounded Soldiers du 4th Line Theatre se poursuit ce week-end. 

Créée en 2014, Wounded Soldiers suit le parcours d'un jeune soldat en convalescence dans un hôpital militaire durant la Grande Guerre. Il y retrouve un ami d'enfance qui l'aide dans sa lutte pour se remettre. Pour les spectateurs contemporains, le récit relate d'une manière douloureusement familière les traumatismes des premières guerres modernes. Écrite par Robert Winslow, Wounded Soldiers a été créée par le 4th Line Theatre à la ferme Winslow. 

La tournée de Wounded Soldiers se poursuit ce week-end à Ottawa, puis du 24 au 26 novembre à Belleville. Pour vous procurer des billets, rendez-vous sur le site Web du 4th Line Theatre.
___________________________________________________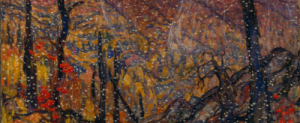 Golden Anniversary Celebrations continue at McMichael Gallery
The 50th anniversary celebrations are underway at the McMichael Gallery, with exhibitions highlighting great Canadian visual artists, past and present. One such exhibition is The Wounds of War (on now).
In Wounds, Curator Laura Brandon examines the personal and artistic links between A.Y. Jackson and Tom Thomson. Jackson served both as a soldier and as an official war artist during World War I. Through correspondence with Tom Thomson, Jackson incorporated the former's stark approach to landscapes into many of his iconic paintings from World War I.
To see more about the current or upcoming exhibitions for McMichael 50th anniversary season, click here!
***
Les célébrations du 50e anniversaire se poursuivent à la Galerie McMichael
Avec des expositions soulignant les réalisations des grands artistes canadiens, passés et présents, les célébrations du 50e anniversaire battent leur plein à la Galerie McMichael.
Dans l'une d'elles, The Wounds of War (actuellement en cours), la commissaire Laura Brandon examine les liens artistiques et personnels entre A. Y. Jackson et Tom Thomson. Jackson a servi sous les drapeaux comme soldat et artiste de guerre pendant la Grande Guerre. Jackson a incorporé à ses peintures emblématiques de la Grande Guerre l'approche sombre du paysage propre à Tom Thomson, avec lequel il correspondait.

Pour un aperçu plus complet des expositions en cours ou à venir dans le cadre de la saison du 50e anniversaire de la McMichael, cliquez ici!
___________________________________________________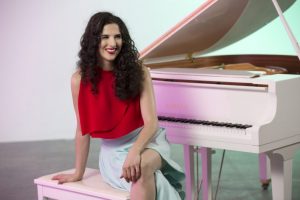 Laila Biali and Pilar storm the stage at Koerner Hall
Canadian pianist and vocalist Laila Biali and Italian jazz singer Pilar will share Koerner Hall on December 1 for an evening of jazz, cabaret, and classic pop music.
Laila Biali is a celebrated musician who regularly tours nationally and internationally, bringing her award-winning pop-jazz fusion to audiences across the world. Also performing is Pilar, hailed as "an absolutely stunning vocalist" by the international press. Pilar is quickly becoming one of the most popular singers of jazz and cabaret music in Italy.
Part of the "Quiet Please, There's a Lady Onstage" series, the December 1 concert is the second of five concerts centering female musical talent during the Royal Conservatory's 2016/2017 season. Click here for tickets!
***
Laila Biali et Pilar prennent d'assaut la salle Koerner
Laila Biali, pianiste et chanteuse canadienne, partagera la scène de la salle Koerner le 1er décembre avec la chanteuse de jazz italienne, Pilar. Jazz, cabaret et musique populaire classique seront au programme. 

Laila Biali, musicienne célèbre, part régulièrement en tournée au pays et à l'étranger afin de partager sa fusion musique populaire et jazz à un vaste auditoire de par le monde. Pilar, saluée comme « une chanteuse grandiose » par la presse internationale, sera aussi du spectacle. Elle est vite devenue l'une des chanteuses de jazz et de cabaret parmi les plus populaires d'Italie. 

Le concert du 1er décembre est le deuxième de la série « Quiet Please, There's a Lady Onstage » qui met l'accent sur des talents musicaux féminins. Le Conservatoire royal de musique présente cinq concerts dans cette série au cours de sa saison 2016-17. Cliquez ici 
___________________________________________________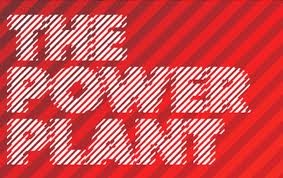 30 Years Young: A Sneak Peek at Power Plant's Upcoming Season
Harbourfront Centre's pre-eminent art gallery, The Power Plant will celebrate its 30th anniversary in 2017 and we couldn't be more excited! Look forward to the following:
An exhibition from celebrated Anishinaabe artist Maria Hupfield
multidisciplinary work from Kapwani Kiwanga and Jonathas de Andrade, uncovering colonialism and immigration during Black History Month
30 for 30 Artist Band Birthday Bash, an evening of bands with visual artists as musicians
Creative Time Summit (an annual international Summit for practitioners) will be hosted in Canada for the first time
so much more!
Thanks to a generous sponsorship, almost all of The Power Plant's exhibitions will be free for the entire year. Read more about "All Year, All Free" and the upcoming exhibitions by going to The Power Plant's website!
***
Jeune depuis 30 ans : aperçu de la saison à venir de Power Plant
L'illustre galerie d'art du Centre Harbourfront, The Power Plant, célèbre son 30e anniversaire en grande pompe en 2017 pour notre plus grand plaisir! Voyez ce qui se prépare :
une exposition de la célèbre artiste anishinaabe, Maria Hupfield;
des œuvres multidisciplinaires de Kapwani Kiwanga et de Jonathas de Andrade, qui révèlent les dessous du colonialisme et de l'immigration pendant le Mois de l'histoire des Noirs;
le 30 for 30 Artist Band Birthday Bash, avec des groupes musicaux formés d'artistes visuels devenus musiciens le temps d'une soirée;
le Creative Time Summit (un sommet international annuel destiné aux praticiens) sera organisé au Canada pour la première fois;
et bien d'autres activités!
Grâce au soutien de généreux commanditaires, presque toutes les expositions de la Power Plant seront gratuites cette année. Pour en savoir plus sur le volet « All Year, All Free » et les expositions à venir, rendez-vous sur le site Web de The Power Plant!