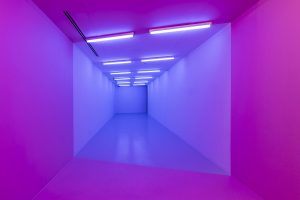 Kapwani Kiwanga at The Power Plant
On now until May, visit The Power Plant for this unique exhibition by Hamilton-born visual artist Kapwani Kiwanga.
Co-produced by Power Plant and the Logan Centre Exhibitions at the University of Chicago, A Primer confronts hostile design in the community. Referencing prison architecture, public works that attempt to deliberately exclude marginalized people, and psychological principles of colour applied in correctional institutions, Kiwanga's new film questions the societal control over bodies through art and architecture.
A Primer is part of Power Plant's ALL FREE ALL YEAR program – to read more about the exhibition and plan your visit, click here!
***
Kapwani Kiwanga à la Power Plant
Visitez dès maintenant la Power Plant jusqu'au mois de mai pour voir l'exposition innovatrice de l'artiste Kapwani Kiwanga, originaire d'Hamilton.

Coproduite par la Power Plant et la galerie d'art Logan Centre Exhibitions de l'Université de Chicago, l'exposition A Primer s'oppose aux concepts hostiles qui enlaidissent nos communautés. En faisant référence à l'architecture carcérale, aux bâtiments publics qui visent à ostraciser des personnes marginales, aux principes psychologiques associés aux couleurs qui sont mis en vigueur dans les établissements pénitentiaires, le nouveau film de Kiwanga remet en question, par le biais de l'art et de l'architecture, le contrôle que la société exerce sur les corps. 

A Primer fait partie du programme ALL FREE ALL YEAR de la Power Plant. Pour en savoir plus sur l'exposition et préparer votre visite, cliquez ici.
____________________________________________________________________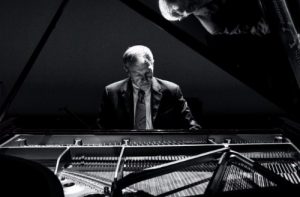 Sunday Interludes continue at RCM
Internationally renowned pianist Anton Nel will visit the Royal Conservatory of Music on April 2, playing a range of works from two classical giants Mozart and Schumann. His concert is part of the first ever Sunday Interludes series at the RCM.
Running until June, Sunday Interludes features classical, jazz, and chamber music: Nel, Bohemians in Brooklyn and a live presentation by CBC Music are the last performances in this popular series. Each concert will run approximately 75 minutes without an intermission: truly a perfect interlude for any Sunday afternoon!
Admission to the concerts is entirely free, but registration for tickets is required to reserve your seats. To see the full schedule and snatch up tickets to see Anton Nel in April, visit the RCM website. Also coming soon:  21C Music Festival of innovative contemporary music runs May 24 to 28!
***
Les Interludes se poursuivent le dimanche au CRM
Anton Nel, pianiste de renommée internationale, sera au Conservatoire royal de musique le 2 avril. Il interprétera une gamme d'œuvres écrites par deux monuments de la musique classique : Mozart et Schumann. Son concert fait partie de la toute première série Sunday Interludes présentée au CRM.

Jusqu'en juin, la série propose des concerts de musique classique, jazz et musique de chambre : les concerts de Nel, celui de Bohemians in Brooklyn et une présentation en direct de CBC Music seront les derniers de cette série qui a connu beaucoup de succès. Chaque concert dure environ 75 minutes sans entracte. C'est vraiment un charmant interlude pour tout dimanche après-midi!

L'entrée aux concerts est libre, mais vous devez vous inscrire pour réserver vos places. Pour voir la programmation complète et vous procurer des billets pour entendre Nel en avril, visitez le site Web du CRM. Bientôt à l'affiche : le festival de nouvelle musique contemporaine, 21 C Music Festival, du 24 au 28 mai!
____________________________________________________________________

Taste of Greece revived in London!
The Greek-Canadian Community of London (GCC) is reviving a great community tradition: Taste of Greece!
After nearly 20 years, Taste of Greece is returning to London in 2017 as part of the annual Panorama festival (formerly called Cavalcade). With traditional dance, musical guests, performances and delicious food, the Greater London area will be overflowing with Greek culture!
Keep your eyes open! Future OCAF newsletters and our Facebook page will have more information as it becomes available!
***
Les saveurs de Grèce revivent à London!
La communauté gréco-canadienne de London (CGC) fait revivre une belle tradition communautaire : Taste of Greece!

Après un hiatus de près de 20 ans, Taste of Greece revient à London en 2017 dans le cadre du festival annuel Panorama (qui s'appelait autrefois Cavalcade). Avec au menu des danses traditionnelles, des invités musicaux, des spectacles et des mets savoureux, la région métropolitaine de London goûtera tout ce que la culture grecque a de bon à offrir!

Gardez l'œil ouvert pour ne rien manquer! Dès qu'elle sera disponible, nous vous donnerons de l'information plus complète dans les prochains bulletins et sur la page Facebook du FMCO.
____________________________________________________________________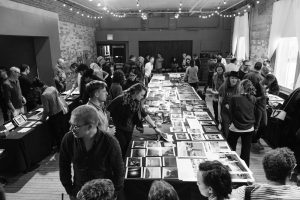 Coming Soon: Scotiabank CONTACT Photography Festival
Gorgeous. Moving. Stark. Groundbreaking. All these and more have been used by critics and audiences when discussing CONTACT: the largest annual festivals of photography and photographic arts.
CONTACT will return this May with a special focus on Canada, in honour of the country's 150th birthday. Full programming will be released on April 1, and we can't wait to see who will be showcased during this 21st annual festival!
In the meantime, visit the CONTACT website to learn more about this year's festival!
***
Bientôt à l'affiche : le Scotiabank CONTACT Photography Festival
Superbe. Émouvant. Sombre. Révolutionnaire. C'est en ces termes et bien d'autres que les critiques et les spectateurs ont parlé de CONTACT, le plus grand festival annuel de photographie et d'arts photographiques.

CONTACT, qui revient en mai, mettra le Canada particulièrement à l'honneur en cette année du 150e anniversaire. La programmation complète sera connue le 1er avril et nous avons bien hâte de voir les artistes qui feront partie de la 21e édition!

Entretemps, visitez le site Web de CONTACT pour en savoir plus sur le festival.
____________________________________________________________________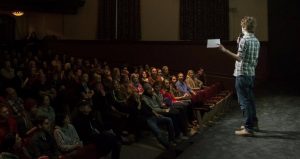 Kingston Canadian Film Festival thrills audiences!
Over 30 films, dozens of special guests, and six concerts filled Kingston this past weekend, marking the 17th annual Kingston Canadian Film Festival.
Mother, Mother, Cathy Jones, Bruce Macdonald, and Ben Caplan were just a few of the people who celebrated the finest in Canadian filmmaking between March 2 and 5. Catch up with all of the films and fun on KCFF's Instagram and Facebook pages.
Congratulations again to the Canadian filmmakers and performers and a big congratulations to KCFF from all of us here at OCAF!
***
Le public est emballé par le Kingston Canadian Film Festival!
Plus de 30 films, des douzaines d'invités spéciaux et six concerts ont envahi Kingston le week-end dernier dans le cadre de la 17e édition du Kingston Canadian Film Festival (KCFF).

Du 2 au 5 mars, Mother, Mother, Cathy Jones, Bruce Macdonald et Ben Caplan ont fait partie des nombreuses personnes qui ont célébré le meilleur du cinéma canadien. Retrouvez tous les films et les divertissements du week-end sur les pages Instagram et Facebook du KCFF. 

Toute l'équipe du FMCO tient à féliciter les réalisateurs canadiens et les artistes des spectacles… et envoie un bravo tout spécial aux organisateurs du KCFF!