Spotlight: Australia starts next week!
Bringing Australia to Canada means more than just representing one idea of the country. Canadian Stage's Spotlight Festival brings multiple perspectives across the Pacific for six weeks of unforgettable multidisciplinary performances.
Starting March 28, experience storytellers, performance artists, dancers and multidisciplinary performers bringing their own unique perspectives of Australia to Canadian Stage. From Uncle Jack Charles's riveting personal tale (Jack Charles vs The Crown, March 28 to April 9) to Tamara Saulwick's audio-visual masterpiece (Endings, April 26 to 30), everyone will find something that leaves them breathless. Still not convinced? Watch the trailer for Spotlight Australia.
Since 2010, Canadian Stage has brought multidisciplinary performance work from across the globe to Toronto. Artists from Italy, Japan, and South Africa have enthralled Toronto audiences, captured award nominations and expanded the connection between Ontarians and the world.
Need your tickets? Click here!
***
Début de Spotlight: Australia la semaine prochaine!
Pour que l'on puisse vraiment connaître l'Australie au Canada, il faut s'en faire plus d'une représentation. Pendant six semaines de performances multidisciplinaires inoubliables, le Spotlight Festival du Canadian Stage offrira de multiples perspectives provenant des quatre coins du Pacifique. 

À compter du 28 mars, des conteurs, des artistes de la performance, des danseurs et des interprètes multidisciplinaires émérites apporteront leurs visions uniques de l'Australie sur la scène du Canadian Stage. Avec un choix varié de spectacles qui vont du conte personnel et envoûtant d'Uncle Jack Charles (Jack Charles vs The Crown, du 28 mars au 9 avril) au chef d'œuvre audiovisuel de Tamara Saulwick (Endings, du 26 au 30 avril), il y aura de quoi charmer et subjuguer tous les spectateurs. Vous n'êtes toujours pas convaincus? Visionnez la bande-annonce de Spotlight Australia. 

Depuis 2010, le Canadian Stage présente à Toronto des performances multidisciplinaires des quatre coins de la planète. Des artistes de l'Italie, du Japon et de l'Afrique du Sud ont enthousiasmé le public de Toronto, récoltant au passage des mises en nomination pour des prix et contribuant à approfondir les liens entre les Ontariens et le monde 

Pour vous procurer des places, cliquez ici.
___________________________________________________________________

Hot Docs schedule sparks excitement
Hot Docs released its full schedule just yesterday, and we could not be more excited for April 27 to arrive!
With documentaries on beloved childhood icons, gripping true crime stories, stark reflections on politics and enthusiastic treatises on psychedelic folk-rock bands, the 2017 Hot Docs Festival delivers on its promise of eclectic and high quality slate of screenings for North America's largest documentary film festival.
The 2017 Hot Docs Festival will runs April 27 to May 7. To see the full schedule, click here!
***
Beaucoup d'enthousiasme pour la programmation de Hot Docs
Le festival Hot Docs vient d'annoncer sa programmation complète… et nous attendons maintenant avec impatience son ouverture le 27 avril!

Avec des documentaires sur des vedettes de notre enfance, de passionnantes affaires criminelles, des réflexions frappantes sur des sujets politiques et des traités enthousiastes sur des groupes psychédéliques de musique folk et rock, Hot Docs, le plus grand festival de film documentaire en Amérique du Nord, présente la programmation cinématographique éclectique de grande qualité que nous attendions tous. 

Le festival Hot Docs 2017 se déroule du 27 avril au 7 mai. Cliquez ici pour voir la programmation complète.
____________________________________________________________________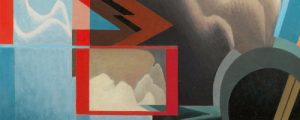 McMichael Gallery's golden anniversary continues
50th anniversary celebrations are in full swing at Kleinburg's McMichael Gallery, with new exhibitions, special events and much more highlighting the achievements in Canadian art over the last 50 years. True to its beginnings, McMichael has given the Group of Seven artists a pivotal position in the new exhibitions, with a contemporary critical eye bringing new facets to these Canadian artistic legends.
Known for his iconic landscapes, Lawren Harris made a mid-career turn away from stylized realism toward bold abstraction. His abstract period takes centre stage in a new exhibition, Higher States. Harris's mid-1930s move to the United States put him in contact with modernists such as Georgia O'Keefe and Arthur Dove – a connection evident when their works are displayed together. On until September, don't miss your chance to enjoy a fresh take on mid 20th-century Canadian art!
For more information about the 50th anniversary and to see Higher States, visit the McMichael website!
***
Le jubilé de la Galerie McMichael se poursuit
Les célébrations du jubilé battent leur plein à la Galerie McMichael de Kleinburg avec de nouvelles expositions et toutes sortes d'activités exceptionnelles afin de souligner les réalisations du milieu de l'art canadien au cours des 50 dernières années. Fidèle à ses origines, la McMichael a accordé au Groupe des Sept une place de choix dans les nouvelles expositions, en éclairant d'un œil critique contemporain les œuvres de ces figures artistiques légendaires du Canada. 

Reconnu pour ses paysages emblématiques, Lawren Harris s'est détourné à la mi-carrière d'un réalisme stylisé pour embrasser un style abstrait audacieux. Sa période abstraite occupe une place de choix dans une nouvelle exposition, Higher States. Après son déménagement aux États-Unis au milieu des années 1930, Harris a côtoyé des modernistes comme Georgia O'Keefe et Arthur Dove, une complicité évidente lorsque leurs œuvres sont exposées ensemble. Vous avez jusqu'en septembre pour jeter un regard neuf sur l'art canadien du milieu du 20e siècle!

Pour en savoir plus sur le jubilé et pour voir Higher States, visitez le site Web de la McMichael.
____________________________________________________________________

"Imaginate" the fun at the Ottawa Children's Festival!
May cannot come fast enough for us here at OCAF: flowers, sunshine, and of course the Ottawa Children's Festival!
Wall-climbing, art classes, amazing live performances, and a roving dinosaur named Russell T. Wrecks (!) are just part of a festival that's young at heart and fun for all the young people in your life. Visit LeBreton Flats Park and La Nouvelle Scène between May 10 and May 14 for an experience you won't soon forget!
For the full schedule and information, head to the Ottawa Children's Festival website today!
***
Imaginez tout le plaisir du Festival de la jeunesse d'Ottawa!
Au FMCO, nous rêvons tous du mois de mai… nous pensons aux fleurs, au soleil et, bien sûr, au Festival de la jeunesse d'Ottawa!

Escalade, ateliers d'art, spectacles étonnants et dinosaure itinérant du nom de Russell T. Wrecks (!) font partie de la programmation de ce festival jeune de cœur qui procurera beaucoup de plaisir à toutes les personnes en bas âge dans votre entourage. Rendez-vous au Parc des plaines LeBreton et à La Nouvelle Scène du 10 au 14 mai pour vivre une expérience que vous n'oublierez pas de sitôt!

Pour consulter la programmation complète et tout savoir sur le festival, visitez le site Web du Festival de la jeunesse d'Ottawa dès aujourd'hui!
____________________________________________________________________
Coming Soon and On Now: Scotiabank CONTACT Photography Festival
We are eagerly awaiting to see the full festival lineup for CONTACT, which will be released on April 1.
While we wait, CONTACT is whetting our appetite with their current exhibition, #shaheed by Nathaniel Brunt. The Canadian photojournalist has spent numerous years faithfully documenting and archiving the lives of people in the Kashmir Valley. With a powerful collection of images shared with Brunt by Kashmiri families in addition to his own black and white photographs, #shaheed shares a stark, complicated and deeply personal account living in a region defined by conflict between two world powers.
#shaheed closes this week – click here for more information.
***
Bientôt à l'affiche et en cours : le Scotiabank CONTACT Photography Festival
Nous attendons avec impatience de connaître la programmation complète de CONTACT qui sera dévoilée le 1er avril.

En attendant, CONTACT nous donne un avant-goût avec l'exposition de Nathaniel Brunt, #shaheed, qui est en cours. Ce journaliste canadien a passé plusieurs années à documenter et archiver fidèlement la vie des gens habitant la Vallée du Cachemire. Les images saisissantes que des familles cachemiriennes ont partagées avec Brunt se sont ajoutées aux photographies en noir et blanc du journaliste pour révéler, dans #shaheed, un portrait sombre, complexe et profondément personnel d'une région définie par un conflit entre deux puissances mondiales.