WINTER IS FINALLY HERE!
Snow has finally struck Toronto, but we aren't sad here at OCAF. The new year brings the opportunity for new experiences across the province – here are a few events to help you escape the cold!
_____________________________________________________
PROGRESS begins this week!
Summerworks Festival is ready to unleash PROGRESS on the world.
Featuring artists from around the globe and right here in Canada, PROGRESS is a multi-national, multi-linguistic celebration of cutting-edge theatre and performance work.
This international festival of performance and ideas begins this week and runs through February 7. For tickets and more information, head to the Progress website.
Curious for a sneak peak at PROGRESS? Check out last year's video highlight reel below!
_____________________________________________________
OCAF settles into new home
January 4 marked the first day of a new era. Along with the Ontario Arts Council and the Ontario Arts Foundation, OCAF is thrilled with the move into their new offices along Bloor Street, just down the road from our first office.
Need to contact us by email, phone, or fax? Those are the same as before!
Need to contact us by mail? Here's the new address!
121 Bloor Street East
7th Floor
Toronto Ontario
M4W 3M5
_____________________________________________________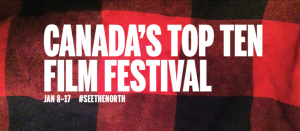 TIFF presents top Canadian films
Can you #SeeTheNorth? The Toronto International Film Festival is currently presenting Canada's Top Ten Film Festival – a celebration of Canadian-focused, Canadian-produced, and Canadian-driven productions.
Highlights include: Into the Forest (with Ellen Page and Evan Rachael Wood), Les êtres chers (by acclaimed Quebecois Anne Émond), free higher learning conversations with industry professionals, and conversations with actors Tatiana Maslany and Kiefer Sutherland.
Canada's Top Ten Film Festival runs until January 17 in Toronto, and then will travel the country! The tour will see Vancouver, Edmonton, Montreal, and Ottawa before the end of January.
To see any of the amazing films or read more about the program, check out the TIFF website.
_____________________________________________________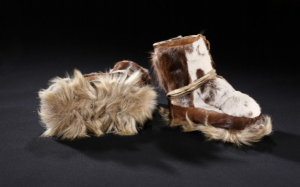 Coming Soon to the BSM
The Beauty, Identity, Pride exhibition closed on January 3, but the Bata Shoe Museum's 20th anniversary celebration is not yet over!
Starting February 10, Art and Innovation: Traditional Arctic Footwear from the Bata Shoe Museum Collection highlights the ingenuity and beauty of footwear and clothing created by over 40 Arctic cultural groups. Examining the practical and intricate work (frequently created by women), Art and Innovation is a testament to circumpolar attire that is not just built for survival, but also to reflect the diverse cultural experience found in the Arctic.
Keep your eyes peeled on the BSM website for more information about this upcoming exhibition!
_____________________________________________________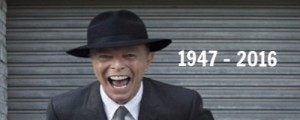 In Memoriam: David Bowie
David Bowie will always be remembered as a seminal figure in the worlds of music, fashion, and film, and as a legendary pop culture icon. But he was also a voracious reader who often read a book a day.
In 2013, as part of the Art Gallery of Ontario's "David Bowie Is" exhibition, curators Geoffrey Marsh and Victoria Broackes compiled a list of David Bowie's 100 favorite books.
_____________________________________________________

Ballet Jörgen hits big, and then hits the road
Ballet Jörgen's Nutcracker was a roaring success in 2015. The Canadian rendition of the classic story increased its audience by over 20% from the previous year (for more information, you can see their press release here!) Thousands of Ontarians flocked to see the wonderful performance, featuring design work inspired by the Group of Seven and a guest turn from none other than Toronto Mayor John Tory!
After capping off that "small" feat for the holidays, the acclaimed ballet company is back on the road! Sleeping Beauty is a brand-new ballet based on the classic story, created and produced by Ballet Jörgen. In fall 2015, the unique show completed an Eastern Canadian tour, with visits to Newfoundland, Nova Scotia, Quebec and performances throughout Ontario. Now, it's back!
Starting on January 23 in Guelph, Sleeping Beauty will then tour Western Canada, with extensive stops in British Columbia, Saskatchewan, and Alberta. For more information about tour stops and how you can buy tickets, you can head to the Ballet Jörgen website.
Click below for a video preview of Sleeping Beauty!
_____________________________________________________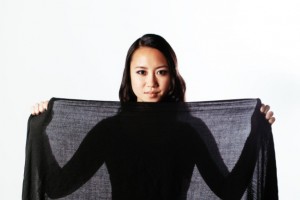 Next Stage Theatre Festival On Now
The Toronto Fringe Festival's Next Stage Theatre Festival opened last week to great fanfare and excitement. A mix of award-winners from the 2015 Fringe and other cutting-edge theatre work, this curated festival showcases the work of ten up-and-coming "Fringe" artists. This year's NSTF is hosted at the Factory Theatre and features
In addition to fan-favourite and award-winning performances (like All Our Yesterdays, pictured above), NSTF has partnered with STAF for a three-part speaker series entitled Urgent Exchange. Hosted at the Storefront Theatre, and including panelists from across the spectrum of "Fringe" artists, Urgent Exchange will touch on a variety of topics relevant for independent performers and small performance-based organizations.
Next Stage began on January 6 and runs until Jan 17. For showtimes and ticket information, head to their website!
_____________________________________________________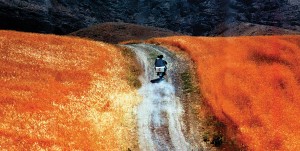 Abbas Kiarostami continues at the Aga Khan Museum
The co-production between the Aga Khan Museum and the Toronto International Film Festival continues into March, featuring the work of Iranian film director/photographer Abbas Kiarostami. Famous for his often minimalistic and allegorical films, Kiarostami has carved out a truly global view of the human experience. He is also well-known for his poetry and photographic works: the Aga Khan retrospective features the simultaneously intriguing and nostalgic installation entitled 
Doors Without Keys. 
For more information about the exhibition, you can head to
the Aga Khan's website
.
At TIFF, the retrospective of Kiarostami's films begins on February 25. A celebration of his work, including exclusive talk-back sessions and discussions about Kiarostami's global impact, The Wind Will Carry Us will feature all of the artist's work, including Ten, Certified Copy, and Through the Olive Trees. For more information about TIFF's program, click here.
_____________________________________________________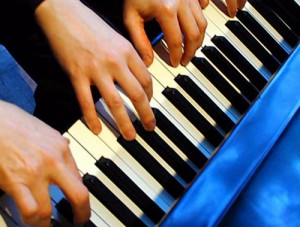 2 Pianos, 4 Hands at the Isabel
On February 11, come see the thrilling show that has been enjoyed by almost 4,000 audiences across the world!
2 Pianos, 4 Hands is the riotous tale of two young musicians sharing the same goal – concert pianist stardom. They work fervently towards their dream amidst pushy parents, eccentric teachers, hours of repetitive practice, stage fright, the agony of competitions and the dream of greatness. Starring Richard Todd Adams and Bryce Kulak, 2 Pianos, 4 Hands is an evening of beautiful music and the joys of pursuing your dreams.
For tickets to this one-night engagement at the Isabel, head to their website.