Testimonials: OCAF "is a catalyst"
Since its inception in 1999, OCAF has been fortunate to work with cultural organizations across Ontario, providing upfront capital to assist in the promotion of almost 600 projects in 150+ communities. We sat down with just a few of these organizations to discuss the impact that OCAF's support has had for their organizations.
Since OCAF is an investment program (providing a unique combination of grants with a percentage of loan repayment required), organizations are able to see the direct impact of larger marketing campaigns, while creating a sustainable model for growth in their outreach efforts.
Enjoy a short clip of people from MonstARTity, the Isabel Bader Centre, Festival franco-ontarien and the Ottawa Bluesfest talking about their relationship with OCAF.
***
Témoignages : « Le FMCO est un catalyseur »
Depuis sa création en 1999, le FMCO a eu le bonheur d'avancer des fonds à des organismes culturels des quatre coins de l'Ontario. Ainsi, ces organismes ont pu faire faire connaître près de 600 projets dans plus de 150 communautés. Nous avons rencontré des représentants de quelques organismes afin d'en savoir plus sur les bienfaits apportés par l'aide du FMCO.

Puisque le FMCO est un programme d'investissement (un modèle unique qui jumelle subvention et prêt obligatoirement remboursable), les organismes peuvent mesurer directement les résultats générés par de plus vastes campagnes de marketing et par l'instauration de mécanismes permettant un développement durable des communications. 

Voyez la courte vidéo avec les représentants de MonstARTity, du Isabel Bader Centre, du Festival franco-ontarien et du Bluesfest d'Ottawa qui parlent de leurs relations d'affaires avec le FMCO.
____________________________________________________________________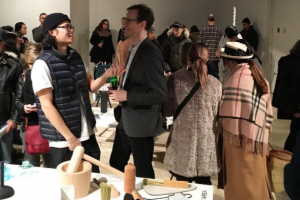 Art enthusiasts find something TODO
January 16 to 22, artists, designers, and enthusiasts found a cornucopia of events and installations, courtesy of the boundary-pushing Toronto Design Offsite Festival.
Now in its seventh year, Toronto Design Offsite Festival (TODO) moves art "into the urban sphere", inviting a broad audience to engage with works in shared public environments. In addition to the installations, exhibitions, and design workshops set in community spaces, TODO is also part industry conference, bringing designers and creators from across the globe together to share their experiences in a non-traditional creative setting.
To catch up with the festival (and experience some serious FOMO), visit TODO's Instagram and website for recaps.
***
Au TODO, les amateurs d'art ont eu des choses à faire
Du 16 au 22 janvier, artistes, concepteurs et amateurs ont eu droit à toute une panoplie d'activités et d'installations au Toronto Design Offsite Festival (TODO) qui repousse les frontières de la création.

Le festival, qui en est à sa septième édition, vise à « sortir l'art des studios pour le faire entrer de plain-pied dans la sphère urbaine ». Il convie un large public à découvrir ensemble des œuvres aménagées dans des espaces ouverts à tous. En plus des installations, expositions et ateliers de création se déroulant dans des espaces communautaires, TODO organise une conférence de l'industrie où des concepteurs et des artistes du monde entier partagent leurs expériences de la création dans des environnements non conventionnels.

Pour les dernières nouvelles du festival (et pour en [re]vivre les grands moments), visitez les sites Instagram et Web de TODO.
____________________________________________________________________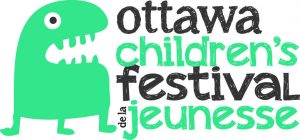 COMING SOON: Ottawa Children's Festival
Come "imaginate" this spring with the Ottawa Children's Festival!
Since 1985, OCF has presented some of the top live performances for children aged 2 to 15. With a focus on education, the OCF shares theatre, dance, and music as an integral part of children's growth and learning. Performers from 2016 included The Box Brothers, Will Stroet and the Backyard Band and activities ranging from dance instruction to instrument "petting".
For 2017, the theme for OCF is Imaginate and will also celebrate Canada's sesquicentennial. To stay on top of the news, visit Ontario Children's Festival's website!
***
BIENTÔT À L'AFFICHE : Festival de la jeunesse d'Ottawa
Ce printemps, laissez libre cours à votre imagination au Festival de la jeunesse d'Ottawa!

Depuis 1985, le FJO présente les meilleurs spectacles pour les jeunes de 2 à 15 ans. Le FJO, qui met l'accent sur l'apprentissage par les arts, offre du théâtre, de la danse et de la musique pour favoriser la croissance personnelle et l'épanouissement des enfants. Parmi les artistes qui étaient présents en 2016, notons The Box Brothers et Will Stroet and the Backyard Band. Il y avait aussi une gamme d'activités allant des cours de danse à « l'apprivoisement » d'instruments.

En 2017, sous le thème Imaginez, le FJO célébrera aussi le bicentenaire du Canada. Pour toutes les nouvelles, visitez le site Web du Festival de la jeunesse d'Ottawa.
____________________________________________________________________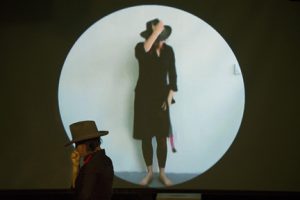 Canada150 celebrations kick off at Power Plant
Power Plant has always been celebrated for their support of contemporary visual art. Now in its thirtieth year, one of Ontario's most innovative art galleries is doubling down with a a twofold approach to sharing art with the public: free admission for all of 2017, and a slate of exhibitions that promises to engage audiences with the beauty and complexities of modern life.
To celebrate entering its thirtieth anniversary as well as Canada's sesquicentennial, Power Plant is offering free admission to the gallery (with their ALL FREE, ALL YEAR program), to lessen and remove barriers to accessing art. The year will also highlight the diverse (and especially Indigenous) peoples living in pre-Confederacy Canada, and ways in which modern-day Canada has been shaped by its history.
The first installation of this celebration begins this Saturday, January 28: Maria Hupfield's The One Who Keeps On Giving. Hupfield, a world-renowned visual artist from Wasauksing First Nation, deconstructs a painting created by her mother and decontextualizes objects to forge new connections to the land.
The One Who Keeps On Giving (co-presented by Power Plant and CONTACT Photography Festival – also an OCAF client!) opens January 28 and runs until May 14; for more information, click here.
***
Coup d'envoi des célébrations de Canada150 à Power Plant
La réputation de Power Plant en matière d'appui aux arts visuels contemporains n'est plus à faire. À sa treizième année d'existence, cette galerie d'art parmi les plus novatrices en Ontario redouble ses efforts pour partager l'art avec le public : elle offre l'entrée libre pour tous en 2017 et organise une gamme d'expositions qui interpelleront le public en dévoilant la beauté et les complexités de la vie moderne.

Afin de célébrer son 13e anniversaire et le bicentenaire du Canada, puis de réduire et d'éliminer les obstacles qui entravent l'accès à l'art, Power Plant accorde à tous l'entrée gratuite à la galerie (par le biais du programme ALL FREE, ALL YEAR). Cette année, Power Plant mettra en lumière la diversité des peuples (en particulier autochtones) qui vivaient dans le Canada d'avant la Confédération, de même que les moments d'histoire qui ont façonné le Canada d'aujourd'hui.

Le premier vernissage au cœur de cette célébration aura lieu ce samedi 28 janvier pour l'installation The One Who Keeps On Giving de Maria Hupfield. Hupfield, une artiste de renommée internationale de la Première nation de Wasauksing, déconstruit une peinture créée par sa mère et décontextualise des objets pour créer de nouveaux liens avec la terre. 

The One Who Keeps On Giving est une présentation conjointe de Power Plant et de CONTACT Photography Festival (un autre organisme bénéficiaire du FMCO!). L'exposition s'ouvre le 28 janvier et se termine le 14 mai. Pour en savoir plus, cliquez ici.
____________________________________________________________________
QUANTUM hits the road!
QUANTUM, the bold new exhibition presented by THEMUSEUM and the Institute for Quantum Computing has completed its world premiere in Kingston and begun a tour that will take it from coast to coast for the bulk of 2017.
QUANTUM's premiere at THEMUSEUM thrilled audience with the tiny intricacies that make up our everyday lives. On now until February 26 in Vancouver, QUANTUM will continue alone to Saskatoon, Calgary, and Halifax, before returning to Ontario and finishing the year in Ottawa.
Click here to recap the opening of this Canada150 Signature event!
***
QUANTUM en tournée!
QUANTUM, la nouvelle exposition audacieuse présentée par THEMUSEUM et l'Institute for Quantum Computing, quitte Kingston après y avoir séjourné pour son inauguration mondiale. L'exposition entreprend désormais une tournée qui la mènera d'un océan à l'autre pendant toute l'année 2017.

La première de QUANTUM à THEMUSEUM a enchanté les spectateurs qui ont pu découvrir les détails microscopiques présents dans nos vies quotidiennes. Après la présentation actuellement en cours à Vancouver jusqu'au 26 février, QUANTUM poursuivra sa route à Saskatoon, Calgary et Halifax avant de rentrer en Ontario pour terminer l'année à Ottawa.

Cliquez ici pour revoir l'inauguration de cette initiative retenue par Canada150!
____________________________________________________________________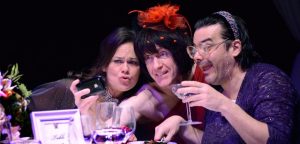 The Wedding Party kicks off a fresh start for Streetcar Crowsnest
See the show that Toronto Star calls "a riotous, go-for-broke production"!
The Wedding Party continues its run (on until February 11), receiving rave reviews and critical acclaim for performances by Tom Rooney and playwright/actor Kristen Thomson . A brand new performance written by Thomson and co-produced by fellow OCAF alum Barrie's Talk is Free Theatre, The Wedding Party invites the audience to a wedding like many others; an special event that should be exciting, but is also hilariously fraught and complex.
The show marks the first performance in Streetcar Crowsnest, the new east-end cultural centre managed by Crow's Theatre. The massive facility boasts multiple performance spaces, event settings and a soon-to-be-open bistro. For more information about Streetcar Crowsnest, and to get your tickets to The Wedding Party, click here!
***
Célébration du nouveau départ de Streetcar Crowsnest avec The Wedding Party!
Allez voir ce spectacle qui, selon le Toronto Star, « est une production iconoclaste qui joue le tout pour le tout »!
On ne tarit pas d'éloges envers The Wedding Party qui se poursuit jusqu'au 11 février. Le comédien Tom Rooney ainsi que la dramaturge et comédienne Kristen Thomson ont reçu des critiques dithyrambiques. The Wedding Party, une nouvelle pièce écrite par Thomson et coproduite par un ancien organisme bénéficiaire du FMCO, Talk is Free Theatre, invite le public à une noce pareille à nulle autre : cette occasion spéciale, qui devrait être palpitante et enivrante, s'avère drôlement complexe et tendue.

Il s'agit du tout premier spectacle présenté au Streetcar Crowsnest, le nouveau centre culturel de l'est de Toronto géré par le Crow's Theatre. L'immense bâtiment comprend plusieurs salles de représentation et des espaces pour l'organisation d'événements. Un bistro ouvrira bientôt. Pour en savoir plus sur le Streetcar Crowsnest et pour vous procurer des billets pour The Wedding Party, cliquez ici.