OCAF asks: "What's culture without a crowd?"
In case you missed it, OCAF released its first video over the holidays!
"What's culture without a crowd?" highlights the unique role the Ontario Cultural Attractions Fund plays in the culture sector in our province. Featuring some amazing cameos by Ontario-based artists, the video takes you behind the scenes at just a few projects funded by OCAF in 2016.
Learn more about our completely unique investment program and watch the video here!
***
Le FMCO pose la question : « Sans le public, la culture a-t-elle un sens? »
Vous n'en avez peut-être pas eu connaissance, mais le FMCO a lancé sa première vidéo pendant les Fêtes.

Le montage met en lumière le rôle unique joué par le Fonds pour les manifestations culturelles de l'Ontario pour faire rayonner la culture dans notre province. La vidéo, qui comprend des apparitions surprenantes d'artistes de l'Ontario, nous fait visiter les coulisses de quelques-uns des projets financés par le FMCO en 2016. 

Apprenez-en plus sur ce programme d'investissement unique et regardez la vidéo ici.
____________________________________________________________________

Mystical Landscapes extended at AGO
The Mystical Landscapes exhibition at the Art Gallery of Ontario has been extended until January 29. You now have a few more weeks to see classic works by Van Gogh, Monet, Gauguin, and many more of the world's most celebrated impressionists.
Click here for the AGO website!
***
Les Paysages mystiques se poursuivent au MBAO
L'exposition Paysages mystiques se poursuit au Musée des beaux-arts de l'Ontario jusqu'au 29 janvier. Vous avez donc quelques semaines de plus pour admirer les œuvres classiques de Van Gogh, Monet, Gauguin et d'autres grands artistes impressionnistes du monde entier.

Cliquez ici pour vous rendre sur le site Web du MBAO.
____________________________________________________________________

It's finally here: Crow's Takes Flight!
2017 is kicking off with the opening of a brand new cultural centre in the heart of east-end Toronto.
Streetcar Crowsnest, the mixed-use performing venue fronted by Crow's Theatre, has officially launched their inaugural season at the space. This first year will feature performances by Khari Wendell McClelland, Kristen Thomson, Ngozi Paul and Anton Piatogorsky.
The first show of the season, The Wedding Party, opened Thursday and runs until Feb 11. A brand new performance written by Kristen Thomson and co-produced by fellow OCAF alum Barrie's Talk is Free Theatre, The Wedding Party is an invitation to the audience to participate in some off-kilter nuptials that have to be seen to be believed!
For more information about Streetcar Crowsnest, and to get your tickets to The Wedding Party, click here!
***
Le Crow's Theatre prend enfin son envol!
L'arrivée de 2017 coïncide avec l'ouverture d'un tout nouveau centre culturel dans l'est de Toronto. 

Streetcar Crowsnest, la salle de spectacle multifonctionnelle pilotée par le Crow's Theatre, a lancé officiellement sa saison inaugurale. La programmation comprend des prestations de Khari Wendell McClelland, Kristen Thomson, Ngozi Paul et Anton Piatogorsky. 

Le premier spectacle de la saison, The Wedding Party, est présenté à compter d'hier jusqu'au 11 février. Dans ce tout nouveau spectacle signé Kristen Thomson et coproduit par Talk is Free Theatre (un ancien bénéficiaire du FMCO), le public est invité à participer à des noces si folles qu'il faut les voir pour les croire!

Pour en savoir plus sur le Streetcar Crowsnest et vous procurer des billets pour The Wedding Party, cliquez ici.
____________________________________________________________________

Closing Time for Beyond The Crease
Now is the last opportunity to head to the Art Gallery of Hamilton for a new retrospective on the work of painter Ken Danby. Beyond The Crease closes this week after a very successful exhibition with multiple artist talks, film presentations and other events celebrating Danby's vibrant contemporary realism.
For more than 50 years, the world has been captivated by Danby's tactile and lifelike reproductions of everything from everyday life to rugged natural settings. His dynamic portraits and landscapes captured the imagination of the nation, and more than fifty of these works have been assembled for Beyond The Crease.
To see Beyond The Crease before it's gone, check out the AGH's website for gallery hours and more information!
***
Bientôt la fin de Beyond The Crease
C'est votre dernière chance de voir la nouvelle rétrospective du peintre Ken Danby à l'Art Gallery of Hamilton. L'exposition Beyond The Crease se termine cette semaine. Elle a remporté un vif succès avec ses causeries d'artistes, ses projections cinématographiques et d'autres activités qui ont rendu hommage au dynamisme du réalisme contemporain de Danby.

Pendant plus de 50 ans, Danby a captivé le monde avec toute la gamme de ses représentations réalistes qui vont de la vie quotidienne aux paysages naturels sauvages. Une cinquantaine des portraits et paysages pleins de vie qui ont fasciné l'imagination de tout un pays ont été rassemblés pour l'exposition Beyond The Crease.

Pendant qu'il en est encore temps, consultez le site Web de l'AGH pour connaître les heures d'ouverture de la galerie et d'autres renseignements.
____________________________________________________________________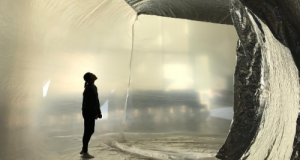 TODO: Toronto Design Offsite Festival
January is cold but the art scene is red-hot with the Toronto Design OffSite Festival, opening next week.
This seven-year-old festival brings art "out of the studio and into the urban sphere", with installations, exhibitions and design work set up in non-traditional community spaces. This year's iteration features work by Toten Design Co, Joseph Calleja, Lido Pimienta, and dozens more! Starting January 16 and running until January 22, expect to see even more art around Toronto.
With so many installations, workshops (IKEA Hacking, anyone?) and events, it's impossible to choose just one thing to attend. Head to the Toronto Design Offsite Festival website for the full festival schedule and start planning your trip!
***
TODO: Toronto Design Offsite Festival
Même le froid de janvier ne peut éteindre la flamme du Toronto Design OffSite Festival qui sera inauguré la semaine prochaine.

La septième édition du festival vise à « sortir l'art des studios pour le faire entrer de plain-pied dans la sphère urbaine » avec des installations, des expositions et des concepts qui prennent d'assaut des espaces communautaires non conventionnels. Cette année, on pourra voir des pièces de Toten Design Co, Joseph Calleja, Lido Pimienta et des douzaines d'autres artistes! Du 16 au 22 janvier, attendez-vous à voir beaucoup plus d'œuvres d'art à Toronto.

Avec autant d'installations, d'activités et d'ateliers (comme celui du IKEA Hacking), c'est impossible de ne voir qu'une seule attraction. Rendez-vous sur le site Web du Toronto Design Offsite Festival pour consulter toute la programmation du festival et commencer à organiser votre itinéraire!
____________________________________________________________________
Sneak peek: Kingston Canadian Film Festival
Coming soon to select theatres near you (if you live near in Kingston): Kingston Canadian Film Festival!
This Kingston-based festival is a gem celebrating and presenting only Canadian films. March 2 to 5 this year enjoy amazing films including Live in Kingston, Old Stone, and Pays (Boundaries).
The full festival schedule will be released by February 1st: in the meantime, click here to watch a short clip about the artwork of this year's festival!
***
Primeur : Kingston Canadian Film Festival
Bientôt à l'affiche dans un cinéma près de chez vous (si vous habitez Kingston) : le Kingston Canadian Film Festival!

Ce merveilleux festival célèbre et présente uniquement des films canadiens. Du 2 au 5 mars, venez voir des films remarquables comme Live in Kingston, Old Stone et Pays (Boundaries). 

L'horaire complet du festival sera dévoilé le 1er février : en attendant, cliquez ici pour un aperçu des œuvres au programme cette année!