Kingston Canadian Film Festival hits screens March 2
In one week, the annual Kingston Canadian Film Festival will kick off in the heart of Kingston!
Now in its 17th season, the Kingston Canadian Film Festival has been established as the premiere locale for exclusively Canadian films. This year's lineup of films, special events, and receptions will highlight every facet of the film industry in Ontario and across Canada.
Enjoy a short trailer for the Kingston Canadian Film Festival by clicking on the image above. For the full schedule for the KCFF and to get your tickets, click here!
***
Le Kingston Canadian Film Festival sur les écrans dès le 2 mars
C'est dans une semaine que le Kingston Canadian Film Festival s'amorcera au cœur de la ville de Kingston!

À sa dix-septième saison, ce festival est le plus important lieu de rassemblement de la production cinématographique canadienne. Cette année, la programmation de films, d'événements spéciaux et de réceptions mettra en lumière toutes les facettes de l'industrie cinématographique de l'Ontario et des quatre coins du Canada. 

Voyez une courte bande-annonce du Kingston Canadian Film Festival en cliquant sur l'image ci-dessus. Pour la programmation complète du KCFF et pour obtenir vos billets, cliquez ici.
____________________________________________________________________

Hot Docs highlights Charter of Rights and Freedoms with innovative films
For the first time, Hot Docs Festival will commission six documentaries in honour of the 150th anniversary of Confederation.
In the Name of All Canadians is a compilation of six short documentaries inspired by Canada's Charter of Rights and Freedoms. From issues of multiculturalism to the role of indigenous peoples to languages, the films will engage with the complexities of Canada at 150 years.
This groundbreaking compilation will premiere after Hot Docs and just in time for Canada Day: for more on In the Name of All Canadians, read more and stay tuned for more on OCAF-supported Hot Docs events!
***
Nouvel éclairage sur la Charte des droits et libertés avec des films innovateurs à Hot Doc
Grande première pour le festival Hot Docs qui commanditera six documentaires en l'honneur du 150e anniversaire de la Confédération. 

In the Name of All Canadians (Au nom de tous les Canadiens) est une compilation de six courts métrages documentaires inspirés par la Charte canadienne des droits et des libertés. Les films aborderont des questions complexes qui sont au cœur de l'histoire canadienne depuis 150 ans, dont le multiculturalisme, le rôle des Premières nations, les langues.

Cette compilation audacieuse sera présentée en grande première à Hot Docs et juste à temps pour la fête du Canada. Pour en savoir plus sur In the Name of All Canadians, cliquez ici et restez à l'affût des activités de Hot Docs appuyées par le FMCO.
__________________________________________________________________

Sneak Peek: Festival franco-ontarien
OCAF is thrilled to again support the Festival franco-ontarien. A celebration of all things Francophone and Ontarian, the FFO is held each June annually in Ottawa.
This year's FFO will elevate its program of theatre, music, dance and visual arts with new activities, including a competition of performances from the Ottawa region in hip-hop, slam, funk and more! The sesquicentennial will also play a major role in this year's festival, with an evening show on the development of music in French Canada, and a Canada 150-themed photography exhibit featuring 150 Franco-Ontarians who have contributed to the community throughout the last 150 years.
You'll be hearing more about the Festival franco-ontarien soon; in the meantime, head to their website to learn more!
***
Primeur : Festival franco-ontarien
C'est avec grand plaisir que le FMCO appuie de nouveau le Festival franco-ontarien. Le FFO, qui célèbre tous les aspects de la vie francophone en Ontario, est organisé chaque année en juin à Ottawa. 

Cette année, le FFO bonifiera sa programmation habituelle en théâtre, musique, danse et arts visuels avec de nouvelles activités, y compris un concours de hip-hop, slam, funk et plus regroupant des interprètes de la région d'Ottawa. Le cent-cinquantenaire jouera un rôle de premier plan dans l'édition à venir du festival, qui présentera un spectacle de soirée sur les grandes réalisations de la musique au Canada français et une exposition de photographies de 150 Franco-Ontariens qui ont contribué à l'avancement de la collectivité au cours des 150 dernières années. 

Nous aurons plus de nouvelles sur le Festival franco-ontarien sous peu; en attendant, rendez-vous sur le site Web pour en savoir plus!
____________________________________________________________________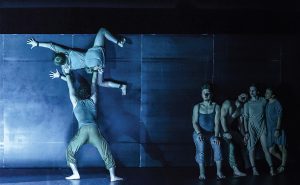 More than circus: Spotlight Australia at Canadian Stage
Bringing Australia to Canada means more than just representing one idea of the country to Ontario. Canadian Stage's Spotlight Festival brings multiple perspectives across the Pacific for six weeks of unforgettable multidisciplinary performances.
From authentic and jarring storytellers, breathtaking collaborations between human and machine, and contemporary circus spread between the past and the present, Spotlight Australia captures a snapshot of Oz that is rarely seen outside of its borders.
Since 2010, Canadian Stage has brought multidisciplinary performance work from across the globe to Toronto. Artists from Italy, Japan, and South Africa have enthralled Toronto audiences, captured award nominations and expanded the connection between Ontarians and the world.
To learn more about Spotlight: Australia, visit the Canadian Stage website.
***
Plus que du cirque : Spotlight Australia au Canadian Stage
Pour vraiment faire connaître l'Australie au Canada et en Ontario, il faut présenter plus qu'une seule idée de ce pays. Pendant six semaines de performances multidisciplinaires inoubliables, le Spotlight Festival du Canadian Stage offrira de multiples perspectives provenant des quatre coins du Pacifique. 

Avec des conteurs authentiques et déconcertants, des collaborations à couper le souffle entre êtres humains et machines, du cirque qui se conjugue au présent en puisant dans les traditions, Spotlight Australia nous révèle une image de ce pays rarement vue à l'extérieur de ses frontières. 

Depuis 2010, le Canadian Stage présente à Toronto des performances multidisciplinaires des quatre coins de la planète. Par le passé, des artistes de l'Italie, du Japon et de l'Afrique du Sud ont enthousiasmé le public de Toronto, récoltant au passage des mises en nomination pour des prix et contribuant à approfondir les liens entre les Ontariens et le monde. 

Pour en savoir plus sur Spotlight: Australia, rendez-vous sur le site Web du Canadian Stage.
____________________________________________________________________
Breath In Between enthralls audiences at Crow's Theatre
Hot on the heels of the critically acclaimed production of The Wedding Party, Crow's Theatre continues their inaugural season in Streetcar Crowsnest with the dark and surreal romance Breath in Between.
Roger is the murderer of two willing victims, whom he seeks out in a personals ad placed online. Amy is a woman he meets shortly after committing the crimes. A highly theatrical piece, Breath In Between examines human relationships, isolation and intimacy. Running now until March 11, the production also marks the directorial debut by multi award-winning playwright and author Anton Piatigorsky.
Breath In Between is part of the first season presented by Streetcar Crowsnest, the new east-end cultural centre managed by Crow's Theatre. The spectacular facility boasts multiple performance spaces, event settings and broad programming that invites the east end community of Leslieville to engage with culture and each other. For more information about Streetcar Crowsnest, and to get your tickets to Breath In Between, click here!
***
Le public est emballé par Breath In Between au Crow's Theatre
Immédiatement après la production acclamée par la critique, The Wedding Party, le Crow's Theatre poursuit sa saison inaugurale au Streetcar Crowsnest avec la présentation d'un récit romantique sombre et surréaliste, Breath in Between. 

Roger est le meurtrier de deux victimes consentantes qu'il a trouvées dans des annonces personnelles publiées en ligne. Il rencontre une femme, Amy, peu de temps après avoir commis ses crimes. Une pièce très théâtrale, Breath In Between explore les rapports, la solitude et l'intimité entre les êtres. Présentée jusqu'au 11 mars, la production est la première mise en scène d'Anton Piatigorsky, dramaturge et auteur maintes fois primé. 

Breath In Between fait partie de la première saison présentée par Streetcar Crowsnest, le nouveau centre culturel de l'est de Toronto géré par le Crow's Theatre. Le spectaculaire établissement, qui comprend plusieurs salles de représentation et des espaces pour l'organisation d'événements, propose une vaste programmation qui permet aux citoyens de l'est et de Leslieville de se réunir et de prendre goût à la culture. Pour en savoir plus sur le Streetcar Crowsnest et pour vous procurer des billets pour Breath In Between, cliquez ici.