10 Years Strong of MNFSTO
"10 years ago a group of artists, activists and creatives got together to talk about a big idea. A major festival, built by young people, to unite, inspire and empower our own through arts and culture…Welcome to Manifesto 10." – from the MNFSTO website
MNFSTO (or Manifesto) began in 2007 as a multi-disciplinary festival focused on hip-hop as a force for change. Over the last ten years, it has evolved into a youth-powered organization supporting local artists and diverse communities with professional and artistic development.
To celebrate 10 years of MNFSTO, this year is bigger and better than ever. Keynotes from Desmond Cole, DJ workshops with Fresh Kils and Creeazn, #GYALCAST Live, and a headlining show from KAYTRANADA, Anderson.Paak, and Daniel Caesar (plus tons of local and international artists) all make up the amazing 12-day schedule. The festival will end with a free Birthday Block Party featuring A Tribe Called Red, food trucks, and a market, all down at Toronto's Echo Beach.
MNFSTO runs September 9-18 – get your tickets and full schedule at the festival website!
***
10 ans de croissance pour MNFSTO
« Il y a 10 ans, un groupe d'artistes, d'activistes et de personnes créatives se sont réunis pour parler d'une grande idée : un festival d'envergure, rassembleur, inspirant et organisé par les jeunes pour leur donner les moyens d'agir par le biais des arts et de la culture… Et nous y voilà. Bienvenue au Manifesto 10. » — traduction d'un texte tiré du site Web de MNFSTO
Lors de son inauguration en 2007, MNFSTO (ou Manifesto) était un festival multidisciplinaire axé sur le potentiel de transformation sociale du hip-hop. Au cours des dix dernières années, en soutenant l'épanouissement professionnel et artistique des artistes locaux et de diverses communautés, cette organisation dirigée par des jeunes a connu une croissance fulgurante.
À l'occasion de son 10e anniversaire, le festival prendra une ampleur jamais vue. La programmation de 12 jours comprend une conférence de Desmond Cole, des ateliers de DJ avec Fresh Kils et Creeazn, #GYALCAST Live, et un spectacle avec KAYTRANADA, Anderson.Paak et Daniel Caesar en têtes d'affiche (plus une pléiade d'artistes locaux et internationaux). Pour clôturer l'édition anniversaire du festival, il y aura une fête de quartier gratuite à l'Echo Beach de Toronto avec des camions-cantines et un marché, sans oublier un spectacle mettant en vedette A Tribe Called Red.
MNFSTO se déroule du 9 au 18 septembre. Procurez-vous vos billets et la programmation complète sur le site Web du festival!
___________________________________________________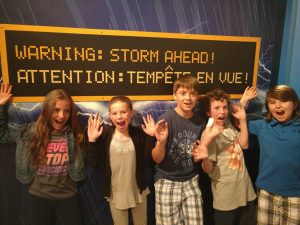 Last chance to get Wild with Weather
Until September 5, learn about tornadoes, simulate earthquakes, and maybe step into the eye of a hurricane!
Since June, the science of meteorology has been on display at Science North. Wild Weather, a brand-new exhibition premiering earlier this year, gives visitors an in-depth perspective on the impact of severe weather- and a chance to make some waves of their own.
Don't miss the last few days of Wild Weather: for tickets and information, click here!
***
Dernière chance d'affronter les turbulences de la météo
Jusqu'au 5 septembre, apprenez-en plus sur les tornades, simulez des tremblements de terre et même, placez-vous dans l'œil d'un ouragan!

Depuis le mois de juin, la science de la météorologie s'affiche à Science Nord. Météo turbulente (une toute nouvelle exposition inaugurée cette année) donne aux visiteurs une perspective approfondie des effets des intempéries et leur procure une occasion de provoquer des remous à leur tour.

Météo turbulente est encore à l'affiche pendant quelques jours seulement : pour obtenir billets et renseignements, cliquez ici!
___________________________________________________
Ashkenaz Festival won't leave you verklempt
More than 250 artists are descending onto Toronto for the biennial Ashkenaz Festival! Starting August 30 and running until September 5, they will celebrate global Jewish culture and the Yiddish language, performers for audiences from all over the world.
Since 1995, the Ashkenaz Festival has brought artists and audiences together every two years for a huge chagiga (That's "party" for all you non Yiddish speakers). Over the last 20 years, the Festival has evolved into an eclectic showcase of global Jewish art and culture, as well as cross-cultural fusion with the many regions and cultures in which Jewish artists have flourished. This year, there will be theatrical performances, film screenings, workshops, food, and of course, music. Best of all, the majority of the performances and activities are free for everyone!
To see the schedule for the Festival, click here to visit the Ashkenaz Festival website!
***
Que d'émotions au festival Ashkenaz!
Plus de 250 artistes se rendent à Toronto pour la biennale Ashkenaz! À compter du 30 août et jusqu'au 5 septembre, des interprètes et des festivaliers des quatre coins de la planète célébreront la culture juive mondiale et la langue yiddish. 

Depuis 1995, tous les deux ans, le Festival Ashkenaz rassemble artistes et spectateurs pour une immense « chagiga » (une « fête » en langue yiddish). Au cours des 20 dernières années, le festival s'est bonifié pour devenir une vitrine éclectique de la culture et des arts juifs de par le monde. Il reflète aussi la fusion interculturelle de plusieurs régions et cultures dans lesquelles les artistes juifs se sont épanouis. Cette année, la programmation comprend des représentations théâtrales, des projections de films, des ateliers, des dégustations et, bien entendu, de la musique! Mieux encore, la plupart des spectacles et activités sont gratuits pour tous!

Pour consulter la programmation du festival et naviguer sur le site Web d'Ashkenaz, cliquez ici!
___________________________________________________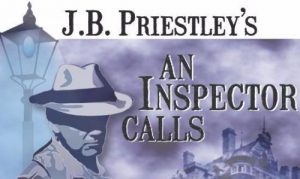 Everyone's a suspect in An Inspector Calls
The Classic Theatre Festival's season is beginning to wind down, but it's going out with a bang! An Inspector Calls is a sharp look at class, propriety, and the failings of English society, and it's on now until September 11!
The Birling family's evening engagement party is rudely interrupted by the arrival of Inspector Goole. The police inspector has come to indict the family's behaviour towards a working class woman, who has recently committed suicide. Revelations and recriminations sear the Birlings, who are forced to reckon with their role in the young woman's death. An Inspector Calls has been hailed as a searing criticism of Victorian/Edwardian society and the exploitative knife's edge that the rigid class system tried to hide.
New this year at Classic Theatre are pre-show talks at every performance. For An Inspector Calls, the pre-performance conversation examines the social, historical, and cultural history for JB Priestley's time and the Victorian age he was writing about.
On now until September 11, don't miss this classic piece of social realist theatre. For tickets and showtimes, head to the Classic Theatre Festival website!
***
Tout le monde est suspect dans An Inspector Calls
La saison du Classic Theatre Festival tire lentement à sa fin, mais sa conclusion est grandiose! Présentée jusqu'au 11 septembre, la pièce An Inspector Calls jette un regard acéré sur les couches sociales, les convenances et les défauts de la société anglaise.

La fête de fiançailles de la famille Birling est brusquement interrompue par l'arrivée de l'inspecteur Goole. Celui-ci est venu condamner le comportement de la famille envers une femme de la classe ouvrière qui s'est suicidée récemment. Les révélations et les récriminations bouleversent les membres de la famille Birling forcés d'admettre leur responsabilité dans la mort de la jeune femme. An Inspector Calls, saluée comme une critique percutante de la société victorienne et édouardienne, dénonce une forme d'exploitation dissimulée par un système de classes rigide.

Nouveauté cette année : le Classic Theatre a organisé des discussions avant chaque représentation. L'échange qui précède An Inspector Calls porte sur les aspects sociaux, historiques et culturels de l'époque de JB Priestley, tout en examinant l'ère victorienne dépeinte par l'auteur.

À voir absolument! Vous avez jusqu'au 11 septembre pour assister à cette pièce classique de théâtre réaliste et social. Pour des billets et l'horaire des représentations, rendez-vous sur le site Web du Classic Theatre Festival!
___________________________________________________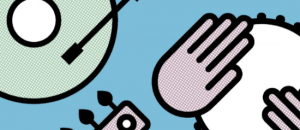 SNEAK PEEK: in/Future
Also next month, Art Spin and Small World Music present in/Future. A festival of art and music at Ontario Place, in/Future is a 10-day festival of site-specific art, performance and music.
We will showcase more about in/Future in our next newsletter: stay tuned!
***
PRIMEUR : in/Future
Le mois prochain, Art Spin et Small World Music présentent in/future. Festival d'art et de musique présenté à Ontario Place, in/future propose une programmation de 10 jours d'art, de spectacles et de musique conçus pour des lieux précis. 

Plus de détails à venir sur in/future dans notre prochain bulletin. À suivre!
___________________________________________________