Nom de l'organisme
Tangled Art + Disability
Description de l'organisme
Tangled Art + Disability is a not for profit arts organization and forum for creative and artistic excellence that serves as a leader, catalyst and resource for bringing together professional artists, emerging artists and arts and cultural organizations and a diverse public.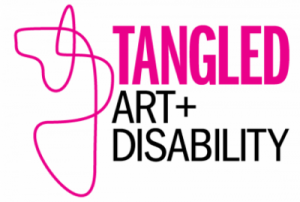 Site web de l'organisme
Facebook
Twitter
---
Projet
Tangled Ontario
Description du projet
This application is for "Tangled Ontario", which consists of two significant expansions for the organization, the launch of a new gallery space in Toronto and a province-wide tour. These new initiatives will take place from May 1 to October 30, 2016. (1) Opening May 1, 2016 at 401 Richmond, the Tangled Art Gallery (TAG) will be Canada's first fully accessible art gallery featuring work by disability artists and will program year-round contemporary art exhibits by leading disability artists. TAG will also be a destination for artists, curators and arts presenters interested in making their own work more accessible. Three exhibits are planned for the inaugural year: (i) May 1 - July 30, 2016, Constructed Identities, Persimmon Blackbridge, a major show of 30 new mixed-media sculpture works; (ii) Sept 3 - Oct 30, 2016, Points of Origin, mel g. campbell, exhibit of poetic textile collages; and (iii) Nov 15, 2016 - Jan 15, 2017, Retrospective of Geoffrey McMurchy, commemorating the sculpture, drawing, and writing of Geoffrey McMurchy. (2) Tangled on Tour is a province-wide celebration of disability arts aimed at cultivating disability-identified artists and audiences in Ontario communities, and increasing visibility of work by Tangled artists. Tangled will partner with cultural institutions in each tour stop. Programming will include film screenings, concerts, visual art exhibits, artist talks and community networking events. The tour will include four new cities in 2016: London, Ottawa, Peterborough and Thunder Bay. Programming will include: (i) Ottawa: "Blind Field Shuttle" by Carmen Papalia and FluxDeluxe by Peggy Baker Dance Projects; (ii) Thunder Bay: Fractured Acrobats by Persimmon Blackbridge, Bodies of Light Film Series, Wheelchair Sportscamp in concert, and the Cripping the Arts Symposium; (iii) Peterborough: Barbara Mann's visual art exhibition, A Perfect World, and a film program of shorts called CRIPCUTS exploring disability and difference.; and (iv) London: selections from the aforementioned programming and a live performance by The Mighty Rhino at APK Hall. Partners will include Ottawa Art Gallery, Peggy Baker Dance Projects, Propellor Dance, Bay Street Film Festival, CAHEP (Community Arts and Heritage Education Projects), HAGI, Thunder Bay Art Gallery, Waterfront Outdoor stage, Finlandia Club, Italian Cultural Centre, March of Dimes, Electric City Culture Council (EC3), Peterborough Art Gallery, King's College Disability's Studies & VibraFusion Lab, and The Muze.
Ville
Province-Wide
Region
Centre de l'Ontario
Date de début
2016-05-01
Date de fin
2016-10-30
Montant financé
30 000.00$