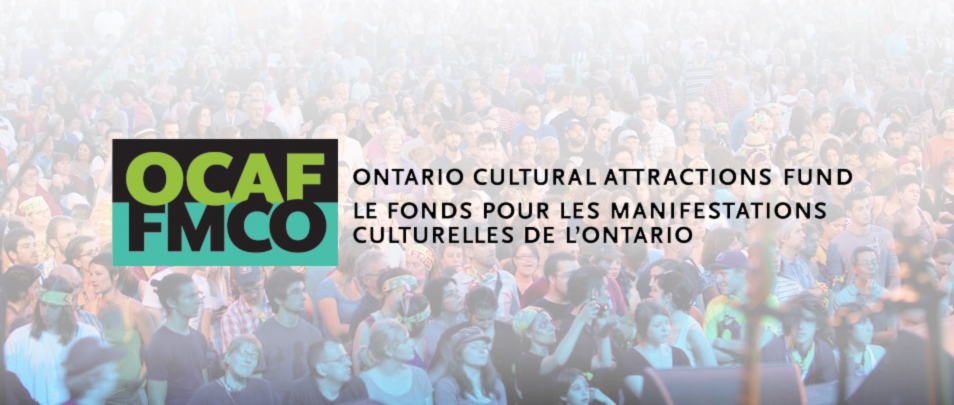 OCAF renewed through 2021!
"I am pleased to announce that our government is investing $6 million over three years into the Ontario Cultural Attractions Fund (OCAF) to continue to grow cultural tourism in Ontario. This continued funding, beginning this year, will support arts and cultural organizations to develop, promote, and present unique events and exhibitions that bring visitors to communities across the province." – Minister Daiene Vernile
Now entering its 20th anniversary year, this renewal means OCAF can commit to the importance of helping organizations increase their marketing to the benefit of cultural tourism, visitors and communities across Ontario. Some recent and upcoming highlights include Aboriginal Experiences, Arts and Culture / Indigenous Food "From the Land", Ontario Heritage Trust / Doors Open Ontario 2018, Museum of Contemporary Art Toronto Canada (MOCA) / Launch of the Evolved Museum of Contemporary Art Toronto, Neruda Arts / Kultrun World Music Festival, the Christi Belcourt Retrospective in Thunder Bay; the new Ottawa Art Gallery opening in 2018 and Manolo Blahnik at the Bata Shoe Museum.
Vernile went on to say, "Through our ongoing commitment to art and cultural organizations, we will continue to showcase our vibrant cultural sector and attract visitors from around the world to discover Ontario".
Said John McKellar, Chair of OCAF, "I was thrilled to receive the news from Minister Vernile that OCAF would be renewed for another three years in this budget. With the repayment ratio factored in, that means the program could extend another four years or more!"
The first blockbuster exhibit ever supported was "Egypt in the Age of the Pyramids" at the ROM in 1999, and OCAF remains committed to broadening our provincial support throughout the north and in rural areas as well as in francophone and Indigenous communities.
Thank you to the Government of Ontario and Minister Vernile for their continued investment in cultural tourism across the province!
For more information on OCAF and upcoming events visit our website.
***
Le FMCO renouvelé jusqu'en 2021!
« Je suis heureuse d'annoncer que notre gouvernement investit 6 millions $ au cours des trois prochaines années dans le Fonds pour les manifestations culturelles de l'Ontario (FMCO) pour accroître le tourisme culturel en Ontario. Ce financement continu, en vigueur dès cette année, appuiera les efforts des organismes artistiques et culturels pour mettre sur pied, faire connaître et présenter des manifestations et des expositions qui attireront des visiteurs dans toutes les communautés de la province. » — Ministre Daiene Vernile
Avec ce renouvellement dans sa 20e année d'existence, le Fonds pourra s'engager fermement envers les organismes et les aider à accroître leur marketing au profit du tourisme culturel, des visiteurs et des collectivités partout en Ontario. Les grandes attractions récentes et à venir comprennent Aboriginal Experiences, Arts and Culture/Indigenous Food « From the Land »; Fiducie du patrimoine ontarien/Portes ouvertes Ontario 2018; Museum of Contemporary Art Toronto Canada (MOCA)/Lancement du Evolved Museum of Contemporary Art Toronto, Neruda Arts/Kultrun World Music Festival, la rétrospective de Christi Belcourt à Thunder Bay; l'inauguration de la nouvelle Galerie d'art d'Ottawa en 2018; et Manolo Blahnik au Bata Shoe Museum.
Vernile a ajouté : « Grâce à notre engagement continu envers les organisations artistiques et culturelles, nous continuerons à mettre en valeur notre brillant secteur culturel et à inviter des visiteurs du monde entier à découvrir l'Ontario ».
John McKellar, le président du FMCO, a affirmé : « J'ai été ravi d'apprendre de la ministre Vernile que le FMCO serait renouvelé pour trois ans à la suite du dernier budget. En tenant compte du taux de remboursement, le programme pourrait donc se poursuivre pendant quatre ans ou plus! »
La toute première exposition d'envergure appuyée par le FMCO fut « L'Égypte à l'âge des pyramides » au MRO en 1999. Le FMCO désire sans cesse étendre son appui partout dans le nord et dans les régions rurales de la province sans négliger les collectivités francophones et autochtones.
Nous remercions sincèrement le gouvernement de l'Ontario et la ministre Vernile qui continuent d'investir dans le tourisme culturel partout dans la province!
Pour plus d'informations sur le FMCO et les événements à venir, visitez notre site Web