Organization Name:
Ontario South Asian Community Association
Organization Description:
The Ontario South Asian Community Association (OSACA), was incorporated in 2009 to promote South Asian artists and culture to audiences from all walks of life while enhancing the cultural landscape of the National Capital Region by hosting an annual summer festival: South Asian Fest.
Organization Website Link:
Facebook
Twitter
---
Project Name:
South Asian Fest 2019
Project Description:
This funding is for the marketing of "South Asian Fest 2019", an enhanced Festival taking place August 9 to 18, 2019 primarily at Marion Dewar Plaza outside Ottawa City Hall. Major programming will take place August 16-18 and will include: (i) dance performances by Alaap Sangeet, Raas Garbaa, Shefali Adhikari, Vandana Sharma, and the Kathak Dancers; (ii) musical performances by Mushfiq Hashimi with students from Ottawa's Mushfiq Arts Centre, Ravi & Kasturi Mishra, Hardeep Buckshi, and Moiz Lakhani; (iii) visual art exhibition featuring Amir Fazilat, Mushfiq Hashimi, Srikant Patel, Payal Bhatia and Swati Pawar; and (iii) a "Foam Party Zone". Ancillary activities leading up the to weekend include: (1) "Bollywood Dinner and Dance Boat Cruise" (August 9); (2) "Ladies Nite", showcasinge five South Asian Women who will present a motivational speech followed by a Q&A session. Potential participants include Lily Singh, Nina Davuluri, Anjum Chowdhury, Monica Deol and Chhaya Dewan (August 10); (3) Indian classical musician Ghulam Ali at the the National Arts Centre (August 11); (4) "Masala Bhangra at Parliament Hill", a public lunchtime dancing event (August 12); (5) "FoodFest and Cooking Workshop" at India Curry and Kebab House with chef Harminder Magon (August 13); and (6) Classical dance performance and workshop by Kasturi Mishra and Jannat Performing Arts (August 14). Community Partners include Vedic Sanskruti, India Canada Association, Indo Canada Ottawa Business Chamber, Sri Lankan Young Professionals and the Canada Pakistan Association.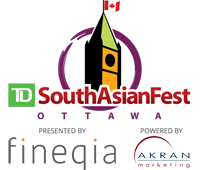 Project Website Link
City:
Ottawa
Region:
Southeastern Ontario
Start Date:
2019-08-09
End Date:
2019-08-18
Amount Funded:
$10,000.00