Organization Name:
Fringe of Toronto Theatre Festival
Organization Description:
The Toronto Fringe is part of the "Fringe movement" – a worldwide network of indie theatre festivals. As the name suggests, the movement is about celebrating under-represented voices and those on the margins of the performing arts world. It's a festival where anyone can put on any show, without having to pass through a jury – where theatre students can mount their first production outside of school, where emerging artists can get their big break, and where established artists can test out new work. It's a festival where audiences come for the adventure and the community as much as for the plays themselves.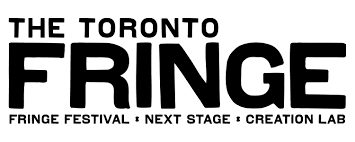 Organization Website Link:
Facebook
Twitter
---
Project Name:
POSTSCRIPT, The Toronto Fringe Patio and PS: Music Fest
Project Description:
"POSTSCRIPT and the PS Music Fest", is a series of free programming taking place in the Scadding Court Community Centre parking lot in downtown Toronto, July 3 to 14, 2019. Based on the success of similar ancillary programming at the Edinburgh Fringe Festival, "POSTSCRIPT" (formerly the Fringe Patio) has become a festival within a festival, with courtyards, patios, and beer gardens becoming destinations unto themselves and provides a focal point and gathering space for the Festival, which is spread out across 35 theatre venues throughout the city. The site includes a large central bar and a food tent which have become important revenue generators for the Festival. The central expansion of "POSTSCRIPT" in 2019 will be the "PS Music Fest", a free six-day music festival on the outdoor stage of the Festival hub that will take place on on both weekends of the Fringe Festival (July 5-7, and July 12-14). Musical programming will be curated by Venus Fest, Futuro Libre, City Hall Live, and Slaight Music. Other programming highlights include: (i) the Opening Night Artist Parade where 150 artist companies come together in Kensington Market to march toward the Fringe Patio (July 3); (ii) a 24-Hour Playwriting competition (July 4); (iii) the Fringe Comedy Show (July 4); (iv) a Canadian Citizenship Ceremony (July 6); (v) a Silent Disco by the Main Ingredient (July 6); and nightly activities and art installations.
City:
Toronto
Region:
Toronto
Start Date:
2019-07-03
End Date:
2019-07-14
Amount Funded:
$100,000.00