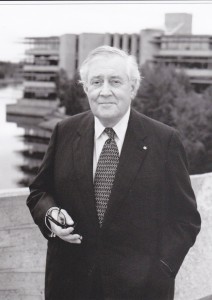 Professor Tom Symons is a teacher and writer in the field of Canadian Studies and public policy.  He has written extensively on intellectual, cultural, and historical issues, and on international academic and cultural relations.  He is the Founding President of Trent University, serving as its President and Vice-Chancellor from 1961 to 1972, and since that time as Vanier Professor and Vanier Professor Emeritus. He was appointed to the Board of Directors of the Ontario Heritage Trust in 2006, and became Chairman in 2010.
Professor Symons served as Chairman of the Commission on Canadian Studies from 1972 to 1984 at the request of the Association of Universities and Colleges of Canada (AUCC), and as Chairman of the Commission on Commonwealth Studies from 1995-1996 at the request of the Commonwealth Secretary General.  He was Chairman of the Historic Sites and Monuments Board of Canada for the decade from 1986 to 1996, and Chair of the Canadian Polar Research Commission in 1988.  He is a Member of Council of the Historica Foundation, a Member of the Council of Advisors of the Heritage Canada Foundation, and a Governor of the Fathers of Confederation Buildings Trust in Charlottetown.  Professor Symons is Honorary President of the Peterborough Historical Society, Past Chair of the Council of the Canadian Canoe Museum, Founding Chair of the Canadian Association in Support of the Native Peoples, Chair Emeritus of the Peterborough Lakefield Police Services Board, and served on the Panel appointed by the Canadian Government to report on the Future of the Trent-Severn Waterway, 2007-2008.
He has also served as Chair of the National Library Advisory Board, Chair of the National Statistics Council, Vice-Chair of the National Capital Planning Committee, Chair of the Ontario Human Rights Commission, Chairman of the 500 plus-member Association of Universities of the Commonwealth, and Chair of the International Board of United World Colleges.
Professor Symons became an Officer of the Order of Canada in 1976 and a Companion of the Order of Canada in 1997.  He was appointed a member of the Order of Ontario in 2002. In 2012, Professor Symons was awarded the Queen Elizabeth II Diamond Jubilee Medal, and received a Knighthood from the Vatican in the Order of Saint Sylvester.