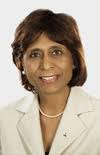 For over 25 years, Nalini Stewart has held leadership roles on local, provincial and national boards in the arts and education fields. She has been Chair of the Ontario Arts Council, Chair of the Writers' Trust of Canada, Acting Chair of the Canada Council for the Arts and President of the Canadian Club of Toronto. She is a founding member of the Asia Pacific Foundation, the Ontario Arts Foundation, the Ontario Cultural Attractions Fund and the Power Plant Art Gallery at Harbourfront. She has been on the boards of OMNI TV, the Ontario Trillium Foundation, Tourism Toronto, the Stratford Festival and the Toronto International Film Festival.
She is currently an Honorary Governor of York University and a member of the governing council of the National Theatre School of Canada. She also sits on the Management Committee of the St. Lawrence Centre for the Arts and the board of WWF Canada.
Ms. Stewart is a recipient of the Order of Ontario.