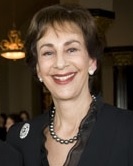 Born and raised in Windsor, Rochelle Tepperman has had a deep and committed involvement with her community, in scholastic, social and political endeavours.
Rochelle received her her B.A. and MSW from Wayne State University in Michigan, and was later elected to the Windsor Board of Education.
Her passion for, and belief in, the community have been demonstrated by her many involvements in community projects, including the West Side Children's Breakfast Program, the Windsor Group Therapy Project, the Windsor Regional Hospital Foundation, the Windsor Symphony Orchestra, the Art Gallery of Windsor, the Alzheimer Society of Windsor and Essex County, the St. Clair College Foundation, the Women's Studies Program at the University of Windsor, the Windsor Endowment of the Arts, and the Community Relations Committee of both the University of Windsor and the Windsor Jewish Federation.
Rochelle has served as Chair of the Windsor Police Services Board, and of the Ontario Association of Police Service Boards, as well as having been a member of the Ontario Casino Monitoring Committee.
During her extensive community involvements, she has been the recipient of the Windsor-Essex Community Impact Award, the Windsor-Essex Leadership Award, the Governor General of Canada Commemorative Medal for the 125th Anniversary of Confederation, the Windsor-Essex Chamber of Commerce Lifetime Achievement Award and the Windsor-Essex United Way Leading The Way Award.
Her business career has included serving as Vice President, and now Vice Chair, of Tepperman's,  the 92 year old family regional chain of furniture,  bedding, appliance and electronics stores located in Windsor, Chatham, Sarnia, London and Kitchener.
Rochelle is the proud mother of three sons, and the grandmother of 5 lovely and vigorous grandchildren.