Nom de l'organisme
Stratford Arts Foundation
Description de l'organisme
Stratford Summer Music, an annual multi-week music festival with over 100 events featuring 350+ individual artists, is set in indoor and outdoor venues throughout downtown Stratford, Ontario. With an artistic vision to produce, to the highest standards possible, an annual program of diverse and exciting musical performances by local, provincial, national and international artists and to provide the widest possible range of musical genres on our stages, Stratford Summer Music exposes audiences to a standard of musical excellence difficult to find outside large urban centres.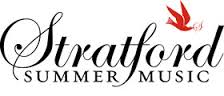 Site web de l'organisme
Facebook
Twitter
---
Projet
Celebrating Canada and Ontario's 150th Anniversary
Description du projet
This application is for "Celebrating Canada and Ontario's 150th Anniversary" taking place July 17 to August 27, 2017 on Tom Paterson Island and in downtown Stratford. Curated by Odawa musician/composer, Barbara Croall, the sesquicentennial programming will focus on Ontario First Nations music and traditions: (1) Opening Night Celebration (details to be determined), July 17: (2) three presentations of "Music for an Avon Morning", August 4,5,6: featuring performances by Six Nations of the Grand Akwesahsne Women Singers, Carmen Braden and the New North Collective, and a choreographed dance/ceremony interpreting Southern Ontario as homeland to the Cayuga, Mohawk, Oneida, Onondaga, Seneca and Tuscarora Nations. Labelle's Canada 150 birch bark canoe, and Maxine Noe's painted piano will also be on display. (3) Buffy Saint-Marie, paid concert at The Avondale, August 7; (4) "Sound and Meaning: An Indigenous Perspective on Music", a public lecture with a keynote address by Barbara Croall (dates and venue to be determined). Other highlights of the 2017 Festival include programming at the newly renovated Market Square: "Mobile Homme", an acrobatic show by the aerial group Transe Expresse from France; and the Mobile Carillon Festival featuring 14 recitals over ten days and an open public lecture on the history of the carillon.
Ville
Stratford
Region
Sud-Ouest de l'Ontario
Date de début
2017-07-17
Date de fin
2017-08-27
Montant financé
100 000.00$